Looking for ways to get more friends on Snapchat? You're not alone. Savvy social marketers know that this is an important part of any Snapchat for business strategy. More friends means greater reach and a higher likelihood that you'll achieve your goals on the platform.
In this guide we'll teach you how to get more Snapchat friends (or Snapchat followers, if you prefer). No fluff or tired tactics here—these tips actually work.
How to get more Snapchat friends: 14 tips and tactics
1. Have a clear Snapchat strategy
When you approach any new platform as a marketing vehicle, you need to do so with a clear strategy. Snapchat marketing—part of which is getting more friends—requires a plan for how you're going to reach your goals. Skipping this step could result in wasted time, effort, and money.
To get started on your own strategy, you need to ask the right questions. Questions such as…
Who are we going to educate within the company to use the platform?
Who will be responsible for keeping our account active, and engaging with our Snapchat followers?
What are we looking to achieve, at the end of the day? In other words, what does it mean to us to have X number of Snapchat friends, or X number of Story views?
How many hours, days, months, or years do we estimate it will take to reach our Snapchat goals?
What does success on Snapchat look like to us?
Who is our ideal Snapchat friend? How do we reach this person? (By "person" we mean audience personas).
What methods will we use to attract followers on Snapchat? Why would they want to see our Stories, anyway?
What will our overall message be for our Snapchat friends and followers? How will we stick to this message with our many Snaps and Stories?
What are our competitors doing on Snapchat? How will we evaluate what's working for them, and what isn't?
Who else do our ideal Snapchat friends follow? How can we leverage those influencers?
Without knowing the answers to the above questions (and others of their kind), you can easily get derailed on a platform like Snapchat. Remember, it's not just about having fun. If it's costing you to manage a Snapchat account, you'll want to know if it's paying off—whatever that payoff means to you.

Bonus: Download a free guide that reveals how to increase social media engagement with better audience research, sharper customer targeting, and Hootsuite's easy-to-use social media software.
Once you've answered those questions you're ready to start fleshing out your strategy. These blog guides will help you through that:
2. Learn how to use Snapchat
Yes, you could skip to promoting your account. But imagine how much more effective your account will be if you first learn how to interact with others on the platform!
Snapchat has a learning curve to it. But once you get going on it, it can become second nature.
See our handy guides on this subject (because trust us, it's not intuitive to figure out):
We've also included tips below for using Snapchat to build followers.
3. Get inspired by what other brands are doing
There's no harm in learning how other brands utilize Snapchat to attract followers and engage their audiences. Here are a few sources to start your research into this:
4. Use Snapchat insights to re-evaluate, then revise
Any good marketer knows that at best, their first strategy is going to be a best guess. As with all marketing measures, you will want to use Snapchat analytics periodically. See if your efforts to get new Snapchat friends are working for you. You'll also want to use any data you can get to answer the above 'strategy' questions. Then revise your execution as needed.
5. Share your Snapcode to make it easy for users to add you as a friend
A Snapcode is a nifty, scannable code that makes adding new Snapchat friends and opening Snapchat content quick and easy. Your Snapcode is located in the center of your Snapchat Profile Screen, found by tapping the ghost in the upper center of the Camera Screen.
New followers can scan your Snapcode using the Snapchat camera. They can also screenshot your Snapcode and use the "Add by Snapcode" feature on the "Add Friends" page to easily add your business as a new friend. Once you have your Snapcode, you can begin posting it far and wide.
Here are a few ways to share your Snapcode far and wide to gain new Snapchat followers.
Make your Snapcode your profile picture on other social media accounts
People on Snapchat will know what to do. In essence, they'll take a screenshot of your Snapcode, then let the app find you by accessing the image through their phone's camera roll.
This way, if you promote your other social media accounts, you'll be promoting Snapchat at the same time. The more you get 'em, the better.
Share your Snapcode in posts on other networks
BIG news… We're on Snapchat! Here's how we pitched it to our boss ????https://t.co/i8NeYCArh1 pic.twitter.com/SIfDGAQtzl

— Hootsuite (@hootsuite) February 17, 2016
Share your Snapcode using the Snapchat app
Snapchat also has a solution to share your Snapcode and username using Snapchat's "Share Username" function (under "Add Friends"). For instance, did you know you can post your Snapchat username on Pinterest, right within the app? You can also make the announcement to Whatsapp friends or groups (even if Whatsapp group participants aren't in your phone's address book).
Here's how (for iPhone users):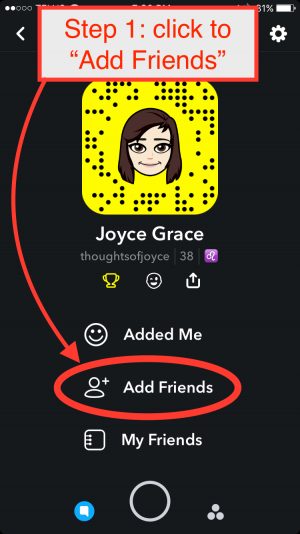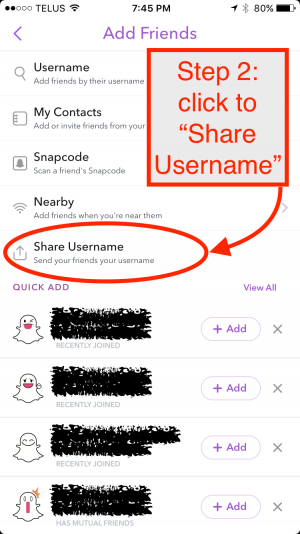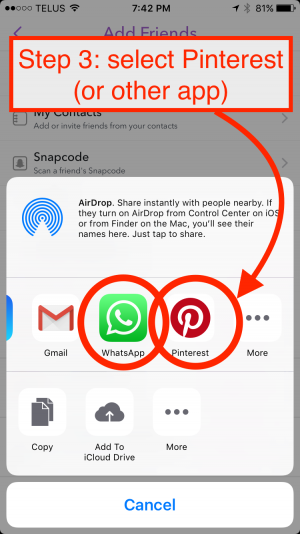 6. Memorize and share your Snapchat profile's shareable browser link
This unique URL is as easy to promote on other social networks and web properties as your Snapcode. Here's the link format: www.snapchat.com/add/YOURUSERNAME
7. Share Snapchat content on your other social media channels
Besides sharing your Snapcode and profile URL, you can also use glimpses of your Snapchat content to entice Instagram, Facebook, or Twitter followers to friend you.
Taco Bell created an On-Demand Geofilter (explained more fully below), which contained a promotion to get users in their doors. Then they shared that Snapchat geofilter on Twitter. They openly asked their Twitter followers to use the Geofilter, so they could tell their own Snapchat friends about the promotion. In other words, they attempted to create a viral campaign to engage Snapchatters.
Stop by and use our new #Snapchat geofilter to remind everyone what's going down on 6/21. pic.twitter.com/jnaz676Uod

— Taco Bell (@tacobell) June 15, 2016
Tim Hortons did something similar on Instagram (and Twitter too, actually). They held a contest to encourage more Snapchat followers. But they didn't stop there—they asked for user engagement, hoping followers would Snap at them, and use their Filter too.
Snapchat has a page demonstrating how powerful Filters and Lenses can be to businesses, when they're seen by close friends.
8. Link to your Snapchat profile on your website
Don't forget to tell your website visitors how to find you on Snapchat! Where you list your other social profiles (usually with little icon links), you can also add Snapchat follow information, such as:
A hyperlink to your profile URL (perhaps in an icon image link).
Your username in plain text.
Your Snapcode image in a visible, but unobtrusive spot (like your site's footer).
Here are instructions on how to add your Snapcode to a WordPress website.
You can also use a WordPress plugin like this one to list all your social profiles using icon links, with Snapchat included.
9. Include your Snapchat details in your email signature and print advertising material
As 'old school' as this may sound, you have to admit, it does make it easy for people to find you on Snapchat! List your Snapchat username or Snapcode on your company business cards, brochures, ads, and elsewhere. And that handy e-mail signature.
10. Add friends on Snapchat, and they'll probably add you back
This works for nearly all social media. If you add people to your network, they are likely to add you back. So take initiative, and click on those "+ Add" buttons if the app gives them to you. Use the "Quick Add" section in Snapchat, and, scan other people's Snapcodes when you see them!
In our beginner's guide to using Snapchat, we've included simple step-by-step instructions for adding friends on Snapchat.
There are also apps to help you find people to connect with (and to help them find you!). Here are four.
Some may also suggest using Twitter hashtags and searches (like #snapchat add me) to find users who want to be added. Check out our post, The Best Tools and Apps for Snapchat for more.
11. Tell great stories to popularize your Snapchat account
To keep your Snapchat friends, and to have them share your Snaps with others (thus enticing more followers), you'll want to make sure you're telling great stories. "Stories" here can mean Snapchat Stories (a series of Snaps 'attached' together). But we're also talking about the interesting things your brand or company is doing in a 24-hour period (that's Snapchat's timeline for its visibility of Snaps or Stories).
Before getting started, have a read-through of our quick guide to crafting the perfect Snapchat Story.
Below are some Snapchat Story ideas to share when trying to get more Snapchat friends.
The 'behind the scenes' story
If you want your followers to spread the word on how fun your brand is on Snapchat, share a secret. Everyone loves a peek "behind the scenes." A skilled creative can make even the most boring business seem exciting. It's like reality TV.
Are you filming a commercial or internal corporate video? Share some bloopers from the shoot, or some quick sound bites with camera crew. This kind of inside access makes users feel like your company is run by humans, not machines.
On ChatelaineMag snapchat… The morning scrum + our top story. https://t.co/4RAvKNvXGA pic.twitter.com/0rom8PB9Np

— Chatelaine (@Chatelaine) February 22, 2016
A special quick glimpse behind the curtain can forge a level of trust that are less attainable on other social media platforms. For example, Boldmethod, a company that produces sharable digital aviation content and offers training courses that help pilots reach certification, created a fun weekly, behind-the-scenes Snapchat series with a flight crew. People interested in the mysteries of flight can get sneak peeks not found anywhere else.
The how-to story
A great example of 'how to' stories are recipes and DIYs. At Tasty (by Buzzfeed), this has proven to be extremely popular on other platforms. So hey, why not Snapchat too? I mean, who wouldn't want to know how to make muffins in 10 seconds or less?
The 'comedic retelling' story
If there's one thing that works on Snapchat, it's humour. Snapchat users have found ways to tell very short, yet funny stories of their lives. And they've been creative with it too.
Whether it's a series of facial expressions using hilarious captions, or a re-enactment using dolls and stop-motion animation, you can probably find a way to make this one work for you.
And speaking of stop-motion, we'll take a sidebar, so you can take a moment to watch this INCREDIBLE use of stop-motion, Snapchat genius. It's by the popular, MysteryGuitarMan on YouTube:
Moving on…
Buzzfeed published a post on the best Snapchat Stories "that have ever happened." Use that for comedic storytelling inspiration on the platform.
Or, ask yourself:
Did you experience a funny 'fail' at work? (Think: accidentally turning eggnog into scrambled eggs at your coffee shop).
Are you experimenting with food hacks in your restaurant, resulting in unexpected outcomes?
Are you a clothes designer and did your heels just break during fashion week?
Has your job as a reporter taken you to the oddest convention you've ever seen, and did something out-of-this-world just happen?
Did your toddler just give you business advice? Or did they find a new (and adorable) use for your product?
Don't just think of promotions and ads for Snapchat. Use the above situations—and others like them—to be relatable to your Snapchat friends.
The 'educational news' story
Some mainstream media companies get the privilege of being included in Snapchat's Discover section, an area of "Publisher Stories, Shows, or Our Stories" where users can get their daily dose of news or celebrity gossip. Here's what Discover looks like on your Snapchat screen: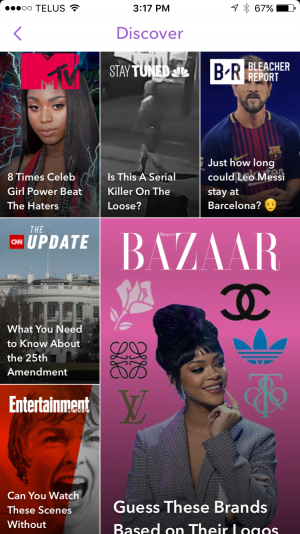 Now, you may not be in the VIP club of "Publishers" on Snapchat. But, you can take examples of its Stories to inspire your own content. For example, below is part of a news Story by the Economist. It was about China's growing world influence. And it was waaaaay too good not to share with you here: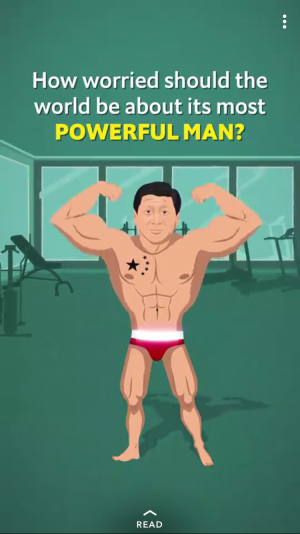 That, folks, is 21st Century journalism.
Ok, but below are screenshots of other Snaps within that Story, so you can see how the collection of 'slides' (using gifs, imagery, typography, illustration etc.) produced a complete piece, kind of like the Snapchat version of a magazine feature: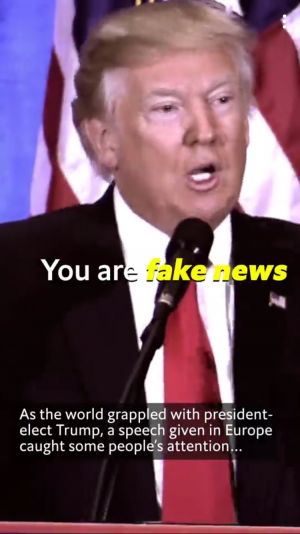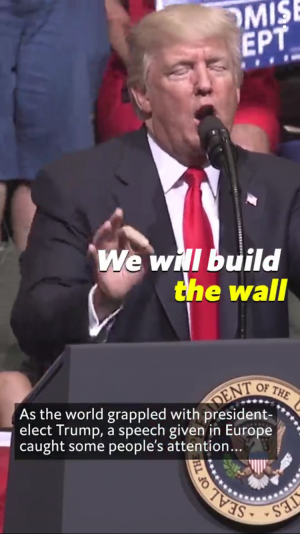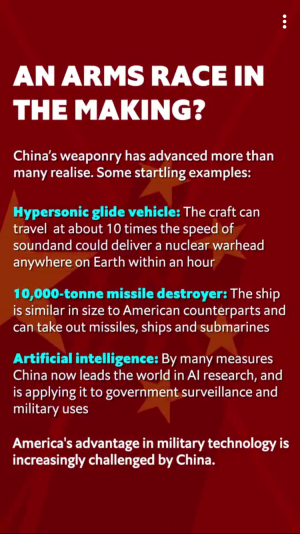 Bonus: Download a free guide that reveals the steps to create custom Snapchat geofilters and lenses, plus tips on how to use them to promote your business.
Get the free guide right now!
For the news media, and their advertisers, this works (amazingly). Your takeaway is to produce content that educates your audiences in a similar way. Become known as an expert, using Snapchat as your medium. It's kind of like when marketing experts tell you to blog, or post YouTube content—this is another form of that.
12. Master all the features and tools to make your content really shine
Keeping your Snapchat friends, and attracting new ones, also means being a Snapchatter. By that we mean: use all the Snapchat features like you were born to do Snapchat. There are so many available. From hand-drawing tools, Sticker cut outs, Filters, captions, Lenses… you can get very creative.
We'd also advise you master lesser-known hacks to make your Snapchat content really shine. See our guide: Snapchat Hacks: 35 Tricks and Features You Probably Didn't Know About.
Other than Stories described above, here are four more, must-use features to show off when growing your Snapchat brand account:
Geofilters
Like Filters, Geofilters are overlays on photos and videos with custom designs. They're available to Snapchatters in a limited geographic area (who have turned on 'Location Services'), and for a limited time period. Mostly, they're community-based and just free to use as you roam around town. But people create 'On-Demand Geofilters' for weddings and events, for instance. Businesses make them for promotions (hoping Snapchat followers will use them virally, like in the above examples).
Need a visual? Here is a community Geofilter used in Toronto's fashion district (it came up when searching 'Joe Fresh' in the app):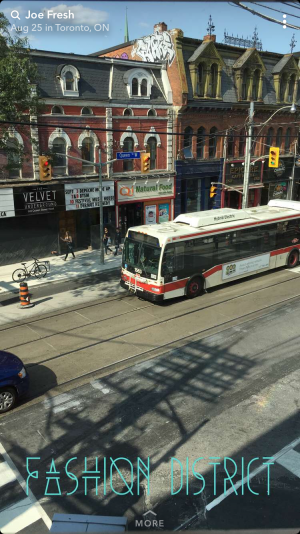 What's the point of the above? Well, in that example, not much. This is probably the Joe Fresh team (or someone who likes Joe Fresh) saying they're doing something relevant to their job, by hanging out in the fashion district. But, like with Taco Bell and Tim Horton's strategies mentioned earlier, Geofilters can have more purposeful uses (in case announcing your location isn't your idea of useful marketing).
You can now make Geofilters within the app. But you can also make them on the Snapchat website. Another way is to design them on apps like Canva before submitting them for approval. Some companies choose to go pro, and hire creative agencies to create Geofilters for them, like this one.
Remember that Geofilters have to be approved by Snapchat, and promotional ones aren't free (but they are cheap).
Lenses
Snapchat's facial recognition technology (used by "Lenses" in the app) is remarkably futuristic. Do take those silly 'lick' selfies, and use the temporary ones to push fun content from your company. Keep it relevant though. Remember: if they're following you as a brand, they expect your brand content to be useful to them. Or at least fun.
Stickers
Snapchat Stickers go on top of Snaps, like Geofilters and Lenses. Here is how you use them.
There are existing Stickers you can use within the app (like emojis). Or, you can make your own. For example, cut out your face using the Scissors tool, save it as a custom Sticker, then play head swap with someone else's body. Copyright-free of course. And if this is for business, keep it PG, folks.
Memories
Memories is a later-introduced feature of Snapchat. It allows you to store your Snaps, instead of having them disappear. When you save Snaps, you create content that can be shared on other social media channels. This is how the companies noted in this article were able to give 'teaser' insights into their Snapchat activity on Twitter, Facebook and Instagram.
Here's a guide on how to use Snapchat Memories to grow and engage your audience.
13. Recruit Snapchat influencers and host Snapchat takeovers
Like any social media influencer, Snapchat influencers are basically celebrities on the app. These famous Snapchatters earn income when brands pay them to create promotional content—either on their own profile, or the company's handle.
When the influencer creates content on their buyer's profile, this is called a Snapchat takeover. The lure of the Snapchat star on a company account is no different than Nike paying Michael Jordan to endorse shoes in their commercials.
Eyes raised and interested? Here is our guide to hosting a Snapchat takeover.
But, as a small business, you might not be able to book the Kylie Jenner of Snapchat. Don't let that stop you from creating Snapchat partnerships to get more friends. Find someone in your niche, and takeover each other's accounts. Hopefully, you'll get more eyes on your content, bringing each others' followers to your accounts.
Do Snapchat partnerships enough and eventually, you'll be a Snapchat influencer in your own right. People might ask YOU to takeover their account!
14. Try Snapchat ads
Finally, there are Snapchat ads. Now, keep in mind Snapchat ads are Snaps and Stories that get inserted into other people's Snaps and Stories. You could be viewing a friend's Snap, and then all of a sudden, Subway will be telling you about their amazing new sandwich, with music and all.
Ads also go into other Snapchat content, like Discover Stories (such as the Economist piece mentioned above) and Shows (a Snapchat area we haven't even touched on, and don't have room for in this article).
So when you create a Snapchat ad to get more followers, your call-to-action (CTA) needs to be clear. Otherwise, it's just a promotional message (which is fine if that's your goal).
Snap ads have the option to 'swipe up' with a "More" indicator. There, brands can insert web links. You can technically have yours lead to your Snapcode URL, to encourage followers (see above). Though, with the price point of Snap ads, you may want to use other types of content in the "More" tab.
Head on over to our guide on Snapchat ads to learn more about it.
What we've learned about getting more friends on Snapchat
To recap, here is what we've learned about getting more friends on Snapchat. Use this as a checklist to start your growth strategy:
Have a clear Snapchat strategy. Decide on your Snapchat business goals. And, revisit your analytics and revise.
Learn how to use Snapchat before you promote your account.
It's not easy to find friends on Snapchat using the app alone. You'll need to get creative, and make it easy for others to find you on the app. Do this through your other social media channels, or your traditional marketing material. And, don't forget to do outreach by adding friends on Snapchat, who may add you back.
Come up with great Snapchat content, so people will share your Snaps. You can thus entice more followers.
If you have a hard time getting Snapchat famous, get other famous Snapchatters to show up on your profile. People will hopefully notice that, and make the association that you're worth following too. Thus, new followers may ensue.
If you can't make friends, use Snapchat ads to encourage more people to follow you. You'll just have to be strategic about it, and craft your message carefully. Make the 'following' step easy for those who see the ad.
And above all, have fun.

Bonus: Download a free guide that reveals the steps to create custom Snapchat geofilters and lenses, plus tips on how to use them to promote your business.
This is an updated version of an article that was originally written by Sydney Parker.