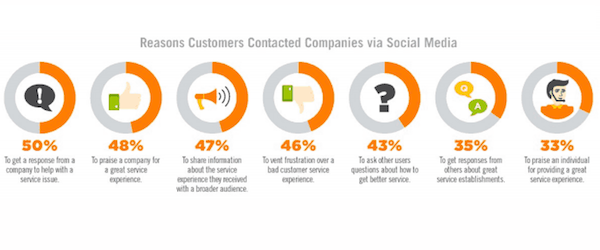 Ignoring Social Media Customer Service? Get Ready to Lose Customers
Twitter and Facebook are now go-to channels for customer service. If your business is not yet prepared to find and respond to these issues, consider this: unanswered questions on a company's social media page would deter 50% of people from being its customer. That's a big hit to your bottom line.
HootSuite and Zendesk recently came together for a webinar on Serving Customers Through Social Media. Jonas Stanford, Global Manager of Customer Service at HootSuite, and Pam Dodrill, Customer Engagement Strategist from Zendesk, shared their own experiences offering customer service on social media.
Watch the webinar on-demand now
Watch it Now
Social customer service is more than simple problem-solving. As Dodrill explains in the webinar, 48% of people who use social media for customer service do so to praise a company for a great service experience. On the other side of the fence, 46% use it to vent frustration over a bad customer service experience.
Whether you acknowledge it or not, people are going to share their experiences with your business on social media. Brands that make the effort to reach out and engage those users can make a major impact on those individual clients, as well as the wider audience that was exposed to the Facebook or Twitter post. A single response could mean the difference between losing one client and gaining 10.
This webinar will help you:
Provide proactive – not reactive – customer care to increase satisfaction and win loyalty
Deliver consistent cross-channel customer support by integrating HootSuite and Zendesk
Enhance your social customer service with self-serve resources
Benchmark your success and maximize team productivity on every social channel
Leverage the rest of your organization to solve customer problems
Check out "Serving Customer Through Social Media" on-demand now.
About Our Speakers
Pam Dodrill,
Strategist, Customer Engagement, Zendesk
Pam Dodrill is Zendesk's Customer Engagement Strategist. Prior to this role, Pam was the Global Head of Customer Support at Zendesk and has over 25 years of experience driving customer service and advocacy, employee satisfaction, service center operations, and business process improvements. Pam spent the first half of her career in service operations and the other half working for vendors with SaaS offerings including Oracle, Salesforce.com and Engine Yard. She is also Co-Chair of the TSIA Support Services Champions group.
Jonas Stanford,
Global Manager, Customer Service, HootSuite
HootSuite's Global Manager of Customer Service, Jonas Stanford has over nine years of Product Development and Customer Support Management experience. A customer focused team leader and data driven process innovator, he is preoccupied with finding new ways of creating delighted customers. He has grown a global team of HootSuite Customer Advocates who use the latest Social Support methods to assist anyone, anytime.