Playstation did it with GTA: London, 1969. Settlers of Catan has Explorers and Pirates, to name one of many. Even Google Drive has a daunting list of its own—and for good reason. Add-ons and expansion packs improve on original products, adding new layers to games and apps.
So you'd be missing the boat if you didn't hop on board with Instagram's trifecta of add-on apps. By putting Boomerang, Hyperlapse, and Layout to use, you can tap into Instagram's more than 500 million users in a way that's nearly impossible with the standard shoot-filter-post methodology.
Creating a visually stunning video or arrangement of photos can seem complicated at first, but heed these simple tips and the learning curve can be short and sweet.
Boomerang
Once difficult to create, GIFs are no longer reserved for the technically-savvy meme master. Thanks to Instagram's Boomerang app, you can harness the power of GIFs in a few seconds.
The Boomerang app takes a burst of photos, stitches them together, speeds them up, and then plays them forward and backward to create a looping video of up to 20 frames.
How to create a Boomerang video
After installing Boomerang on your mobile device, open the app.
Tap the circle at the bottom of your screen to start capturing or hold the circle to control the length of your video (and let go to stop recording).
Tap the circular arrow icon or swipe your screen to toggle between your camera's rear and front-facing camera.
Choose to share to Instagram or Facebook.
Tap Save in the top right to save your creation to your phone's camera roll.
Boomerang best practices
The app is so simple to use that it's almost foolproof, but there are a few things to keep in mind when creating your masterpiece.
Hold your camera steady. Twenty frames of visual means every frame counts. Hold your phone at a good angle and keep it still. If you're going to pan, practice a few times to get the motion right. If you can rest your phone on a steady surface or use a tripod, do it.
Mix it up. The full effect of Boomerang is most evident when the final frame is very different from the first.
Take your time. Even the most spontaneous-looking video required some work to get that effortless look. It doesn't take much to do a few practice runs before settling on a final product, and the end result will be better for it.
Promote your video. Hashtag your Boomerang properly (use #boomerang) to give the app credit and expose your content to other Boomerang fans and users.
Brands doing it well
Take a frame from the feed of the animal-centric Purina's Boomerang use. They've put pets in the spotlight. In one clever Boomerang, Purina recorded Lenny the dog doing a trick on his hind legs. When looped in Boomerang fashion, the clip makes it look as though Lenny's doing the two-step instead of simply standing. The post packs an extra punch that it wouldn't have had it been a regular video or still shot.
Also check out fashion magazine Cosmopolitan and Brazilian soccer team Corinthians' Instagram accounts to see Boomerang use at its peak.
Hyperlapse
Sometimes what you want to capture is too long for a quick Boomerang video, but you still want to be able to share it in a bite-size portion. Say hello to Hyperlapse, the video-smoothing time lapse app with built-in stabilization technology.
Hyperlapse can either smooth out footage at regular playback, or speed up and shorten longer footage to a length that packs a punch while holding the average attention span (which isn't long these days).
How to create a Hyperlapse video
Tap the circle at the bottom of the app. The timer on the left shows how long your recording is; the timer on the right shows how long your video will be once it's sped up. (Hyperlapse displays the length for the default speed of 6x.)
Tap the circle again to stop recording.
Choose your video's speed with the slider. By default, speed will be set at 6x. You can choose from seven different speed options: 1x, 2x, 4x, 6x, 8x, 10x, and 12x.
Tap the checkmark in the top right to save the video to your device's camera roll. When you shoot a time lapse video with Hyperlapse, your footage will be instantly stabilized, providing a professional cinematic look.
Note: If you're planning to shoot more than one Hyperlapse in quick succession, or want to determine the speed of your Hyperlapse at a later time, tap the X in the top left corner and select Edit Later. (This is also where you'll find the option to delete your Hyperlapse.)
Hyperlapse best practices
Hyperlapse may make your video clips looks smooth and professional, but there are still a few things to keep in mind when you're creating one.
Plan it. Like with Boomerang, don't just Hyperlapse for the sake of Hyperlapse. Put some thought into it and time lapse events that are relevant to your brand and ones that would be interesting to your followers.
Promote your video. Hashtag your Hyperlapse appropriately to give the app credit and up your visibility.
Brands doing it well
Plenty of brands are maximizing their six seconds of fame with Hyperlapse, like Visit Copenhagen. The Denmark tourism company used the app to highlight the spectacular scenery along a stretch of one of city's trademarks—its bicycle routes. Visit Copenhagen takes its followers on a bike ride over a bridge and along a canal. If the clip were played in real time, it would span several minutes and probably not hold the viewer's attention, but as a Hyperlapse, it works beautifully.
Taco Bell and The National Aquarium are also using the app well.
Layout
Taking a good photo isn't rocket science anymore. So your problem come posting time might more realistically be how to choose from several share-worthy pictures, not how to find the one-and-only that meets your standards. Plus, combining a well-curated set of images into one can add dimension to your posts that one single photo can't.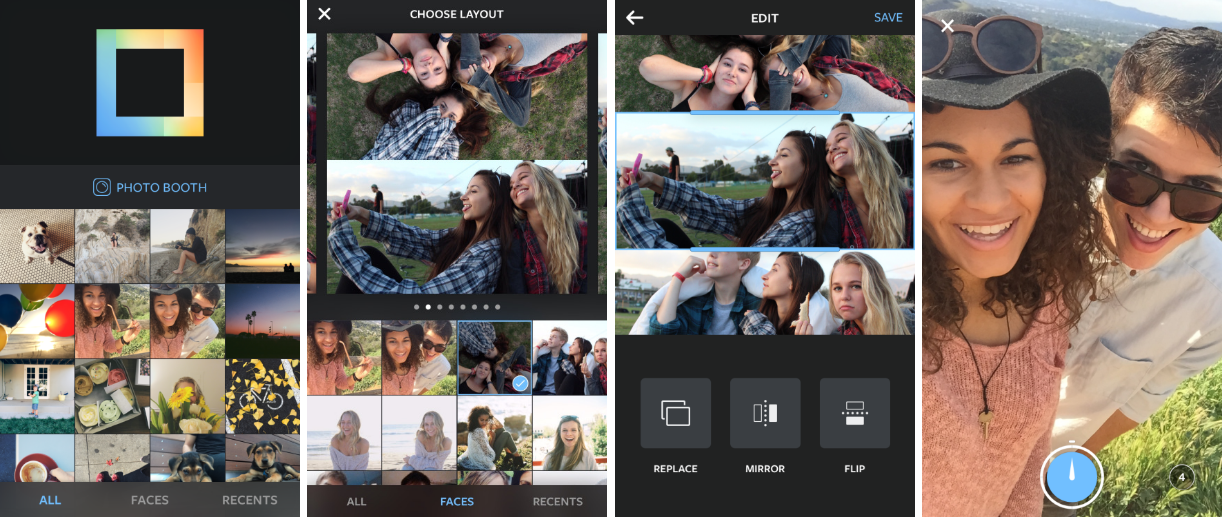 Instagram has addressed this situation with Layout, a collaging app that allows you to easily choose, edit, and arrange up to nine photos as one image. It also includes some functionalities within the app to make an even more efficient experience. Faces, for example, uses facial recognition technology to show you only photos stored on your phone that include faces.
How to create a photo using Layout
Scroll through your photos and tap up to nine that you want to include. Your selections will display a green checkmark.
Once you've selected all of the photos you want to use, tap the layout you like best from the top of the screen.
Tap any of the images in the layout to edit that image.
When you're finished editing tap Save and choose Instagram to share it.
Layout best practices
Get creative with the app's various features. Experiment with Mirroring, Photobooth, and different layout arrangements to change the look and feel of your final product.
Promote your content. Hashtag your Layout appropriately to give the app credit and increase your post's visibility.
Brands doing it well
Check out creative and savvy collaging skills in action with Sephora. They've used the four-square arrangement to demonstrate a simple step-by-step visual guide to facial contouring with makeup. By breaking down the process as they have here, they've debunked the myth that this particular makeup application is reserved for the pros, and garnered nearly 40,000 likes in the meantime.
Check out Michelle Obama and Victoria's Secret's accounts as well, both of which maximize the app's abilities.
Schedule your Boomerang, Hyperlapse, and Layout masterpieces using Instagram for Hootsuite. Try it free today.