If you're using Instagram for business, you're probably aware of the countless benefits of using this social media platform to connect with your target audience and promote your products or services.
Instagram itself provides marketers with tons of useful functionality. But, sometimes you need a little extra help to take things to the next level. That's where Instagram apps come in.
Let's get started!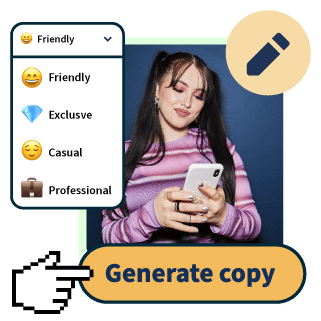 Craft perfect posts in seconds
OwlyWriter AI instantly generates captions and content ideas for every social media network. It's seriously easy.
Start free 30-day trial
The best apps for Instagram
Below we've compiled the best Instagram apps for:

Photo editing

. These are apps that help you edit, resize and add filters to your photos.

Layout and design

. These apps help your brand add interesting elements like collages and graphics.

Video tools. These apps elevate how your brand captures, designs, and edits videos.
Audience engagement, analytics, and data

. Use Instagram apps to track how your brand is engaging with your audience and monitor your content performance.
You'll find a quick summary of each app and why/when you should be using it for your Instagram campaigns.
Instagram editing apps
Source: VSCO on Apple Store
Why you should try it
VSCO is one of the original and most popular photo editing and filter apps. In fact, it's so popular that more than 205 million Instagram posts feature the #VSCO hashtag.
There are 10 free preset filters that make your phone-shot photos appear as though they were captured on film. VSCO also offers a range of photo-editing tools available to help elevate your photo quality, like contrast, saturation, grain, crop, and skew tools.
To access more than 200 preset filters and advanced photo-editing tools, upgrade from the free version of this Instagram app and become a VSCO member.
2. Avatan Photo Editor (iOS and Android)
Source: Avatan Photo Editor on Apple Store
Why you should try it
As well as offering effects and filters to lay over your original photo, Avatan Photo Editor makes it easy to retouch photos and create your own customized effects. The basic version of this photo-editing app is free, although there's the option for additional features or advanced tools by making in-app purchases.
Source: Snapseed on App Store
Why you should try it
With this photo-editing Instagram app, you can work on both JPG and RAW files making it a powerful tool for professional photographers.
Beyond filtering your photos using its presets, you can perform serious photo-editing tasks in Snapseed. There are 29 tools and features that allow you to edit photos by removing elements (or even people) from the photo. You can also adjust the geometry of buildings, use curves to control the brightness of your image, and enhance images with incredible precision.
https://www.instagram.com/p/Cel-FleI7RZ/?utm_source=ig_embed&utm_campaign=loading
​​4. Adobe Lightroom Photo Editor (iOS and Android)
Source: Adobe Lightroom on App Store
Why you should try it
Adobe products are known for their powerful photo editing capabilities, and the Adobe Lightroom Photo Editor app is no exception. Capture and edit raw images using the app's editing tools and elevate photos to a professional quality by adjusting their hue, saturation, exposure, shadows and more.
Try out its preset filters and get inspired by edits other Lightroom users have made using its Discover section. Plus, take advantage of the interactive tutorials to improve your photo editing skills.
5. A Color Story (iOS and Android)
Source: A Color Story on Google Play
Why you should try it
This photo editing app is all about making the colors in your photos pop. There are 20 free editing tools, as well as filters, effects and presets designed by professional photographers and influencers.
There are also some advanced editing tools, and its Instagram grid planning preview tool helps you ensure your brand's Instagram grid looks unified and cohesive.
Instagram layout apps
Why you should try it
The Instagram Grid app lets you create a grid of up to nine images and publish them to your Instagram account directly from your Hootsuite dashboard. You can schedule your grids in advance, and publish them when your audience is the most active on Instagram (to set your posts up for maximum engagement).
Note: Instagram Grid currently only works with personal Instagram accounts. Business accounts are not yet supported.
7. Layout From Instagram (iOS and Android)
Source: Layout From Instagram on App Store
Why you should try it
Create collages with ease using this free Instagram layout app, compiling up to nine photos in various combinations. Layout makes it easy to create different collage layouts, pair the collage with filters, add other personalized elements, and share to Instagram. You can also pick photos from your library or shoot as you go using the app's built-in photo booth.
8. A Design Kit (iOS)
Source: A Design Kit on App Store
Why you should try it
This Instagram app comes from the makers of A Color Story. Use it to personalize and customize the content on your Instagram feed by layering stickers, fonts, designs and textures over your photos.
The app boasts over 60 different fonts, more than 200 collage layouts and more than 200 design options. And the realistic brushes and different backgrounds, like metallics, marble and speckle, will add texture and depth to your photos.
9. AppForType (iOS and Android)
Source: AppForType on App Store
Why you should try it
This is one of the best Instagram apps for lovers of typography. As well as offering designs, frames and collage templates, AppForType has 60 font choices to lay over your brand's photo. What really makes this Instagram app stand out is how you can take a photo of your own handwriting and upload it to the app.
Source: Unfold on App Store
Why you should try it
Unfold lets you stylize your Instagram feed like never before. With a full suite of template collections (of which Selena Gomez is a fan) you can build beautiful Instagram feeds that look like they were professionally designed.
With over 400 custom templates to choose from, and exclusive fonts, stickers, filters, and effects, Unfold is the perfect tool for creating beautiful Instagram posts. Not to mention, Unfold also offers post and Instagram Story editing within the app.
Instagram video editing apps
11. InShot — Video Editor (iOS and Android)
Source: InShot on App Store
Why you should try it
This is one of the best Instagram apps out there for video editing, mainly because it's so comprehensive. You can trim, cut, split, merge, and crop video clips. And it's easy to adjust settings like brightness and saturation.
Plus, this app has features that are specific to Instagram, like making videos square for Instagram display.
https://www.instagram.com/tv/CeN_rtZJPnJ/?utm_source=ig_embed&utm_campaign=loading
Source: GoPro on App Store
Why you should try it
If you shoot epic, outdoorsy video content for Instagram using a GoPro camera, the GoPro app will make your life much easier.
While capturing footage, use your phone to adjust the video or time-lapse settings and get a clear preview of your shot. Once your video is recorded, make edits–like freezing your favourite frames, movie-like transitions or playing with speed, perspective and color—right in the GoPro app.
13. Magisto Video Editor (iOS and Android)
Source: Magisto Video Editor on App Store
Why you should try it
This Instagram app is an artificial intelligence-powered video tool. Magisto uses AI to find the best, most eye-catching parts of your footage to create a video that resonates with an audience. It also uses its algorithm to incorporate edits, effects and transitions to take your clip to the next level.
14. Clips (iOS)
Source: Clips on App Store
Why you should try it
Clips is an Instagram app made by Apple that lets you bring your Reels to life with quirky and eye-catching features. Add built-in captions to your videos, or bring your videos to life with stickers, emojis, and music. Plus, you can share directly from Clips to Instagram.
You'll need an iPhone 13, a 6th generation iPad mini, and a 3rd generation or later iPad Pro to use this app.
15. FilmoraGo (iOS)
Source: FilmoraGo on App Store
Why you should try it
FilmoraGo gives you professional-grade video editing tools that are simple enough for even the most novice editor. Take advantage of its Curve Shifting features to mix acceleration and deceleration within a single clip. Plus, new AR camera features let you create a memoji/animoji within the app, which can be added to your next Instagram Reel or Story.
Instagram analytics apps
16. Hootsuite mobile app (iOS and Android)
Why you should try it
The Hootsuite app is one of the best apps for Instagram posts and analytics. It allows you to track performance and measure your success on every social network — Instagram, Facebook, TikTok, Twitter, LinkedIn, Pinterest and YouTube.
The Hootsuite app tracks many Instagram analytics metrics, including your account's reach, engagement rates and follower growth, as well as detailed performance stats for every individual post.
You can create analytics reports and easily share data specific to your brand's goals with your team and other stakeholders.
But Hootsuite is more than an Instagram analytics tool!
Using the app, you can schedule Instagram posts to publish later, even if you can't be at your desk. This way, you'll always be posting content at the right time to engage your audience and fill your social media content calendar. This feature alone makes it argueably the best Instagram planning app available.
Hootsuite also makes it easy to monitor your competitors' Instagram content and track hashtags.
Find more details on Hootsuite analytics for Instagram here:
https://www.youtube.com/watch?v=_mthYb9LRZc
17. Panoramiq Insights
Source: Hootsuite app directory
Why you should try it
Use this app with Hootsuite to kick your Instagram analytics up a notch. Panoramiq Insights by Synaptive gives you detailed analytics for your Instagram account, including follower demographics, views, new followers, profile views, and link clicks.
And if your company has more than one Instagram account, this app can track analytics for two accounts. Share the results the app has compiled by exporting your analytics reports as a spreadsheet or PDF file.
18. Command for Instagram (iOS)
Source: Command for Instagram on App Store
Why you should try it
Command provides a host of unique metrics and shares your brand's most important stats each day. It also generates a report card that grades everything from your followers count to your post frequency. You can also get hashtag and caption recommendations, caption writing support, and recommendations on the best hashtags for your content.
19. Trending Hashtags by StatStory (iOS and Android)
Source: Trending Hashtags by StatStory on App Store
Why you should try it
Adding hashtags to your Instagram posts is a great way to increase audience engagement. This Instagram app supports your brand's hashtag strategy by helping you incorporate popular hashtags. It also uses an algorithm to find hashtags that are relevant to your brand and recommends a mix of popular and less-popular hashtags to help you reach a broad audience.
20. Clean it Up (iOS)
Source: Clean it Up on App Store
Why you should try it
If you're noticing a lot of spam comments or want to clean up which Instagram accounts your brand interacts with, this is one of the best Instagram apps to clean up your follower list and reduce those comments.
With one tap, this app will mass clean your follower list, bulk block bot accounts or inactive followers, bulk delete duplicate content, bulk unlike and bulk like posts.
Bonus: 14 Time-Saving Hacks for Instagram Power Users. Get the list of secret shortcuts Hootsuite's own social media team uses to create thumb-stopping content.
Instagram engagement apps
21. Hootsuite Boost
Why you should try it
If you're looking to get more out of your Instagram posts, Hootsuite Boost can help. With this Instagram app, you can use your advertising budget to help your top-performing Facebook posts reach more people.
Boost single posts using the Single Post Boosting function, or choose Auto Boosting to automatically Boost posts that meet certain performance goals or campaign criteria.
Boost also makes it easy to track the performance of your boosted posts so you can see how they're performing and make adjustments as needed.
22. Carousels, Stories and Reels scheduling in Hootsuite
Why you should try it
When it comes to finding the best Instagram posting app, you don't need to look further than Hootsuite!
Hootsuite Business accounts can schedule carousels Reels, and Stories within the Hootsuite app and Dashboard.
Scheduling Reels is a great tactic for brands who want to create cohesive and well-planned Reels but don't have the time or resources to post them all at once. Scheduling Reels in Hootsuite can be done in the same way as an Instagram Story. Learn how to schedule Reels here.
Carousels still get some of the highest engagement on Instagram. Use Hootsuite to schedule Carousels in the same way as a regular Instagram post. Learn how to schedule carousels here.
23. OwlyWriter AI in Hootsuite
Did you know that Hootsuite also comes with OwlyWriter AI, a built-in creative AI tool that saves social media pros hours of work?
You can use OwlyWriter to:
Write a new social media caption in a specific tone, based on a prompt

Write a post based on a link (e.g. a blog post or a product page)

Generate post ideas based on a keyword or topic (and then write posts expanding on the idea you like best)

Identify and repurpose your top-performing posts

Create relevant captions for upcoming holidays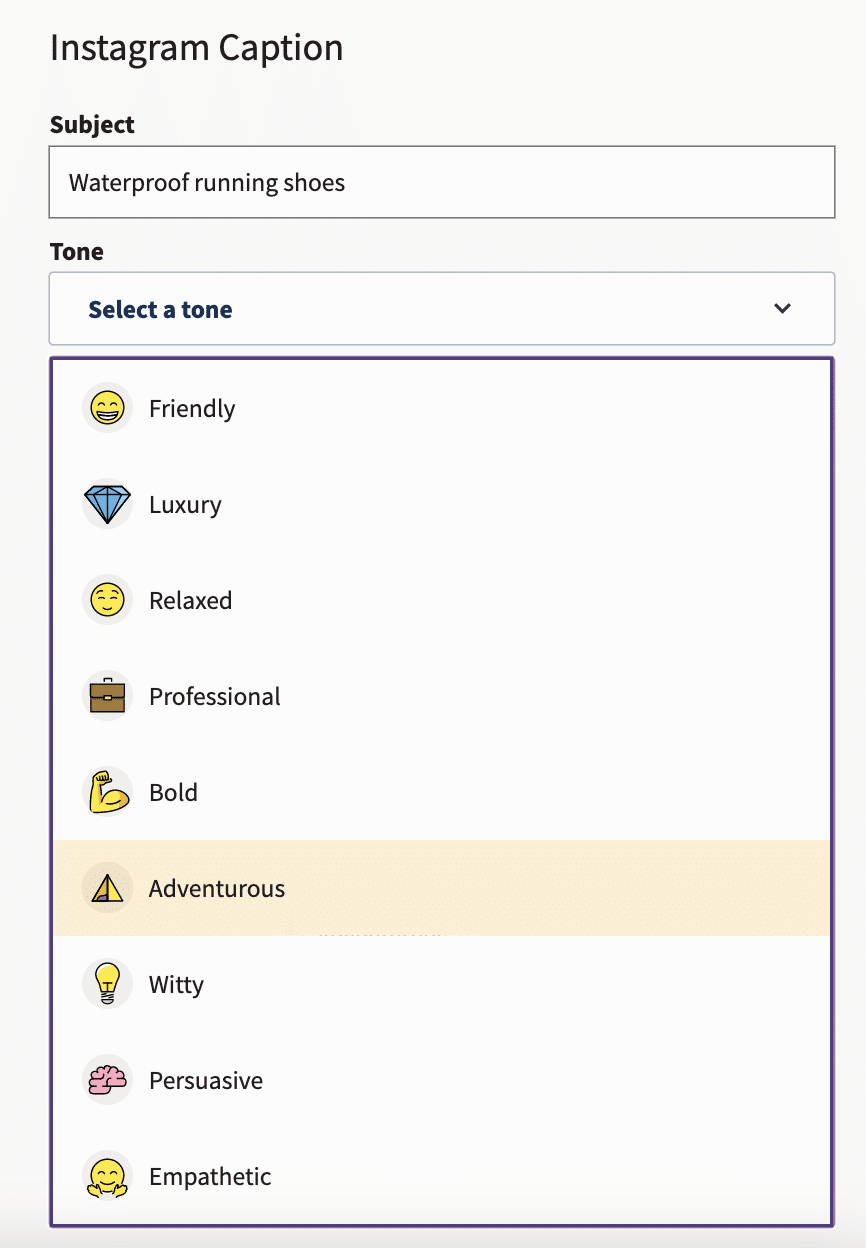 To get started with OwlyWriter, sign in to your Hootsuite account and head to the Inspiration section of the dashboard. Then, pick the type of AI magic you want to see in action.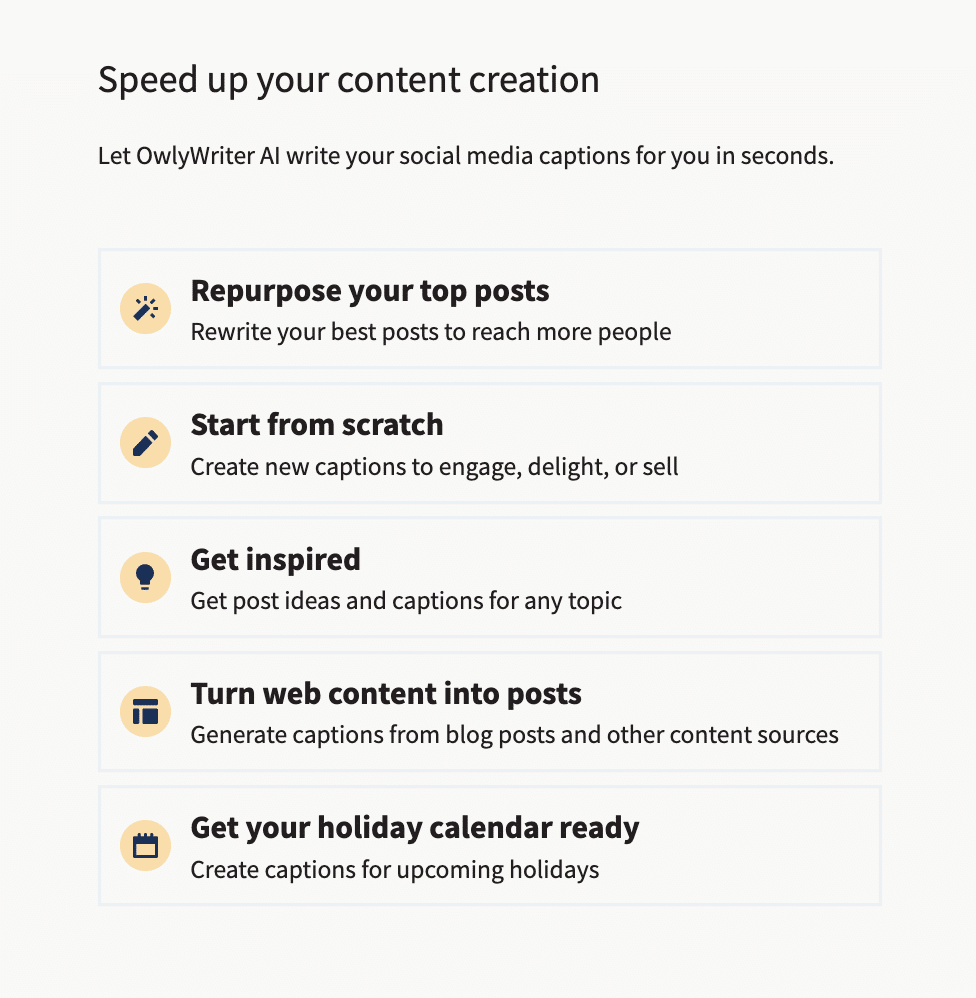 For example, if you're not sure what to post, click on Get inspired. Then, type in the general, high-level topic you want to address and click Get ideas.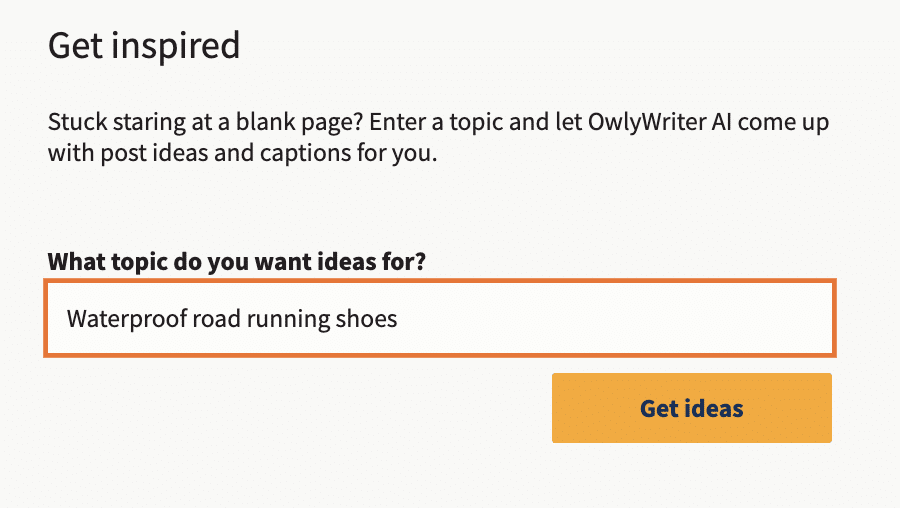 OwlyWriter will generate a list of post ideas related to the topic: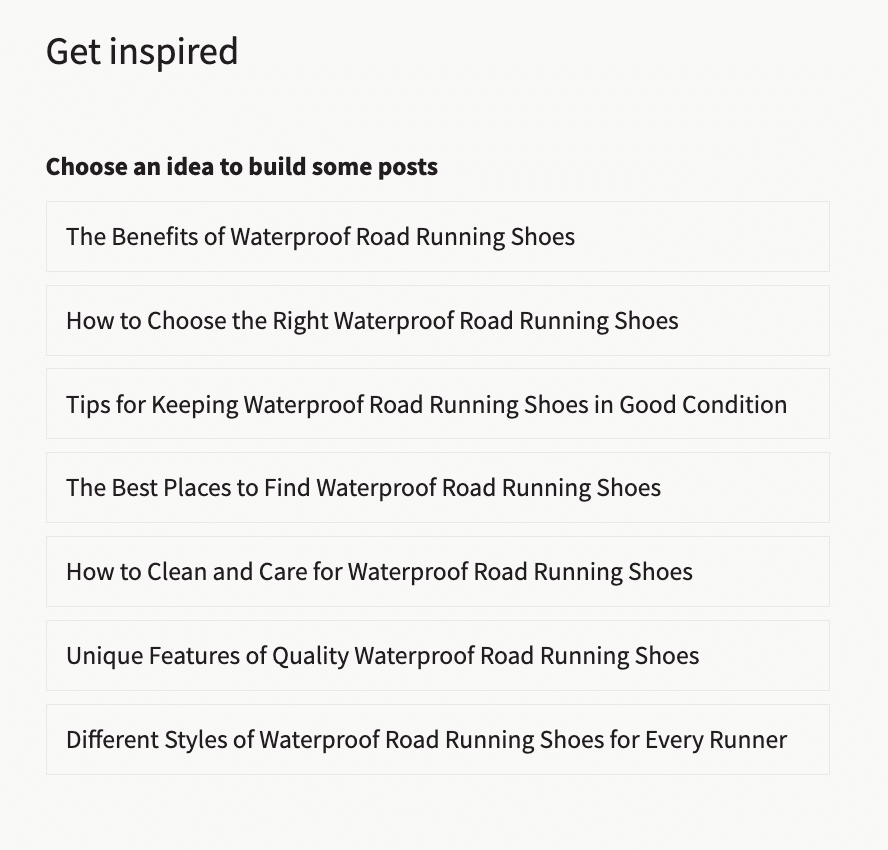 Click on the one you like best to move to the next step — captions and hashtags.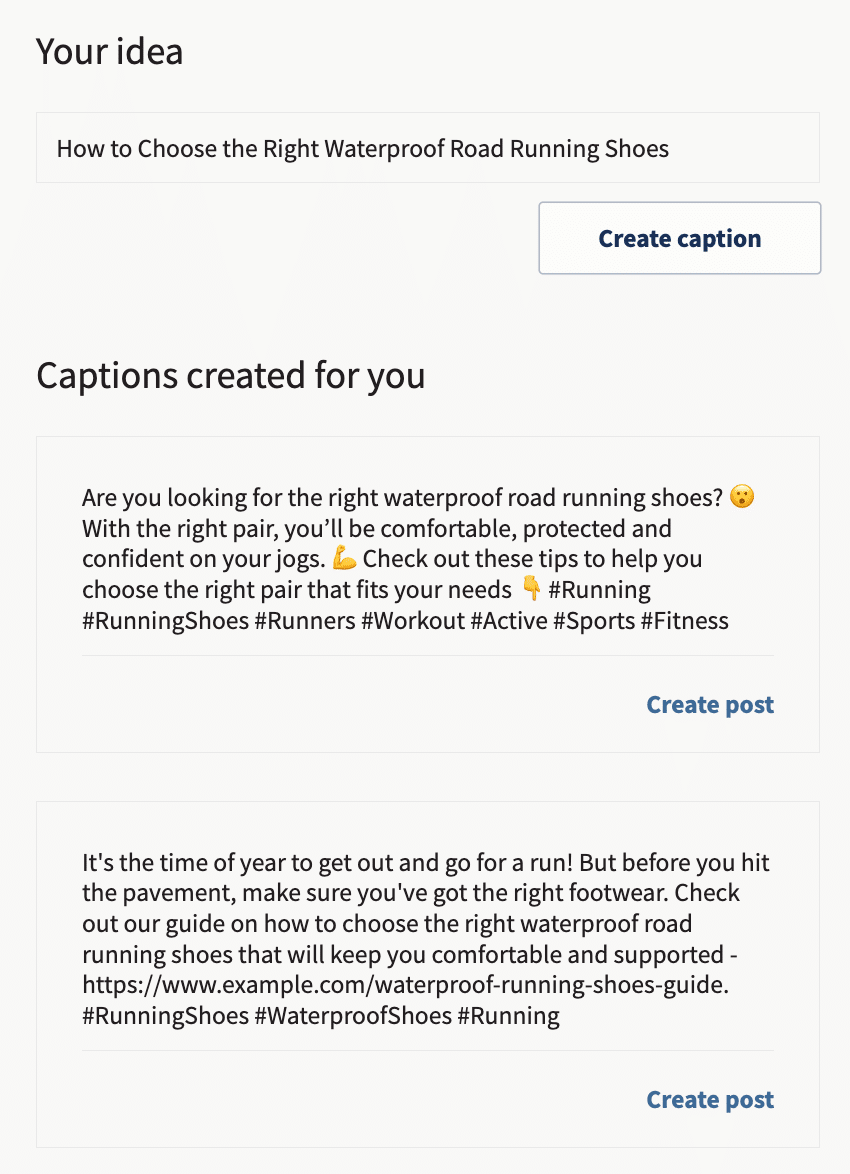 Pick the caption you like and click Create post. The caption will open in Hootsuite Composer, where you can make edits, add media files and links, check the copy against your compliance guidelines — and schedule your post to go live later.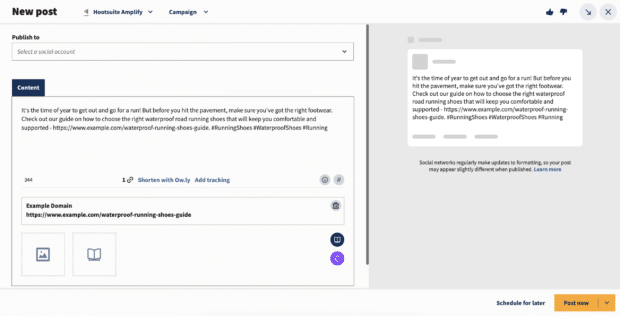 And that's it! OwlyWriter never runs out of ideas, so you can repeat this process until your social media calendar is full — and sit back to watch your engagement grow.
24. Repost for Instagram #Repost (iOS)
Source: Repost for Instagram on App Store
Why you should try it
Have you ever seen a post on Instagram and wanted to share it on your own feed? Repost for Instagram lets you do just that! This app allows you to repost pictures and videos from other users while giving credit to the original creator. You can even add your own comments before sharing. This Instagram app can help you tap into a new set of followers who might be interested in your content.
Manage your Instagram presence alongside your other social channels and save time using Hootsuite. From a single dashboard, you can schedule and publish posts, engage the audience, and measure performance. Try it free today.
Grow on Instagram
Easily create, analyze, and schedule Instagram posts, Stories, and Reels with Hootsuite. Save time and get results.
Free 30-Day Trial