Insurance social media marketing presents unique challenges. Potential customers can't just click a button to buy — instead, they complete an application and qualification process to get a quote.
Consumers are often price-sensitive. They know they need insurance. But they may not understand why it's so important or how policies differ. Social media marketing for insurance companies offers the ability to address those concerns.
Finally, insurance brands also have to comply with industry-specific regulations that define what can and can't be said on social media (and across other digital marketing channels).
Keep reading to find out how to build an effective and compliant strategy, and set your brand apart from the competition on social media — or watch this video if you're more of a visual learner:
Bonus: Download our free, customizable social media calendar template to easily plan and schedule all your content in advance.
Building awareness
Social tools reach people where they already spend time online. So they offer a valuable opportunity to increase brand awareness.
Developing a strong brand voice is key to becoming recognizable on social channels. In turn, you stay front of mind when people think about buying a new policy.
Consider how Progressive Insurance uses Twitter. Rather than a brand account, they have an account for their well-known spokeswoman, Flo.
The account posts almost no content about Progressive's policies. But it does keep Progressive on the radar of 68,000 followers. Content ranges from tips to consider when buying a new home to simple positive thoughts.
Check the smoke detectors in your new house. 'Cause falling asleep with a pizza in the oven happens fr … 🫢 pic.twitter.com/cIWmLqGK1G

— Flo from Progressive (@ItsFlo) April 24, 2023
Cleaned the 🏠 and filled the closet. Hey, a win's a win. What's yours? pic.twitter.com/NxzsTAtWfX

— Flo from Progressive (@ItsFlo) April 27, 2023
Improving trust and credibility
Trust in personal and property/casualty insurance increased in 2022.
Source: Edelman Trust Barometer
That said, trust for property/casualty insurance is still below 50% for most of the G7 countries. It hasn't risen above neutral in these countries for personal insurance, either. Insurance companies have work to do when it comes to increasing consumer trust.
Social media provides two-way communication. And it's a great vehicle for behind-the scenes content. These are both opportunities to humanize your brand. You can show that your workforce is made up of real people who have your clients' best interests at heart.
Customer service
Social customer service is no longer optional for insurance brands. Your clients – and potential clients – expect to find you on the channels they use everyday. Channels like Messenger and WhatsApp have become critical for support. You can't ignore customer inquiries and concerns that come through these platforms. Doing so can be enough to lose a client or earn a negative review.
Conversely, a helpful reply that makes your customer's life easier can earn ongoing loyalty at renewal time.
We can help you with this over here, Laura. Can you please send us a private message with your policy number on the link below? https://t.co/r9HpFiEUiH

— Churchill (@Churchill) May 1, 2023
There are a couple of important advantages to offering customer service through social channels.
First, it's easy to connect a chatbot to address simple or frequently asked questions. AI is improving and chatbots are getting more sophisticated. They're learning to answer more of your clients' questions. They can provide 24-hour service to get things started in case of a late-night claim.
You can also connect your social channels to your CRM. This gives agents a full record of all customer contact. With all available data, they can best assess a client's policy needs.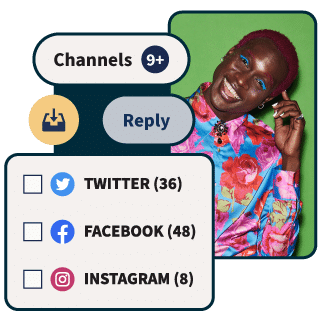 Reduce response time (and your workload)
Manage all your messages stress-free with easy routing, saved replies, and friendly chatbots. Try Hootsuite's Inbox today.
Book a Demo
Social listening
Social listening is a method of tracking relevant keywords and hashtags on social channels. This gives you a sense of what is happening in your industry and what people are saying about you online.
It provides the opportunity to catch negative feedback before it gets out of control. Or to respond to pertinent online conversations even when you're not tagged.
Social listening can also give insights into potential new products.
For example, Meta Foresight found that pet insurance was a trending topic of conversation related to pet ownership. More than 80,000 posts use the #petinsurance hashtag on Instagram and another 63,000 on Facebook.
Hootsuite Streams provides an automated way to keep on top of social conversations. You can even use Twitter's advanced search functions right in your Hootsuite dashboard.
Lead generation
Insurance is generally not an impulse buy. Instead, you need to generate and nurture leads. Social media marketing for insurance agents feeds your sales funnel.
Building a social media presence is the most effective tactic for improving lead quality. Among social platforms, Facebook is the best site for B2B lead generation.
Lead generation is a big subject, so we've got a whole blog post to walk you through the details.
Advertising
eMarketer predicts U.S. insurance companies' digital ad spend will increase to $13.58 billion in 2023. That's up from $12.03 billion in 2022. While the actual amount spent on digital ads is increasing, the rate of growth is slowing. The insurance percentage of the digital advertising pie is also shrinking. It went down to 4.8% in 2023 from 5.5% in 2020.
Source: eMarketer
Still, the numbers suggest your competitors are using social ads. If you're not taking advantage of paid social to reach new audiences, you may be losing out.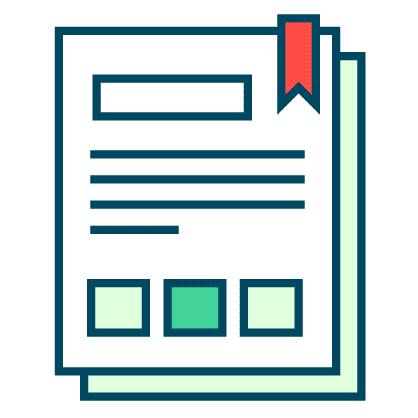 Free Course for Financial Institutions
Take this free 45-minute course and become a social media expert. Learn how to drive leads, protect your brand, prove your impact, and more.
Sign up for free
Facebook
Facebook offers an interesting opportunity for insurance brands. It's a place where people go to connect with friends and family. In other words, it's a social media platform on which people communicate with their most trusted contacts. So it may be no surprise that people are 5 times as likely to discover or evaluate auto insurance on Facebook as on quote aggregators.
Facebook Groups provide another interesting opportunity. Especially for insurers offering specialist coverage to connect with niche communities. Maybe it's vintage guitar collectors. Or high-end gaming systems aficionados. These people need insurance beyond the standard policy options. Connecting in a group is an easy way to stay front-of-mind and raise awareness about the limits of a standard policy.
Finally, Facebook Messenger has become a channel through which people expect customer service. People and businesses already exchange 20 billion messages on Messenger every month.
Instagram
Instagram is the top platform for building relationships with brands. It offers the chance to be a little more friendly and human in your social media. Reels and Stories are the right type of content to showcase behind-the-scenes insights into your company and highlight your corporate culture.
Instagram is also a good channel for jumping on social media trends. You could experiment with memes – if that's appropriate for your brand voice.
And don't forget to check your DMs. Once again, customers will reach out on the platforms they already use. A quick response gains loyalty and trust, while silence breeds contempt.
Having trouble keeping up with messages coming in through different channels? Try using a tool like Hootsuite Inbox to manage all your social messaging in one place.
LinkedIn
LinkedIn is the place to connect with corporate, industrial, and commercial clients. That applies for both insurance companies and individual agents
It's a great place for company executives, brokers, and agents to share thought leadership. This can develop their reputations as industry leaders.
People announce professional life changes like big moves and new jobs on LinkedIn. This provides the chance for advisors to reach out with messages of congratulations. And to provide a friendly reminder that life changes can lead to policy changes too.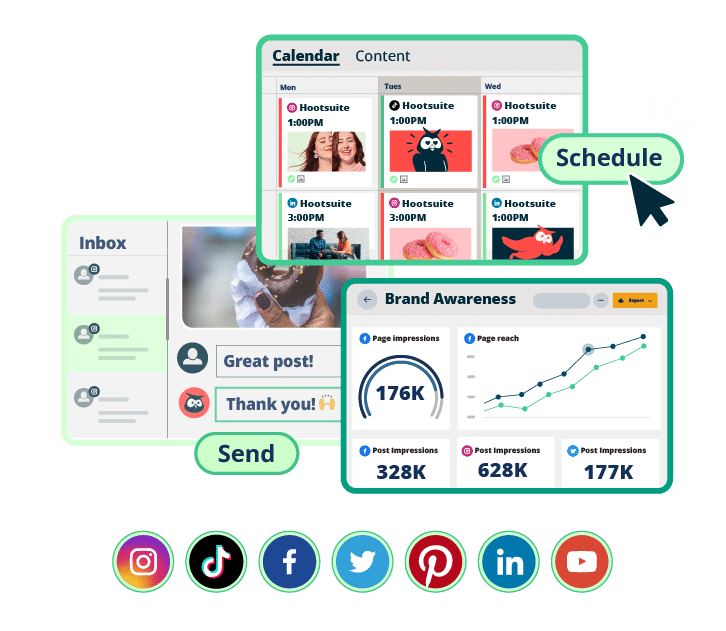 #1 Social Media Tool for Financial Services
Grow your client base with the tool that makes it easy to sell, engage, measure, and win — all while staying compliant.
Book a Demo
Idea 1: Brand-approved and compliant posts for insurance agents
Compliance is a key concern when using social media in the insurance industry. Depending on your location, the way you can (and can't) use social media might be defined by industry-specific regulatory bodies like:
A good way to stay compliant — and avoid violations and fees — is creating approved content at the corporate level. You can then decide whether to allow individual agents to customize their own insurance social media posts or not.
PPI is a Canadian national insurance marketing organization. It provides resources for independent brokers. One of those resources is The Link Between. It's an educational portal from which agents can share approved content.
Not sure how to manage customizable social media content for insurance agents? Hootsuite Amplify is an advocacy program that allows you to create content that's pre-approved and ready to share on social.
Hootsuite integrates with Proofpoint, so even if you do allow individual agents or team members to customize approved content, you can rest assured that they won't violate industry regulations. If a user tries to publish a post containing language that goes against financial services industry rules, an administrator will be notified, and the post will be automatically routed for manual approval.
To-do list:
Start building a back catalog of evergreen content for advisors to share.
Set up a system for sharing approved insurance social media posts.
Create incentives for advisors to take part.
Idea 2: Share infographics, educational videos or carousels
The options for educational content related to insurance are vast. First, you could educate users about insurance itself. What do certain terms mean? What is generally covered in a standard policy?
You can also educate followers about topics related to the areas you insure. This can in turn reduce the number of claims. If you offer health insurance, offer tips for healthy living. If you offer home insurance, talk about ways to prevent flood or fire.
To-do list:
Brainstorm educational ideas. Stay relevant to your brand, your followers, and the coverage you provide.
Sort content ideas into infographics, video content, and carousels. Some topics might work in each format on different social platforms.
Idea 3: FAQs with your in-house experts
This expands on the idea of educational content. But it goes a step further by showing off the expertise of your people. You could talk to:
advisors
adjusters
restoration experts
mechanics
or any other expert associated with your team.
Try creating an ongoing social video series. Or use a consistent graphic treatment so your FAQs are easily recognizable. Let your followers get to know the experts behind your brand. They'll feel comfortable that they are being taken care of by the best in the business.
To-do list:
Compile a list of frequently asked questions relevant to the types of insurance you offer or the areas for which you provide coverage.
Think about who within your organization would be a good representative expert for each area of knowledge.
Plan your video series.
Schedule this high-value content for the times when your audience is most likely to be online.
Idea 4: Testimonials or case studies
We mentioned earlier that trust in insurance businesses, while improving, is not currently great in most G7 countries. Social proof is an excellent way to overcome consumer doubts about your brand.
Social media contests can be an effective way to gather client testimonials:
The tone of the testimonials or case studies needs to align with your brand voice. Consider the example from BCAA above. Then compare it to this review compilation by the Gen-Z-centric insurance brand Lemonade:
To-do list:
Think about the best ways to gather customer feedback. Check review sites. Search your email for glowing thanks. Reach out to customers with whom you have a long-term relationship. Remember to only use testimonials with permission.
Brainstorm ideas to encourage clients to share testimonials, like a contest or branded hashtag.
Idea 5: Highlight corporate giving or employee volunteerism
Showing your team doing good work can do a lot for your brand's reputation. It can be especially meaningful to volunteer or donate in areas related to your policy offerings. But don't let that limit you.
Any activities your team undertakes to benefit the community help build brand trust. An insurance policy is a significant purchase. Clients want to know they're dealing with a brand whose values align with their own.
To-do list:
Review your corporate giving and community service programs to ensure there are opportunities for your team to give back.
When you and your team do something great, shout it from the rooftops. Create content to share your efforts.
Think about ways to get clients involved for an even greater sense of community.
Idea 6: Influencer partnerships
U.S. adults who research health insurance options on social media look for opinions from people like themselves. According to Forrester Research, 43% read social media posts from experts. Almost as many – 40% – look for opinions from peers.
The same report found that only 30% use insurers' pages to research which policies to buy. Are you limiting your social marketing efforts to your owned social channels? You're missing out on the 70% who look elsewhere to research their insurance needs.
An influencer partnership provides the chance to reach a new audience through an already trusted voice.
To-do list:
Start researching potential influencers relevant to your target market.
Reach out to discuss potential partnerships and content strategies.
Learn about the compliance requirements related to disclosure and branded content.
Grow your client base with the tool that makes it easy to sell, engage your audience, measure performance, and win on social media — all while staying compliant.
Get more leads, engage customers and stay compliant with Hootsuite, the #1 social media tool for financial services.
Book a Demo