Social Media on the GeO ~ HootSuite iPhone Geo Update
No matter where you go, your iPhone knows where you are. Now, with HootSuite iPhone, you can (almost) control space and time with geo-location-aware tools.
Tune your Owl to discover your neighborhood the way you want – filter hyper-local search results, find out where your friends hanging out, and who's tweeting from nearby. Oh yes, plus a handful more interface options to save clicks and increase happiness.
Do you know Geo?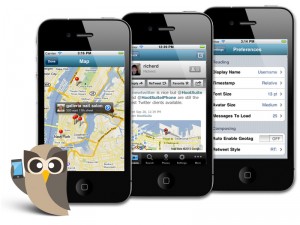 Seeking sushi in your neighborhood? Want the score from your hometown fans but not the chatter from the away side? Use HootSuite to filter the distance and show the results you want.
When entering a search term, simply select a distance range to see only the updates originating from the designated area. Display tweets layered atop a map for easy drill down to right where the conversation is happening.
No use hearing about great sushi in Vancouver when you are in New York City! Or a shoe sale in Tokyo when you are in Milan … or … well, you get the idea. Keep it local, keep it easy.
Handy for eager shoppers looking for an special offer and a powerful asset for businesses to encourage real-time commerce in real-life.
Note: To maximize geo-goodtimes, enable geo at Twitter (#new) & see how to use geo-tweeting feature.
Who's Hanging Out?
It's 5PM, do you know where your friends are? Don't wander the 'hood aimlessly – instead find where to congregate by viewing your friends' Foursquare check-ins displayed right on a the map for way-finding ease.
Wondering how they got there? Follow a 24hr trail of breadcrumbs to learn their check-in history. Helpful for finding new recommended haunts or re-creating pub crawls, historical tours, and photo walks. So handy that you'll be mayor of *everywhere* before you know it.
Care to see a Menu?
Some people search, while others dig trends or stats, while some folks are always checking-in. However you hoot, this owl will do your bidding with:
Customizable mix-and-match menu buttons to keep  fave tools close to your thumbs
New "Places" button available in the top level menu for quick geo-located updates
Option to load/display from 25 to 200 messages at a time
Direct access to the Help Desk to find answers quickly without leaving the app
Landscape web browsing for easier reading on-the-go
Now those are some tasty options!
Berries and Robots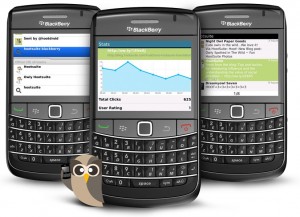 Each time HootSuite iPhone is updated, Blackberry and Android users are the first to ask, "Hey, what about us?" Well, don't fret as you are next on the list to delight and impress.
A truckload more Blackberry private beta invites went out to test the Facebook integration. The Android update is soon ready for your Facebook-ing-fun too.
We know you are anxious, but like a decent bottle of wine, we'll release no software until it's refined.
May we appease you with a screenshot in the meanwhile?
Bonus: Finally, robots sometimes get loved too: the affable musician Dan Mangan, whose song "Robots" sound-tracked the HootSuite Android release video, made the shortlist for the prestigious Polaris Prize for "Record of the Year."