Do you think there's one perfect person out there for everyone? What about one perfect social media management tool? And is it… Later?
If you're commitment-phobic when it comes to picking a social media management platform, we get it. There are so many different tools out there, ready to help you schedule social content, monitor brand sentiment, share insightful analytics, or collaborate with your team.
So if you're not 100% sure if Later is your social media soulmate, that's totally fine. There are plenty of other fish (or, in this case, management platforms) in the sea (a.k.a., internet).
We're here to help play matchmaker, with this list of the best Later alternatives and Later competitors on the market in 2023. Who knows? Maybe today's the day you find the one — and then easily schedule a post to tell your social media followers all about it, of course.
8 Later alternatives and competitors

Hootsuite is a popular Later competitor because its user-friendly dashboard works with Facebook, Instagram, Twitter, LinkedIn, TikTok, Pinterest, and Youtube (wheeee!), which means that you've got everything you need to rock your social media strategy in one place.
Use Hootsuite to craft content, learn about your audience, offer customer support, report all your big wins to your boss, and much, much more.
With Hootsuite, you get:
An easy to use social media scheduler
Personalized recommendations for best times to post
Intuitive analytics for tracking the performance of all your social accounts
One, unifed inbox for DMs and comments from every network and messaging app
Robust social media monitoring tools to help you protect your brand
Integrations with all of your other tools, including Canva, Grammarly, Hubspot, Shopify, Mailchimp, Microsoft Dynamics, and 200+ more
Pretty sweet stuff, right? Learn more about why Hootsuite is the best Later alternative here.
Good for: Small, medium and large businesses or marketing pros who manage multiple social media accounts.
Pricing: Free plan available; professional plans (for 10 social accounts and up) available from $99 per month. See full pricing here.

One of Buffer's primary strengths is its scheduling function. Buffer allows users to plan and publish posts across multiple social media marketing platforms, including Twitter, Facebook, LinkedIn, and Instagram — all the biggies.
Buffer also provides a fairly intuitive and user-friendly interface, making it easy to navigate and manage social media profiles efficiently.
Buffer offers some valuable analytics and reporting features: users can track the performance of their posts, analyze engagement metrics, and make data-driven decisions for their social media strategies.
Another interesting feature is Buffer's content curation tool, which allows users to discover and share relevant content from trusted sources.
Good for: Individuals, small businesses, and content creators.
Bonus: Get a free social media strategy template to quickly and easily plan your own strategy. Also use it to track results and present the plan to your boss, teammates, and clients.
Pricing: Free plan available; plans with more robust analytics tools available from $6 a month and up per channel. See full pricing here.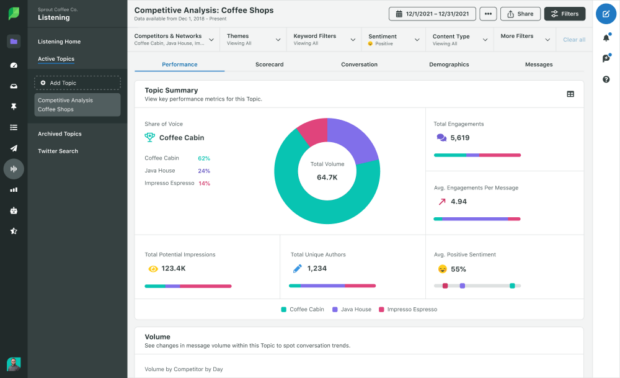 Sprout Social is another decently comprehensive Later alternative that offers a wide range of features to help businesses effectively manage multiple social media channels.
Sprout Social has social media monitoring capabilities that include tracking brand mentions, monitoring keywords, and generally staying on top of conversations happening across various social media platforms.
Good for: Medium to large businesses, marketing agencies, and major enterprises that need advanced social media management capabilities.
Pricing: Starts from $249 per month. Full pricing details here.

Calling all 'gram heads: Pallyy is a social media tool that has been designed specifically for Instagram marketing, which is why we've included it on this list of Later alternatives. (Though you can schedule for Twitter, Facebook, LinkedIn, Google My Business, Pinterest, and TikTok too.)
Pallyy has some particularly in-depth Instagram analytics, giving you detailed insights into post performance, follower growth, engagement rates, and more. These sort of analytics can help brands make data-driven decisions, identify trends, and optimize their Instagram strategy.
Pallyy's visual post planner is also a standout. Another useful feature is Pallyy's hashtag analytics, which helps users track the performance of their hashtags, identify popular ones, and discover new relevant hashtags. Pally's bio generator and caption generator are helpful, too.
Good for: Social media newbies and freelancers managing multiple accounts.
Pricing: Free for the basic account; $15 monthly for the premium version. See full Pallyy pricing details here.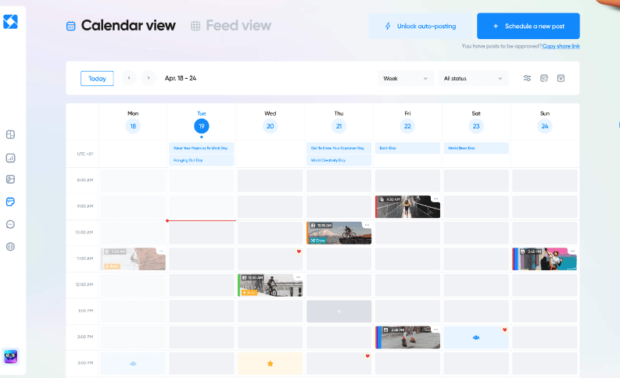 Iconosquare — yet another social media analytics and management tool — specializes in providing comprehensive insights and data for Instagram, Facebook, Twitter, LinkedIn, and TikTok.
The analytics dashboard is a popular feature: find in-depth metrics and reporting on various aspects of Instagram and Facebook performance. Like most other social media analytics tools, you can also track engagement rates, follower growth, reach, impressions, and more. You're also able to benchmark performance against competitors and gain insights into industry trends.
Of course, like Later, Iconosquare offers post scheduling and planning features, allowing users to schedule their content in advance (or rearrange with the drag-and-drop capability). Hashtag tracking and analysis tools help users discover relevant hashtags, monitor their performance, and optimize their hashtag strategy.
Good for: Businesses and marketers who need in-depth insights.
Pricing: Plans start from 59 Euros per month. See full list of Iconosquare prices here.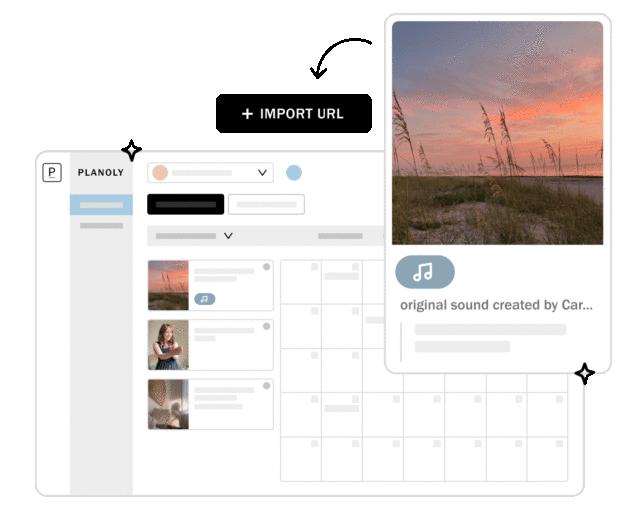 Planoly started its life as an app for managing and planning content on Instagram, which is why it's perfect for a list of Later alternatives. But, it now also functions as a posting tool for TikTok, Facebook, YouTube, LinkedIn, Pinterest, and Twitter too.
This Later alternative features a visually appealing grid planning feature, which allows brands to easily plan the aesthetic layout of their Instagram feed. (Need some inspo for your Instagram grid? We gotchu.)
Planoly also offers scheduling capabilities: automatically post content at the optimal times for your audience. Like any social media management platform worth its salt, this tool also provides analytics and insights, but it also gets a little more in-depth with the hashtag strategy stuff — Planoly supports hashtag management, helping users discover relevant hashtags, save them for future use, and analyze their performance.
Good for: Influencers, content creators, and businesses that want to create a visually appealing Instagram feed.
Pricing: Plans starting from $11.25 per month. Full list of price options here.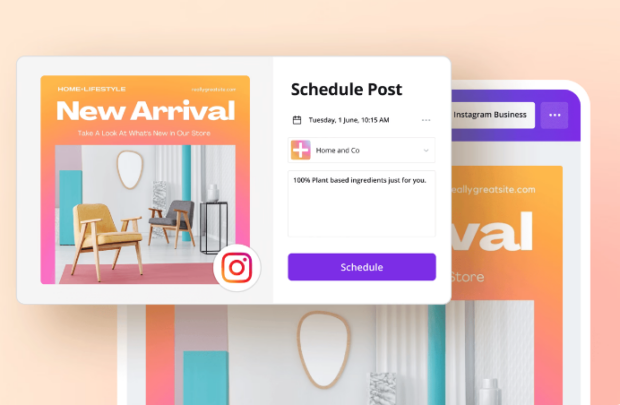 There's a reason we added Canva right into the Hootsuite dashboard: the easy-to-use graphic design tool helps even the most graphic-design-challenged among us create beautiful, eye-catching posts in a snap.
And now, Canva Pro users can schedule and plan posts right from the Canva website or app. It currently comes with posting capabilities for Facebook, Instagram, Twitter and Linkedin. Within the Canva Pro dashboard, you can also track engagement, likes, clicks, impressions, and more to see how you're performing.
Good for: People who are already using Canva to design their social content.
Pricing: Canva Pro accounts are $149.99 annually.

Loomly is a Later alternative designed to help social media managers streamline their social media workflow. The intuitive content calendar is pretty neat, providing you with a visual overview of scheduled posts and allows for easy planning and organization.
Schedule and publish posts across various social media platforms, including Facebook, Twitter, Instagram, LinkedIn, and Pinterest with Loomly, and collaborate with your team members on content in the process.
Good for: Collaborative folks: think marketing teams and agencies.
Pricing: Entry level monthly plans start at $35 per month. More info on Loomly pricing here.
How to pick the best social media tool for you
We get it: with so many social media tools available now, it can feel a little daunting to make a decision. (Analysis paralysis, anyone?) But ask yourself the following questions, and the best social media management software for you and your team should soon become clear.
Which social media platforms will you be posting to?
Maybe your social media strategy just focuses on Facebook. Maybe you've got a robust, omni-channel strategy that includes everything from Pinterest to Snapchat.
Whatever social media platforms you're using — or planning on using in the future — will obviously inform your choice of social media management tool. Not every platform integrates with every social media tool, so check to make sure all of your essential accounts are covered.
For instance, Hootsuite's user-friendly dashboard works with Facebook, Instagram, Twitter, LinkedIn, Pinterest, Youtube, and even TikTok — so if your brand wants an easy way to post to all of these networks from one user-friendly dashboard, Hootsuite could be a great fit.
Are you working solo or collaborating with a team?
Some companies leave social media work in the hands of just one brave person. But others have a social media content creation process that's more collaborative, or maybe require a whole team of people to handle a large volume of DMs or customer queries.
Whatever your team may look like, consider how all users will access the social media management tool you choose.
What collaboration features will be useful to you?
How many users will your plan get you?
Is there a way to "assign" certain social tasks to your colleagues using the interface?
Think ahead about not just how you might use the software but how your whole team could benefit from your choice.
For instance, here are a few of the things Hootsuite can do to help teams streamline the workflow:
Manage all incoming messages and comments from one centralized inbox
Assign messages to team members as tasks
Collaborate on post drafts in Hootsuite Planner
Set posting permissions for individual team members
Set up easy approvals so the right people have final say
What kind of metrics matter to you?
Depending on your social media goals, your key performance indicators (KPIs) could look vastly different than the company next door. But whatever those KPIs may be, make sure the social media management tool you choose can measure them properly.
A tool that can create custom reports to showcase your results might also be important to you. With Hootsuite Analytics, you can track performance of all your social channels in one place, and even collect metrics from different channels in one (eye-catching, if we do say so) dashboard for easy review.
How robust should your social media monitoring be?
Social media monitoring and listening are important way to understand exactly what your customers think about you. But not all monitoring tools are created equal.
Think about what kind of information you'd like to learn from your customers — what type of conversations you'd like to listen in on, how deep you'd like to go down the rabbit hole into your audience community — and assess whether a specific social media management platform can help you get that intel.
Strong social listening tools can also help you learn what your audience thinks about the competition, or your industry. In other words, there is always incredible market research readily available in real-time, as long as you know how to access it. Make sure you've got the tools ready to maximize this sweet, sweet info.
What other tools do you use?
Most social media managers have a whole suite of software and tools to help them do their job — a graphic design website to help them create custom graphics to post, for example, or a favorite stock video source. So it's absolutely worth checking to see if your desired social media management platform plays nicely with your go-to tools. Hootsuite integrates with tons of popular tools (from Adobe Creative Cloud to Google Translate!), so you can seamlessly access or sync up with your most-used apps.
FAQs about Later alternatives
What's better than Later?
Hootsuite is one popular social media management tool that can work as an alternative to Later; other options include Buffer, Sprout Social, Pallyy, Iconosquare, and Planoly.
Of course, what's "better" than Later will depend on what your specific needs are. To determine which social media management tool is the best fit for you or your brand, compare their features, pricing, and user reviews — or take a few for a test run with a free trial.
What is the difference between Buffer and Later?
Both Buffer and Later are social media management tools, similar to Hootsuite.
Later is primarily focused on scheduling and visual planning for Instagram, while Buffer supports scheduling for multiple social media platforms.
Buffer offers a content curation feature that allows you to discover and share relevant content, while Later does not have this feature.
Hootsuite is a strong Later alternative and Buffer alternative.
With Hootsuite Composer, you can create and schedule all of your social posts in one place. Composer also has a set of powerful tools to help make creation a breeze, including personalized recommendations for posting times, a built in Grammarly Pro feature for catching typos, Canva integration, a hashtag generator, and a new AI caption generator. It also offers approval and collaboration workflows for larger teams. Learn more here.
What is the difference between Later and Planoly?
Later and Planoly are both social media tools that specialize in scheduling and planning content for Instagram, with visual interfaces.
Planoly is a slightly more expensive Later alternative. Both platforms allow users to auto-publish to Instagram, Facebook, Twitter, TikTok, and Pinterest, but Later also can publish to LinkedIn.
Another benefit of Later over Planoly is that you can save captions and receive recommendations for the best time to post. Planoly's content subscription, however, delivers 30 customizable templates, captions and hashtags to you each month.
Not that anyone asked (ahem), but Hootsuite also has a helpful visual content planner — plus helpful visual composer tools like Canva and a content library to spark inspiration. Test out Hootsuite for yourself to see how it stacks up to Later and Planoly for creating beautiful content on all your social accounts.
Save time managing your social media presence with Hootsuite, the #1 Later alternative. From a single dashboard you can publish and schedule posts, find relevant conversions, engage the audience, measure results, and more. Try it free today.
Do it better with Hootsuite, the all-in-one social media tool. Stay on top of things, grow, and beat the competition.
Free 30-Day Trial