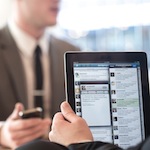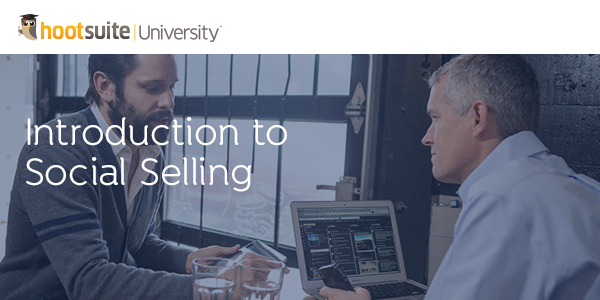 Being successful at sales on social media depends on your ability to filter through the noise and identify key prospects and influential players in your industry. As you follow more and more people on Twitter, your feed can become difficult to navigate and prioritize. Organizing your social selling dashboard becomes essential, and that's where HootSuite can help.
HootSuite University's latest course, Introduction to Social Selling, empowers today's sales practitioners with social selling tips and best practices on everything from securing sales through social media engagement, to where HootSuite fits into the process. Take a sneak peak in this excerpt from the course.
HootSuite allows you to consolidate many fundamental social selling actions, like monitoring and engaging, into your existing sales workflow. Whether you're answering questions or following up on stagnant leads, your HootSuite dashboard is an easy way to organize all of your social activities to make this process quick and easy.
Key Elements of Your Social Selling Dashboard
There are a few important elements that every social selling dashboard should incorporate to help you be as effective as possible in your social selling efforts. These include:
Monitoring Your Company: Following your own company and stakeholders on social media helps you maintain alignment with your brand message and amplify any campaigns that might benefit clients.

Monitoring and Engaging Influencers: It's crucial to keep up with what's happening both inside and outside your company. Creating Twitter lists to monitor thought leaders and influencers in your industry can help you stay ahead of trends, and ahead of competitors.

Competitor Monitoring: Monitoring competitors on social media, through private Twitter lists, allows you to see what types of conversations they're engaging in with clients to increase your competitive sales intelligence.

Geo-search: If your sales team is organized by country or time zone, geo-search becomes an invaluable tool for connecting with prospects whenever they're available. Geo-search also comes in handy when you attend events, allowing you to interact with prospects nearby.
Find more leads and close more deals by leveraging social media the right way. An organized social selling dashboard is your key to sales success.
Enroll in HootSuite University to access this 45-minute course today. Since 2011, over 50,000 success-minded social media professionals have obtained accredited training, education and certification from HootSuite University. Earn your certification and enhance your social ROI.