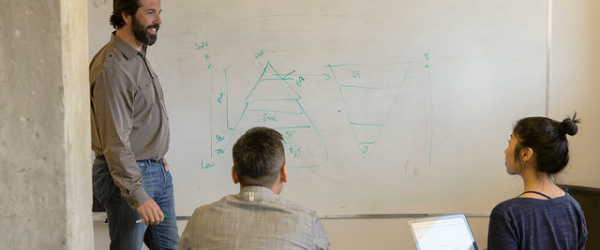 Back to (Old) School: Remember the Basics of Teaching Social Media
The main struggle with teaching social media is the sheer amount that can be taught: hundreds of platforms, a wealth of online content and advice, and the ongoing optimization and evolution of best practices and new technologies. Teaching social media can sometimes seem like an uphill battle because there is always something new to learn and something new to teach.
Whether you're teaching one peer, a team, or a classroom full of students, consider going back to basics to ground your teaching. Caught up in the latest and greatest, you may have overlooked these foundational tips that can help you navigate the challenge of teaching social media.
Tip #1: Not sure where to start? Ask
One of the challenges of teaching social media is the variety of technical aptitude. Are you teaching human dictionaries when it comes to social media?
Dr. Karen Freberg, Assistant Professor at the University of Louisville, has taught social media since 2011. Her social media class (recently featured on WRDB.com) prepares students with the digital skills they need for their future careers. In a recent webinar, she outlined tips to consider when teaching social media; one of them being to survey her students to ask them what they know. This helps her determine the pace and content covered in the rest of her class.
Simply asking your peers or pupils what they know gives you a good place to start building social media knowledge and new skills. So consider surveying your audience – whether it be a classroom or peers – with skill-testing questions to determine what they know before starting.
Free polling/survey tools to use:
Tip #2: Obtain feedback
Feedback is a great way to make sure the content you're teaching is relevant for the current marketplace. Karen ensures her course content is relevant for the working world by asking industry professionals to review her class curriculum. This way, she knows her students are learning the right skills for professional success.
Brilliant, right? When validating the social media content you're teaching with peers in the industry, consider asking these questions to your chosen experts:
Would this knowledge benefit your own team?
Can you offer any critiques of the content being taught?
Can you provide insight into the topic?
Would you hire someone who has learned these skills?
Tip #3: Research
The great thing about social media is that it is everywhere. That means that many resources exist to help you teach others about the craft of social media – you just have to research and find them.
Blogs
Blogs are a great resource to find relevant information about social media. Sharing blog articles with others helps provide real-life examples and commentary, and often showcases best practices in social media. Blogs to visit include:
Hootsuite Tools & Resources
Hootsuite has a variety of free content available for you to teach social media to peers or pupils:
If you are teaching in a more formal classroom environment at a university or college, Hootsuite's Higher Education Program provides accredited higher education institutions free three month access to Hootsuite Pro and Hootsuite University, giving professors access to a bank of social media courseware and materials to add to their curricula.
Learn more about Hootsuite's Higher Education program
Social Media Content Tools
Part of learning about social media is learning to create engaging content. Karen suggests these tools to her students:
Tip #4: Read books
Despite the obvious bias, you can learn about social media through the printed word; books can be a great complement to teaching social media. Karen Freberg uses Michael Brito's Your Brand, The Next Media Company and Chris Kern's Trendology: Building an advantage through data-driven real-time marketing to teach. Other textbooks and printed resources include:
While combining print content and online tools may seem counter-intuitive, books are great resources to learn about and teach social media, especially if your peer(s) or pupil(s) prefer to learn in this manner. For tips about blending traditional and online learning tools, read more in Hootsuite's Guide to Blended Learning.
Learn more about blended learning
Tip #5: Don't forget about foundational skills
There is so much to learn about social media that sometimes the foundational skills that breed success are overlooked. When teaching social media, emphasize that fundamental skills – like communication and etiquette – are still very important to master for successful social media execution.
Some foundational areas and tactics to consider:
Etiquette: Review what comprises proper social media etiquette.
Communication Skills: Emphasize the importance of professional communication skills. When teaching, critique your peers or pupils' social media activity. Critique spelling, grammar, format, and tone.
Research Skills: Much of social media is about curating content, and with that comes the development of research skills. Encourage the development of content on social media that utilizes a variety of sources: blogs, journals, white-papers, and news sites.
Tip #6: Find balance
Remembering the basics helps you navigate the constant evolution of social media. This may mean combining more traditional and foundational skills with new content and learning experiences. Finding a balance between old and new as well as concept and practice is key to think about when teaching social media.
When teaching social media in her classroom, Karen Freberg uses in-class time to cover concepts and often uses discussions to delve deeper into a subject. For out-of-class time, she assigns homework that emphasizes practical application of social media, so students get real-life practice using social media and corresponding tools.
When a classroom has both face-to-face and online learning components, it is often referred to as a classroom that utilizes blended learning. To learn more about balancing these components, download Hootsuite's Guide to Blended Learning.
Learn more about blended learning
There is no doubt that there are large amounts of resources and strategies to consider when teaching social media. To sum it up: ask people, uncover resources, focus on foundational skills, and find the right balance. Your peers or pupils will be social media practitioners in no time.
To hear how Karen Freberg teaches social media in the classroom, watch her webinar The Social Classroom: How to Teach Social Media (available on-demand).