It's happening: Robots are taking over. Retail bots are reshaping social commerce, helping brands make big dollars selling their products and services on social media. Consumer spending via retail bots is predicted to hit $142 billion USD by 2024… a massive 4,971% increase from 2019's $2.8 billion USD.
Besides ecommerce sales growth, retail bots bridge the gap between online and offline interactions, improve customer satisfaction, and contribute to higher in-store sales. Chatbots have already replaced phones as the preferred customer service channel: 64% of customers would rather message a retail bot than make a phone call.
Here's everything you need to know about using retail chatbots to grow your business, have happier customers, and skyrocket your social commerce potential.
Bonus: Learn how to sell more products on social media with our free Social Commerce 101 guide. Delight your customers and improve conversion rates.
What is a retail bot?
Retail chatbots are AI-powered live chat agents who can answer customer questions, provide quick customer support, and upsell products online—24/7.
Retail bots can handle simple requests, like order tracking, FAQ answers, or product recommendations (a.k.a. they can be your a personal shopping assistant for your online client). By automating these basic tasks, you free up your human agents to efficiently handle higher-value engagements that require a 1:1 conversation.
Plus, sales automation chatbots can serve and convert customers while you're closed. 29% of conversations in sports equipment retailer Decathlon's chatbot happened outside of opening hours.
Retail bots allow you to offer personalized customer service at scale across all your social media and web platforms, including Facebook Messenger, Instagram, WhatsApp, Shopify (and other ecommerce providers), Salesforce, and more.
9 ways retailers are using chatbots
Retail bots can automate up to 94% of your inquiries with a 96% customer satisfaction score. Peachy, huh? Here are 9 ways retailers are using chatbots right now.
1. Boost sales
Unlike your human agents, chatbots are available 24/7 and can provide instant responses at scale, helping your customers complete the checkout process.
Sometimes, customers need a human to guide their purchase, but often, they only need a basic question answered, or a quick product recommendation.
Chatbots use contextual cues, or in some cases custom-programmed language processing, to understand what people want. For example, the difference between a customer asking to see a "green dress" versus "green dress shoes."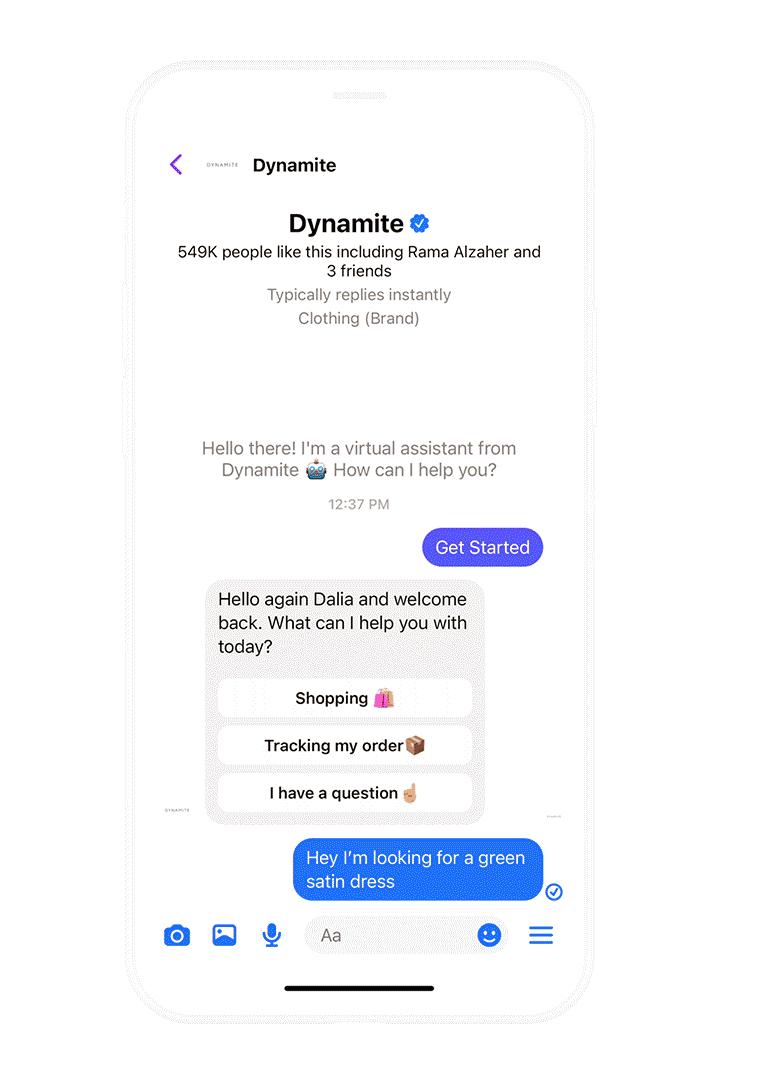 Since implementing an intelligent retail bot like Heyday, fashion retailer Groupe Dynamite's traffic increased by 200%, and chat now makes up 60% of all of their customer interactions.
2. Automate simple customer service conversations
Automation itself doesn't get you happier customers. Creating technological solutions that solve your customer's problem does.
Fody Foods sells their specialty line of trigger-free products for people with digestive conditions and allergies. Since their customers need to be extra cautious of what they're eating, many have questions about specific ingredients used in the products.
After experiencing growth in 2020, they needed to quickly scale up their customer service response times.
Now, Fody uses retail bots to answer simple questions, such as order tracking which is fully automated by Heyday's conversational artificial intelligence and shipping integrations. Adding chatbots to their website resulted in saving 30% of their customer service team's time every single week. Without the overwhelm, Fody was able to improve their marketing with proactive communication strategies targeted to those with digestive conditions.
Their chatbot currently automates recipe suggestions, product questions, order tracking, and more.
Source: Fody Foods
3. Improve customer experience
One of the first companies to adopt retail bots for ecommerce at scale was Domino's Pizza UK. Their "Pizza Bot" allows customers to order pizza from Facebook Messenger with only a few taps.
Connected to your Domino's account, the bot can even see your saved "Easy Order" and order it with a single tap. Convenient (and tempting).
Domino's has a long history of being at the forefront of retail tech, having experimented with drone pizza delivery and lately, delivering pizzas via a driverless, fully-automated robot car.
Thanks to their willingness to be among the first in their category to use new technology and AI, Domino's ranks first in customer satisfaction for the pizza category, and sales grew 16.1% in 2020 Q2, one of the toughest quarters on record for the hospitality industry.
4. Provide customer service 24/7
Online shopping never sleeps. And when do your customers want answers? Now, or they'll go somewhere else.
Many ecommerce brands experienced growth in 2020 and 2021 as lockdowns closed brick-and-mortar shops. French beauty retailer Merci Handy, who has made colorful hand sanitizers since 2014, saw a 1000% jump in ecommerce sales in one 24-hour period.
Sounds great, but more sales don't happen automatically or without consequence. With that many new sales, the company had to serve a lot more customer service inquiries, too. Everything from "Where's my order?" to specific product questions.
Automating your FAQ with a shopping bot is a smart move for growing ecommerce brands needing to scale quickly — and in this case, literally overnight.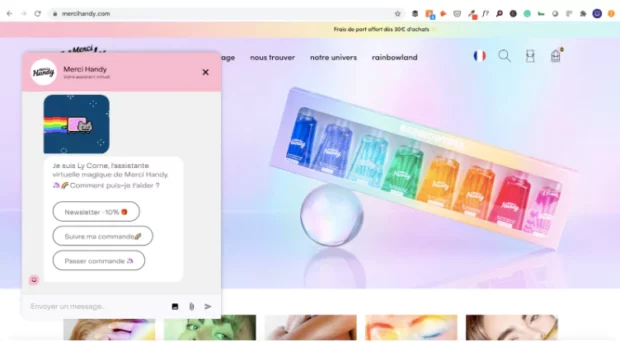 Source: Shopify
Launching a retail bot to handle simple questions about order tracking, shipping policies, and product suggestions allowed Merci Handy to quickly pivot from a primarily wholesale business where 85% of sales were from in-store stockists, to a primarily B2C ecommerce company.
5. Relieve your customer service team
It's difficult for small businesses trying to compete with industry giants and their huge customer service teams. Kusmi Tea, a small gourmet manufacturer, values personalized service, but only has two customer care staff members. They were struggling to keep up with incoming customer questions.
Kusmi launched their retail bot in August 2021, where it handled over 8,500 customer chats in 3 months with 94% of those being fully automated. But the biggest impact? For customers who needed to talk to a human representative, Kusmi was able to lower their response time from 10 hours to 3.5 hours within 30 days.
Having the retail bot handle simple questions about product details and order tracking freed up their small customer service team to help more customers faster. And importantly, they received only positive feedback from customers about using the retail bot.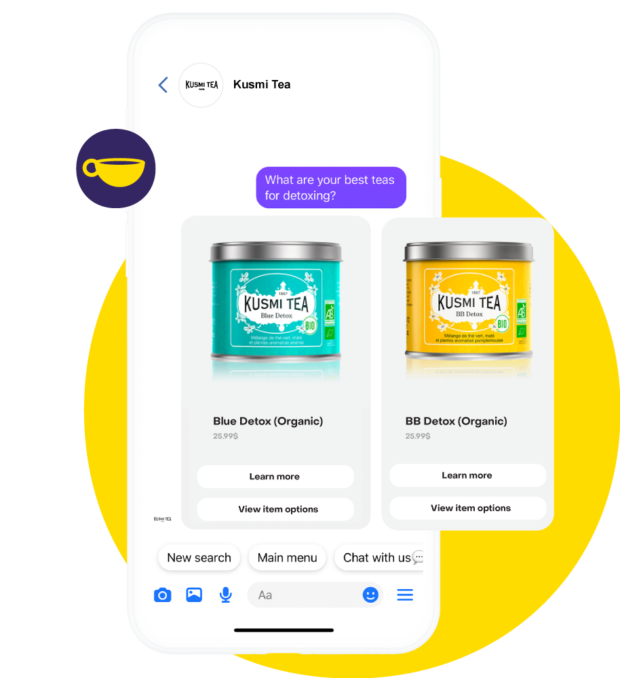 6. Collect feedback
Customer feedback and market research should be the foundation of any strategy for social media marketing for retail brands. The best way to get feedback? Directly from your customers and visitors.
But, you know what I personally hate? When you go to a website and there's an instant popup, blocking the content I'm trying to see. I usually close the window immediately without even reading it. And I'm not alone: Modal popups are the most hated advertisement on the web.
By using a chatbot for your user surveys, you combine the best of both worlds:
Unobtrusive design that won't annoy people.
All the other abilities of a smart retail bot, like personalized service, learning as it interacts with more customers, and analytics to understand your customers' behavior.
You can create a standalone survey, or you can collect feedback in small doses during customer interactions.
Find out what your customers are shopping for and analyze trends over time. Are you converting these types of customers, or is everyone shopping for a birthday present leaving without buying?
Source: Seattle Ballooning
You can also offer a survey after the end of a chat session. It can be about the specific interaction to find out how customers view your chatbot (like this example), or you can make it a more general survey about your company. Work in anything from demographic questions to their favorite product of yours.
Source: Wave Accounting
7. Monitor brand sentiment
Sentiment analysis consists of three categories: positive, negative, and neutral. It's an indicator of how people feel about your brand, products, or a specific campaign.
Thanks to advances in social listening technology, brands have more data than ever before. What used to take formalized market research surveys and focus groups now happens in real-time by analyzing what your customers are saying on social media.
Your retail chatbot adds to that by measuring the sentiment of its interactions, which can tell you what people think of the bot itself, and your company.
More than simply scanning for "positive" or "negative" words, today's AI-powered chatbots can understand the intent behind language thanks to machine learning and Natural Language Processing (NLP). Plus, the more conversations they have, the better they get at determining what customers want.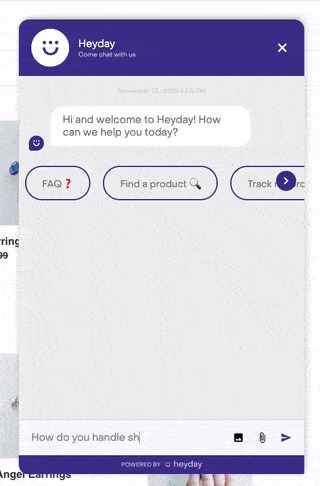 Combining your social listening tools with the insights your chatbot provides gives you an accurate snapshot of where you currently stand with your customers and the public.
8. Track orders and send notifications
Automating order tracking notifications is one of the most common uses for retail bots.
This is simple for bots to do and provides faster service for your customer compared to calling in and waiting on hold to speak to a person. Chatbots can look up an order status by email or order number, check tracking information, view order history, and more.
9. Communicate in more languages
About 40% of American consumers have used a retail chatbot. Given that 22% of Americans don't speak English at home, offering support in multiple languages isn't a "nice to have," it's a must.
Chatbots can automatically detect the language your customer types in. You can offer robust, multilingual support to a global audience without needing to hire more staff.
Remember that sign language is a language, too. Many retailers' phone support systems don't support, or lend themselves easily, to TTY calls, a text-to-speech service used by the Deaf community to make phone calls. The same goes for non-speaking people who may also use a text-to-speech device to communicate. Even for brands with dedicated TTY phone lines, retail bots are faster for easy tasks like order tracking and FAQ questions.
Including non-English speakers and disabled people in your customer service is not only the right thing to do, it also results in higher sales. Disabled people account for 26% of the US population which means they make up about 26% of your target audience, too. Technically, accessible customer service is the law, but in reality, disabled people describe truly accessible brands as few and far between:
after more than an hour with @ChaseSupport no solution, because there's no online support for people who have trouble speaking or hearing. clearly they don't value their customers with disabilities

— Angelina Fanous (@NotSoVanilla) March 3, 2022
Adding a retail bot is an easy way to help improve the accessibility of your brand to all your customers.
Best practices for using retail bots
Find the right tool
A leader in conversational AI, Heyday's retail bots get smarter with every customer interaction. Ready to work instantly, or create a custom-programmed bot unique to your brand's needs with the Heyday development team.
Heyday manages everything from FAQ automation to appointment scheduling, live agent handoff, back in stock notifications, and more—with one inbox for all your platforms.
If you use Shopify, you can install the free Heyday app to get started immediately, or book a demo to learn about Heyday on other platforms.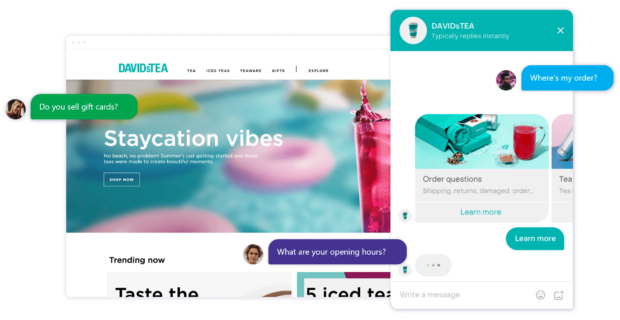 Try a free 14-day Heyday trial
Know when to take over
Retail bots can handle a lot of requests but know their limits. Many chatbot solutions use machine learning to determine when a human agent needs to get involved.
Chatbots are excellent for automating opt-ins or provide simple product recommendations, but shouldn't become a replacement for:
Personal shopping or services that require a human's expertise, e.g. makeup artists or a wardrobe stylist. (Pro tip: You can and should use a chatbot to schedule appointments for virtual or in-person store services.)
Customer complaints that require a meaningful response (e.g. more than a simple product return).
Don't forget about real people
Instead of only offering to connect customers to a human agent for difficult queries, make access easy. Include an, "I want to talk to a person," button as an option in your chatbot or be sure to list your customer service phone number prominently.
Use your retail bot to provide faster service, but not at the expense of frustrating your customers who would rather speak to a person.
3 inspiring retail bot examples
Besides the other examples sprinkled throughout this article, here are 3 more retail bot examples worth checking out:
HP Instant Ink Chatbot
The Instant Ink app connects to your HP printer and automatically orders ink cartridges for you when it's running low.
The chatbot for the service can also help troubleshoot common printer issues, which we all know strike only at 2am.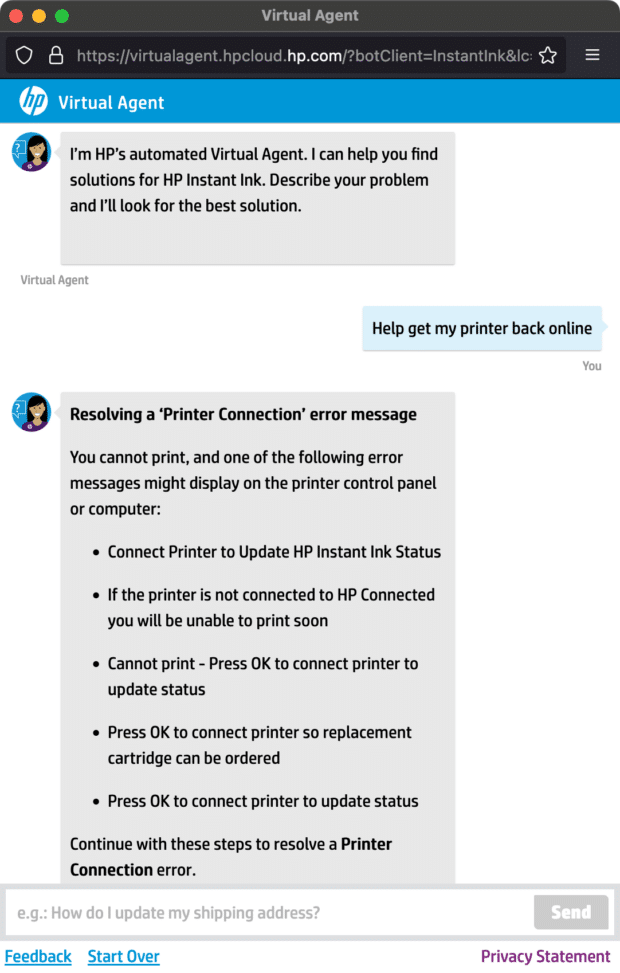 Source: HP
Casper's InsomnoBot
Sometimes simple does the job. Mattress retailer Casper created InsomnoBot, a chatbot that interacted with night owls from 11pm-5am.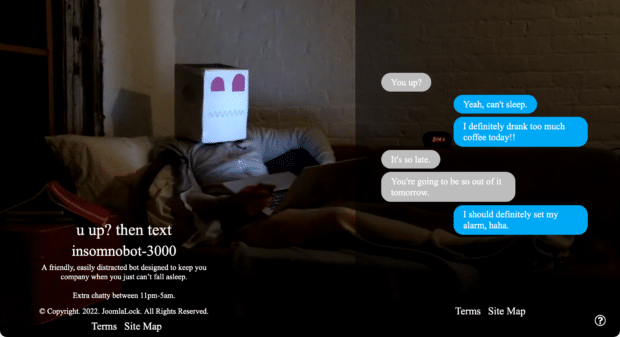 Source: Casper
Although it was more of a marketing campaign than a true customer service bot, it reminds us to think outside the box when it comes to chatbots. InsomnoBot earned a lot of media attention and customer praise, including people sharing their funny bot interactions on social:
When Insomnobot gets sassy and thinks ur trying to be frisky pic.twitter.com/VEuUuVknQh

— bri (@brianne_stearns) September 28, 2016
Foundation Matching with Make Up For Ever
Matching skin tone for makeup doesn't seem like something you can do from home via a chatbot, but Make Up For Ever made it happen with their Facebook Messenger bot powered by Heyday. The bot resulted in a 30% conversion rate for personalized recommendations.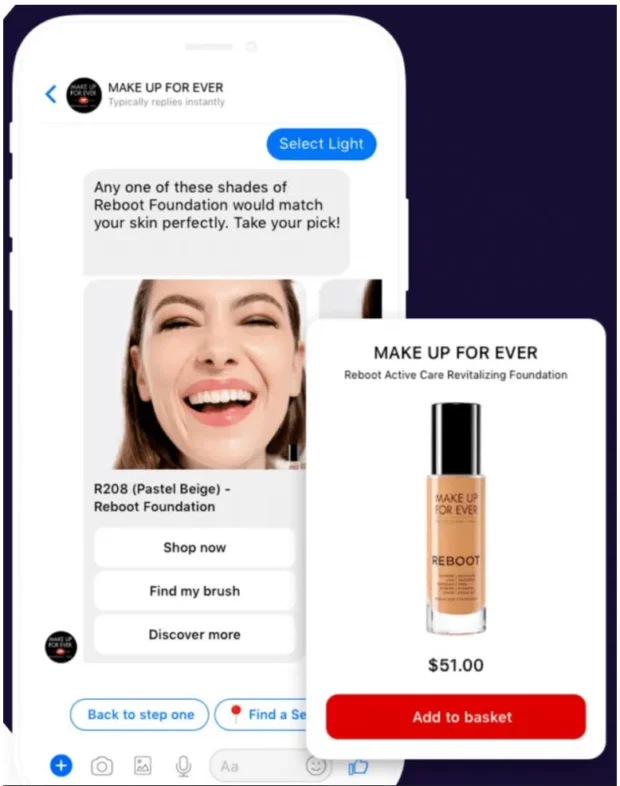 Grow your online and in-store sales with a conversational AI retail chatbot by Heyday by Hootsuite. Retail bots improve your customer's shopping experience, while allowing your service team to focus on higher-value interactions.
Turn your Shopify store visitors into customers with Heyday, our easy-to-use AI chatbot app for retailers.
Try it Free