Get Short with Ow.ly ~ Tips for Choosing a Short URL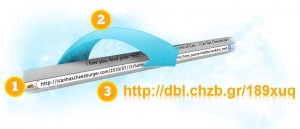 You've likely noticed distinctive (albeit slightly odd looking) web addresses at some of your favorite social sites as global brands seek to maximize brand impressions within character-limited messages by creating short vanity URLs.
Domain Shopping
Before you can start using a custom address, first you have to choose and purchase a vanity URL. This requires a bit of creativity and occasionally some international diplomacy.
Here are some tactics to keep in mind while brainstorming:
Reflect brand personality — Shorter isn't always better, memorability and personality are important. For example, the folks behind the "Cheezburger" humor-empire use http://dbl.chz.gr to provide a slice of culture with each URL
Make it exciting-ish — Another strategy is to use an action in the URL like social/tech news site Mashable who use http://mash.to (incidentally from Tonga) which implies a call to action as does PBS's http://go.pbs.org
Cut the letters — The most common ways to get short are to remove vowels, like Google's http://goo.gl, reduce your brand to initials like WordPress' http://wp.me and/or remove almost everything like Twitter's http://t.co
Get to know the codes — Check out this Wikipedia entry of top level domain suffixes including: .im Isle of Mann, .tv Tuvalu, .fm Federated States of Micronesia, .ly Libya, and .me from Montenegro. Keep in mind, not all countries offer domain suffixes while others limit availability
Find something *actually* available — Once you have some ideas on the white board, you need to find out what's available — and DO NOT announce your ideas publicly or a squatter may beat you to the punch
Choose a reputable vendor — Explore availability at a reputable domain registrar like: http://sedo.com | http://domai.nr | http://www.gandi.net/ Not sure about a registrar? Do a web search to hear what their customers have to say
Get Shorter
Seeking a unique URL for your business. Well, good news, now your company can get a custom branded short web address while still capturing the valuable statistics you rely on — all from within HootSuite dashboard.
Along with the new premium plans, HootSuite now offers custom URL shortening services through the tried and tested Ow.ly tool.
The benefits of using Ow.ly include:
SEO – All URLs are indexable and fully redirect for SEO best practices
Control – Share access with selected team members for control over who can shorten URLs
Portability – Track clicks on short URLs from anywhere including newsletters, comments, Facebook, and micro-sites
Flexiblity – Choose which shortener to use each time: Custom, Ow.ly, or Ht.ly (with branded social bar)
Security – Links are checked against Google's Safe Browsing blacklist to thwart phishing and Malware attacks
Owly Pro is available to customers using the Enterprise or Platinum package for an additional charge. To get shorter, simply send email to pro (at) ow.ly or contact your VIP Ambassador.
Once registered, you'll receive technical instructions which should take under 10 minutes for your technical team to update your DNS records and provide a list of authorized publishers.
Your Tips
What other advice can you offer about choosing and registering a short domain name? What are some of your faves? Did you imagine this business trend 10 years ago? We'd be pleased to read your thoughts in the comments.