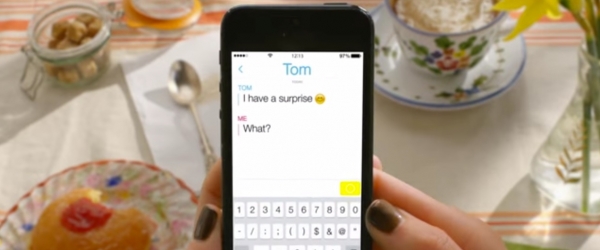 Snapchat Added Messages, But It's Not a Messenger
When my childhood best friend got engaged, she announced it by sending me a photo of her ring via Snapchat. While the photo disappeared after a few seconds, the joy of that moment has always stayed with me. The lighting wasn't perfect and the photo wasn't filtered like it's "Facebook and Instagram Official" counterpart, but it was raw, in the moment, and it was sent directly to me.
When Snapchat turned down Facebook's $3 billion offer, many wondered how a "messaging app" could ever be worth so much. Yet since then, Facebook has acquired WhatsApp for a cool $19 billion, Line brought in $338m in revenue from 2013, and Viber was acquired for $900 million. Meanwhile, Facebook continues to focus on building out its standalone Messenger app and will turn off messaging in the native mobile app, forcing users to download Messenger if they want to chat.
The messaging space right now is hot and crowded, as both tech giants and startups compete to become the universal messaging app of the future.  In a recent interview with the NYTimes, Facebook CEO Mark Zuckerberg discussed the different use cases of his messaging applications, explaining that "Messenger is more about chatting with friends and WhatsApp is an SMS replacement." He added that private communication is a larger market than most realize, and that WhatsApp and Messenger "fit into this framework of private communication. That's what people like to do, and that's why there are so many different services." Zuckerberg concluded, "I think there is going to be even more stuff like that."
Enter Snapchat. The app has always been oriented toward privacy, allowing you to share self-destructing photos and videos with your friend circle and be notified if someones takes a screenshot. Often derided as a "sexting app" for teens, it has grown to over 20 million users who share 700 million photos per day—more than Facebook, with a fraction of userbase. In a world full of filters, Snapchat brought the fun, silliness, and ephemerality back to photo sharing by baring down it down to the essentials. Knowing that the photo was going to disappear, users started sharing more frequently and casually because they weren't concerned with any lasting effects. Instead, they were focused on sharing a moment as it was happening in order to convey the emotion behind it.
Now, Snapchat hopes to recreate their photo-sharing success with messaging. Their recent update added both a text and video chat component, allowing users to now respond to a snap with text (which disappears once it's read) or easily launch into a live video chat once both users are "here." But unlike Zuckerberg, Snapchat CEO Evan Spiegel isn't trying to make a different messaging app for a different use case: he recently told The Verge that he's trying to "make our digital conversations better reflect our real ones." Instead of building an app that's focused on the different types of content users are sharing with each other—be it text, photo, video, or even a sticker—Snapchat wants to focus on just the content and emotion of your message. "A modern chat app should feel like you're actually in the same room as the person you're talking to," added Spiegel.
It's a huge goal for a small app, but Spiegel is determined to evolve Snapchat into the best facilitator of personal relationships. Only time will tell if he is successful, but the next time one of my friends decides to share an exciting life moment with me over Snapchat, I won't have to leave the app to say, "Congratulations!" As I'm composing my response, Snapchat will send my friend a notification that I'm typing. Hopefully by the time I've sent my regards she has opened Snapchat to be "here" with me in the app, allowing us to naturally transition into a brief video chat. When we're done squealing, we just lift our fingers from the screen to end the chat.
Simplify your social media efforts. Sign up for a free trial of HootSuite Pro today.