Snapchat, smaller than Facebook. But…
Snapchat has nearly 200 million daily users, watching 10 billion videos per day.
Worth paying attention to for any marketer. Especially, for connecting with millennials (18-34 year-olds).
Because of that… Snapchat is different than the others.
Snapchat content is often natural and unedited. See footage showing what's going on behind-the-scenes, unfiltered. Real. Life. Activities.
Here's the guide for using Snapchat advertising to build your brand on the Snapchat network.
But first…
Bonus: Download a free guide that reveals the steps to create custom Snapchat geofilters and lenses, plus tips on how to use them to promote your business.
Why advertise on Snapchat?
To reach them young 'uns.
See why here, backed by data.
Some more millennial numbers…
Nearly 88% of users viewing Snapchat ads for a men's deodorant campaign were 13 to 34 years old
About the same applies for U.S. Snapchat demographics
Snapchat reaches 41% of all 18 to 34-year-olds in the United States- every day
Snapchat has the sixth highest concentration of millennial users on mobile apps at 76%
Millennials make up almost ¼ of the U.S. population. That's 80 million Americans spending $200 billion each year.
A load of influencers making an impact in food, fashion, music, culture, and tech.
Snapchatters have the attention of millennials. And so should you.
An audience that engages
On average, 25 percent of people open newsletters in their email inbox. But with Snapchat, for every 1,000 of your followers, 900 will watch your story. Just ask Gary Vaynerchuk.
Same for Taco Bell, which has over 200,000 Snapchat friends. Over 80 percent of their friends open their snaps.
For a captive audience, Snapchat is the place to be.
So nice to have friends that pay attention to you, right?
They'll watch, and listen, too
Got ads with a great audio track? Excellent.
Over 60 percent of video ads on Snapchat are watched with the sound on. Quite impressive when you consider 85 percent of videos on Facebook are watched on mute.
The more senses people use, the better they will relate to what you show and say.
The more they relate, the more you can sell.
Let your hair down
Snapchat is a great place to relate to your audience by being silly, funny, or casual. Have real conversations by talking with, not to your audience. Snapchat fosters endearing behavior with potential customers. It's your chance to break out and stop sounding like a marketer.
Be real.
Don't get lost
Your content that is. Rather than pushing out content to a feed, send a snap. It's like sending and email to an inbox. But, like mentioned above, people open them. Less noise than a feed, less chance for your message to go off the e-ledge.
There you go, a few benefits of Snapchat advertising.
Next up… the different types of Snapchat ads available for your marketing activities.
Types of Snapchat ads
Snap Ads
A Snap ad is full-screen, vertical video ad, lasting no longer than 10 seconds.
Use these to drive people to a website, install apps, or simply watch a long-form video.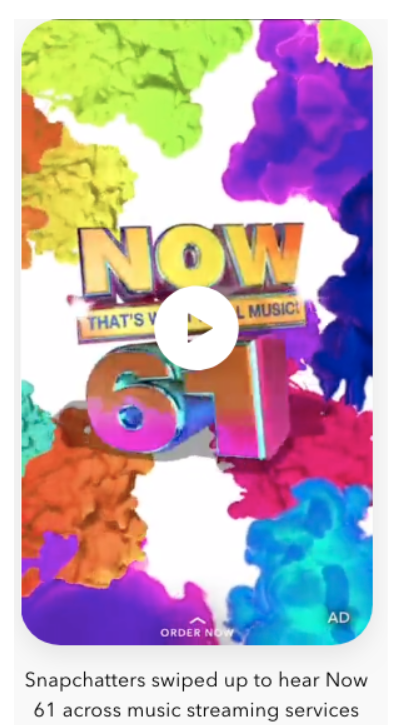 They always play with sound. And include an option for users to swipe up, to see more information.
Once they swipe, show users more in-depth content. Like longer videos, up to 10 minutes. Or show an article.
Want to create a more interactive experience with your Snapchatters?
Like buy something?
Send them to the app install page or mobile website—without leaving the Snapchat app.
Users see Snap ads between their stories. For Premium content, they'll see ads within Discover (i.e., feeds).
Want to to tell a longer story?
Use "sequenced messaging" to rapid fire a bundle of 10-second video ads. Create segments that run back-to-back within Discover to mimic a longer video.
Short is sweet. Sometimes longer… even more so.
Sponsored Lenses
Sponsored Lenses allow users to modify their own selfie, images.
Okay. And why, you ask?
Because they're fun and entertaining for Snapchatters. So much so, 1/3 of daily users play with Lenses every day. As a marketer, you might want to get in on this fun. Build and apply custom filters to show and enhance your brand.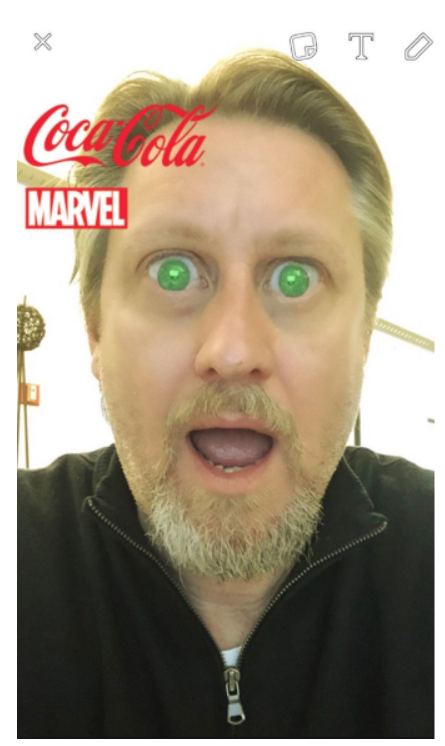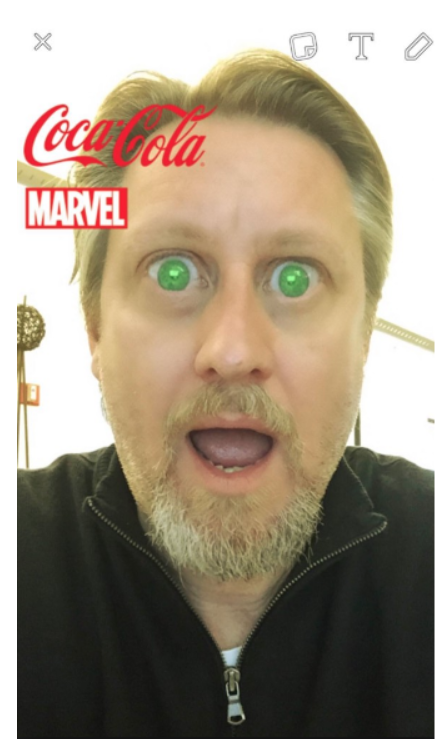 This ad type is more for huge brands, selling products to large markets. As a B2B-er or for your niche, this might not apply.
But hey, at least you know it's there.
Sponsored Geofilters
A Sponsored Geofilter is a graphic overlay for Snapchatters to place on their Snaps.
The bread-and-butter for taking selfies… to the tune of 1 billion filters viewed a day.
Advertisers create filters based on where users are in the real world. A U.S. Sponsored Geofilter typically reaches 40 to 60% of Snapchatters.
Filters work best for brick-and-mortar locations and companies. For those wanting to increase their brand awareness (versus outright selling).
On-Demand Geofilters
The simplest, quickest, cheapest way to get started with Snapchat advertising.
Create one in minutes, for as little as 5 bucks.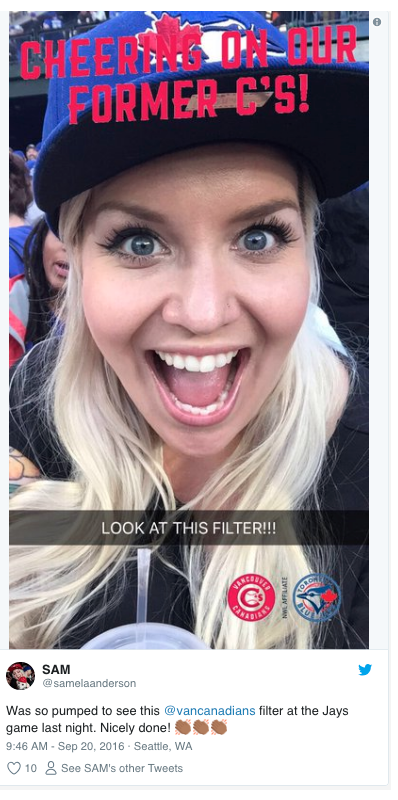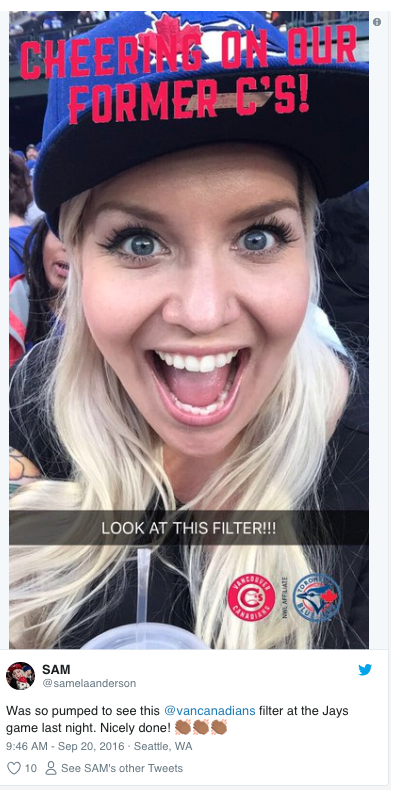 They're like Sponsored Geofilters. Use them in areas as small as half a city block, say for an hour. Perfect for a small business or a special event.
So there's your Snapchat ad formats and options.
Let's look at how to use them, shall we?
How to advertise on Snapchat
On-demand Geofilters
Start by uploading a custom Geofilter. Or use Snapchat's templates to create one in a few clicks. See how to build a geofilter here.
What it'll cost
As little as $5. Want more territory? Or a longer running ad? Price increases accordingly.
For example… a two-day Geofilter, for an area around our office, costs us $13. About $45 for our full city block. And, almost $3,000 for the maximum 5 million square feet (about 70 city blocks). You get the idea'r.
And check this out…
Cities, universities, and other public locations can create free community Geofilters. Brand logos are't allowed. But hey, what a great way for cities to highlight the work of local artists.
Here's a Geofilter in Houston, created by a local graffiti artist.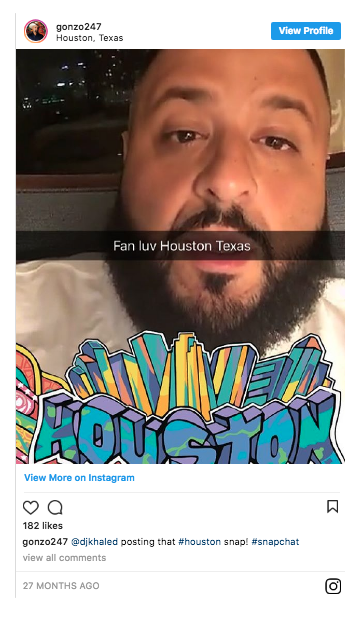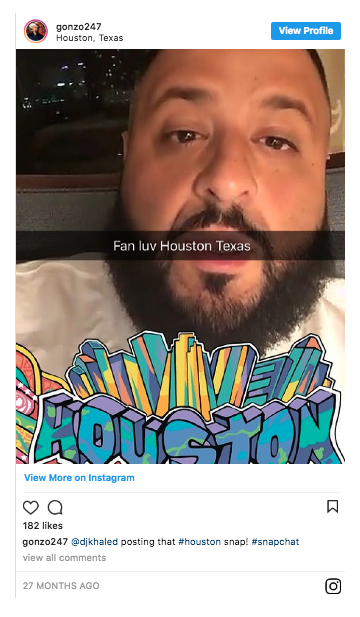 Go Gonzo!
Snapchat Ads Manager
On demand Geofilters are not the only self-serve option for Snapchat advertisers.
Use the Snapchat Ads Manager to create, optimize, and manage your Snap ads. Without any outside or third-party editing services from Snapchat, or an ad-partner.
It's free.
To start, set up an ad account. Go here, then click Get Started. Already have an ad account? Cool. Go right to Ads Manager. Again, click, Get Started.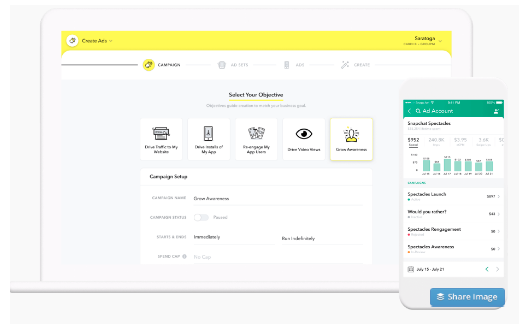 Do it all from Ads Manager. Preview ads, track performance, edit and pause campaigns. Also, receive notifications for key metrics. It's good to know how everything's performing.
How to create ads using Snapchat Ads Manager
Okay, here comes the dry part of this post. But, written to get you up to speed. Quickly.
Step 1: Create a new campaign
Open the Dashboard view in Ads Manager
Click New Campaign
Choose your campaign objective. Unsure about this? Don't panic. Learn how to determine your social media goals.
Specify a Schedule. State the start date, end date, and campaign name.
Click next to…
Step 2: Choose an audience and budget
Under Geography…
Enter the ad name
Choose the location you want to target
Note: Choose multiple cities, no problem. But, only one country per ad.
Under Demographics…
Enter ages and gender of your target audience
Specify languages, too, from the drop down control
Running ads in North America?
Choose more targeting options from the DLX Advanced Demographics view.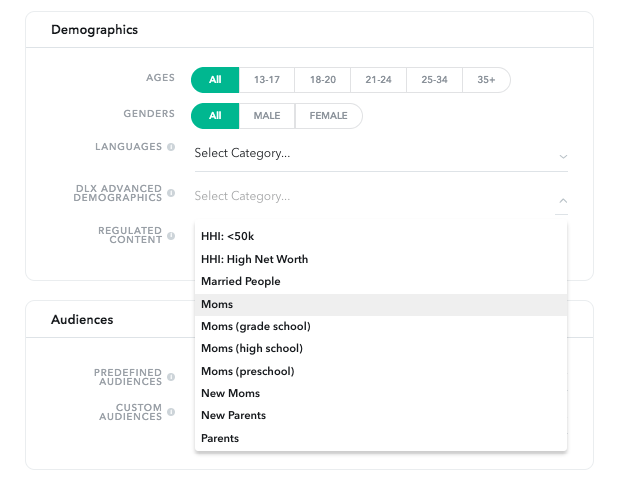 Moving right along…
Under Audiences…
Choose a predefined audience (like Lifestyles, Shoppers, Viewers, and Visitors)
Want to reach specific Snapchatters based on data unique to your business?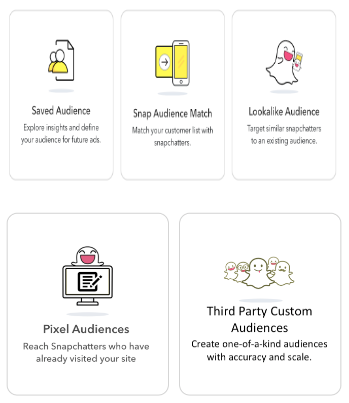 Continuing…
Under Placements… 
Choose All Snapchats to show your ads between friend's stories. Or…
Choose Content Placements to show content curated by Snapchat
Complete the remaining items for your ad. Like, devices to target, budget & goals, and daily budget minimum. Also, select optimization goals, such as, app installs.
Bonus: Download a free guide that reveals the steps to create custom Snapchat geofilters and lenses, plus tips on how to use them to promote your business.
Get the free guide right now!
Then, specify when your ad set will start and finish (or run indefinitely). Lastly, enter a name for your ad set.
Step 3: Create your ad
Let's get creative, shall we?
Click New Creative
Choose your ad type

Top Snap Only: A video commercial without a swipe-up action
Web View: A video commercial with a swipe-up action to drive traffic to your website or landing page
App Install: A video commercial with a swipe-up action to drive traffic to your app page
Long Form Video: A teaser so users can swipe up to view a longer version of the ad
Click next to view the Create your Snap Ad page: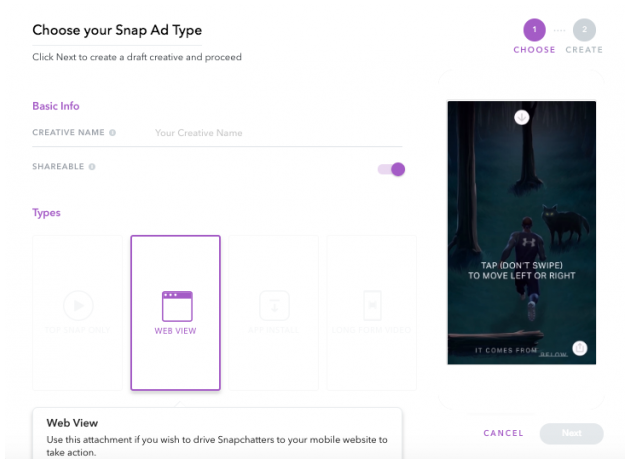 Fill in required fields. For brand name, headline, and a call-to-action.
Click Upload to upload your ad. Or, drag your video to the Upload Your Top Snap area on the right.
Got a media file that doesn't fit Snapchat's ad specs?
Snapchat's got your back. Use their Snap Publisher editing tool to make fit just right. Right from within your browser. Work with ad templates for your goals. Like drive installs, drive traffic, drive views, and drive awareness.
Ready, set, click Publish
Click Launch Campaign
Congrats, you've just submitted your ad campaign to be reviewed by Snapchat.
Almost at the finish line…
Step 4: Know how your ads are performing
So… did Snapchat approve your ad?
Yes? Way to go, it's out there for the Snapchatty-verse to see and play with.
No? Darn. Use these tips (later in this article) and try again.
After your ads have been running a bit, have a look at some key measurements.
Here's how.
Find the performance dashboard in Ads Manager, for desktop or mobile.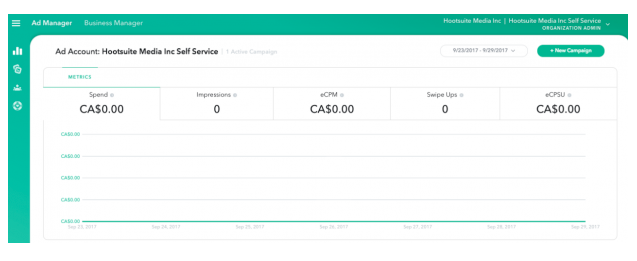 You'll see:
Spend: The total amount you spent on the campaign to date
Impressions: The total number of times your ad was viewed
eCPM: Average cost per thousand impressions
Swipe Ups: Number of swipe-ups on Top Snap ads
eCPSU: Average cost per swipe-up
See even more Snapchat metrics here.
Export your metrics to a CSV or PDF file to do detailed analysis. Handy for proving the ROI of your campaign to your boss-person.
There you go, armed and ready now to be a Snapchat lord.
Well, as a start at least. You'll improve over time and experience—Snapchat has all the tools to help you connect with millennials—and the millennial-minded.
Snapchat ads placed through Snapchat or a Partner
Prefer to leave the Snapchat advertising to the pros? Here, too, you've got options.
Work directly with Snapchat
…to create your ads.
It's the same creative team that designs the brand's consumer products. Connect with them on their website.
Work with a Snapchat Partner
Snapchat works with two types of partners. Both can develop and place ads on the Snapchat network.
Ads Partners develop Sponsored Geofilters and Lenses. Creative Partners develop ad campaigns.
Snapchat also has some Certified Partners who receive additional training and take precedence in referrals.
Check out some prices here. And here, too.
Before creating and placing your ads, read on to give yourself the best chance for making an impact…
Snapchat ads best practices
Snapchat is engaging. And mostly vertical. It's different than other social networks. Below are some tips to get the most from your Snapchat ads.
Make content fun
…so people will interact with your ads.
Remember the Cyndi Lauper song, Girls just want to have fun?
Same for Snapchat users.
They do this by engaging with filters and lenses, creating fun and shareable Snaps.
Embrace a playful feel for your ads.
Get creative. Your brand will resonate more with Snapchatters.
Universal Studios got creative for their launch of The Secret life of Pets. They created a Snap Ad for users to swipe up and create a Petmoji. On average, users spent 72 seconds interacting with the movie and its adorable characters. All by using the Petmoji creation tool.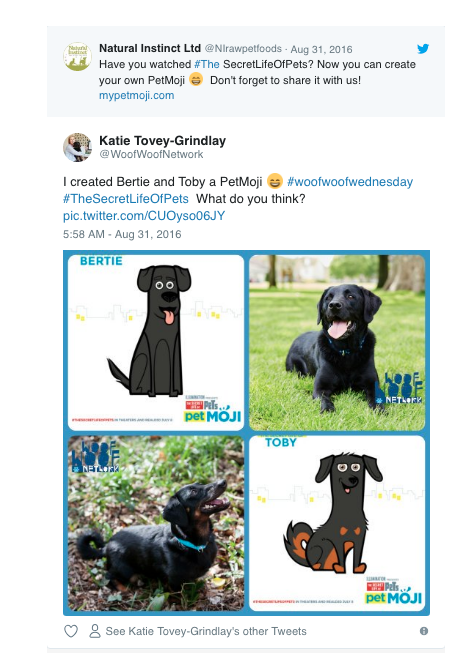 Gatorade took things even further. They created a game featuring Serena Williams, on her way towards her record 23rd Grand Slam win. Snapchat users accessed the game by swiping up on a Snap Ad. Those users spent, on average, over three minutes interacting with the game.
How will you get creative for your next Snap Ad?
Know your audience
…by how they're behaving.
Choose the right lifestyle category, to get in front of the right users. Snapchat has over 3,000 of them, based on in-app user behavior.
Want to target football fans? See who's following the Green Bay Packers and watching their highlight reels. Snapchat's got a category for that.
Interested in getting the attention of film-lovers? Use location data to know who's opening their apps at the cinema.
Make the best use of your audience data, too.
Do A/B testing for your campaigns to know what's working, what's not, and what to change.
Get users to take a specific and intended action
Before creating your first ads…
Get clear on what you want to achieve.
For example…
Want to increase awareness for your brand? Then, get more views. Write and design some slick content to entertain your audience.
Want people to buy, install, or call? Include a convincing and powerful call-to-action to get users to select that link or button. Or, get users to try before they buy, without leaving Snapchat. Just like advertisers for the gaming app, Bubble Witch, did.
About that testing…
Your work only begins when creating and placing Snapchat advertisements. You want a return for your time and bucks, right? Well then…
Measure and improve performance during the campaign lifecycle
Incrementally.
For example, change a headline, run the campaign for three days, see what happens. Same for other aspects. Learn and do more of what works, less of what doesn't.
Make it shareable
Help Snapchatters create amusing, turbo-charged selfies with Sponsored Lenses.
Why?
To increase the odds they'll post and share on other social networks.
Imagine your branded content showing up on Twitter and Instagram?
No need to go at this alone. Encourage friends and followers to seek out your Snapchat account. So they can play with the Lenses and spread the word.
20th Century Fox did, when they launched X-Men: Apocalypse. They replaced all Snapchat Lenses for a day with X-Men Lenses. Snapchatters turned themselves into instant X-Men characters. Nearly 251 million plays and 298 million views resulted in 56 years worth of play. In a single day.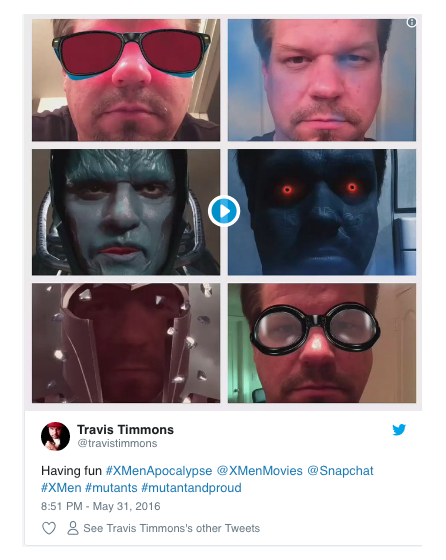 See the pattern? Snapchat is all about playing and sharing.
How are you going to help Snapchatters help you?
Keep it short
…and snappy, too. To hook viewers quickly.
Ten-second video ads might seem short enough. But that's often still too long for millennials.
Snapchat recommends 5 or 6 seconds work best.
They also suggest showing an offer every 2 or 3 seconds to help create user interest.
Don't stop there. Establish your "brand moment" before the two-second mark to gain their attention.
Yet don't go overboard. Snapchat cautions against opening ads with a solid frame of a logo or product. Instead, open ads with dynamic footage to catch viewer attention—instantly.
Not ready to commit your ad budget to Snapchat just yet? Check out our posts for basic and advanced tactics of Snapchat marketing.