With more than 150 million daily active users watching 10 billion videos per day, Snapchat has a highly engaged audience that's becoming simply too big to ignore.
In this complete guide to Snapchat advertising, we'll look at some key ways to use Snapchat ads to connect with fans and build your brand identity on this powerful social platform
Bonus: Download a free guide that reveals how to easily create and use a custom Snapchat geofilter to promote your business for as little as $5.
Why advertise on Snapchat?
Snapchat is a particularly important platform for brands whose target market aligns with Snapchat's core demographics.
Consultancy Millward Brown found that 88 percent of the users who saw Snapchat ads from a recent campaign for men's deodorant fit into the target 13- to 34-year-old demographic—which should come as no surprise, since a full 86 percent of U.S. Snapchat users fall into that age category. The network reaches 41 percent of all 18- to 34-year-olds in the United States every single day.
The various Snapchat ad formats allow brands to place their messaging in Discover content, or in between Snapchat Stories. (If you're not sure of the difference, check out our Beginner's Guide to Snapchat.) Interactive options like Sponsored Lenses and Geofilters become a seamless part of the Snapchat user experience, encouraging users to share branded content with their friends, and even across other social channels.
If your ads have a great audio track, there's one additional reason to advertise on this particular network. Whereas 85 percent of videos on Facebook are watched with the sound turned off, 60 percent of video ads on Snapchat are watched with the audio on.
Now that you understand why you should think about advertising on Snapchat, let's look at the different Snapchat ad formats available.
Types of Snapchat ads
Snap Ads
A Snap Ad is a (maximum) 10-second video ad that includes the option to provide more information to users who swipe up on the ad.
The additional information can simply be more in-depth content—like longer videos (up to 10 minutes) or articles. But it can also provide ways for Snapchatters to interact with your brand (and even buy) directly, through an app install page or mobile website that users access without leaving the Snapchat app.
Snapchat has also recently started offering "sequenced messaging," a bundle of 10-second Snapchat ad video segments that run back-to-back within Discover to mimic a longer video.
Sponsored Lenses
Lenses are a big part of what makes Snapchat so much fun, whether it's giving yourself puppy-dog ears or just barfing up a rainbow.
Sponsored Lenses integrate into the lens menu, so Snapchatters can interact with them the same way they do regular lenses, then post the Snap to their Story, save it to Snapchat Memories, or send it to a friend.
@EaarthAngel @SuperBowl Disappointing, but the dunk lens is live on Snapchat for a few more hours. Take matters into your own hands. pic.twitter.com/zOKdX32Ees

— Gatorade (@Gatorade) February 7, 2017
Sponsored Geofilters
A Geofilter is a graphic overlay that Snapchatters can place on their Snaps. As the name implies, Geofilters are usually tied to a specific geographic location, ranging from a single store to a city all the way up to a whole country.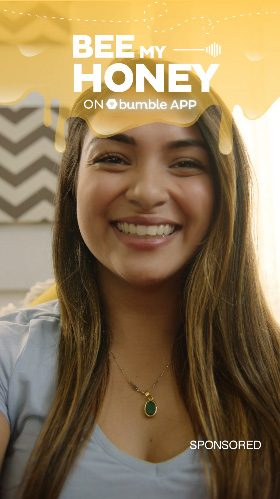 A Sponsored Geofilter allows a brand to create a custom graphic that Snapchatters can apply to their Snaps—and the uptake is very encouraging, with a national Sponsored Geofilter typically reaching 40 to 60 percent of Snapchatters in the United States.
On-Demand Geofilters
On-Demand Geofilters are the entry-level Snapchat ads option, allowing any business to get started with Snapchat advertising for as little as $5.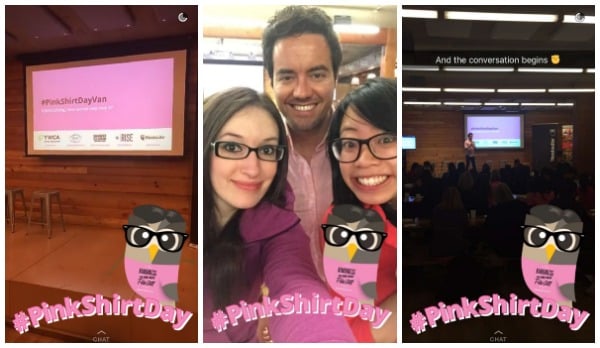 They're just like Sponsored Geofilters, but available for areas as small as half a city block and time commitments as short as one hour—perfect for an individual brick-and-mortar business or a special event or promotion.
Bonus: Download a free guide that reveals how to easily create and use a custom Snapchat geofilter to promote your business for as little as $5.
Snap to Unlock
This new Snapchat ad format, currently being tested, uses Snapcodes on physical media like billboards, receipts, and even coffee cups to entice Snapchatters to interact with brands by accessing "secret" features within the app. Taking a picture of the Snapcode within the Snapchat app unlocks a time-limited Sponsored Geofilter or Lens.
How to advertise on Snapchat
Self-serve Snapchat ads
The only DIY Snapchat ad format is the on-demand Geofilter. You can upload a fully designed geofilter, or use Snapchat's templates to create one with a few clicks.
For detailed step-by-step instructions, see our post How to Create a Custom Geofilter on Snapchat.
Cost: On-demand Geofilter Snapchat ads cost as little as $5, with the cost increasing based on how much territory you include and how long you make the Geofilter available. We found that a two-day Geofilter cost about $13 if we restricted it to the immediate area around our office, $45 if we expanded it to our full city block, and nearly $3,000 if we expanded the area to the maximum 5 million square feet (about 70 city blocks).
Bonus: Cities, universities, and other public locations can create free community Geofilters. Brand logos are not allowed, but this is a great opportunity, for example, for cities to highlight the work of local artists, as in this Houston Geofilter based on a mural by local Graffiti superstar Gonzo247 (notably posted to Snapchat by none other than DJ Khaled).
Snapchat ads placed through Snapchat or a Partner
So, if you can't create and place Snapchat ads yourself, how do you tap into the various Snapchat ad formats? You have two choices.
1. Work directly with Snapchat
When you work directly with Snapchat to create ads, you get access to the same creative team that designs the network's consumer products. You can connect with Snapchat's ad team on their website.
2. Work with Snapchat Partners
Snapchat works with two types of partners, both of which can help brands develop Snapchat ads and place them on the network: Ads Partners develop Sponsored Geofilters and Lenses, while Creative Partners develop Snap Ads campaigns.
Cost: There's no getting around it: Snapchat ads cost a lot. Adweek reports that one-day Sponsored Lenses cost between $600,000 to $750,000 per day as of summer 2016, but the price has recently dropped to an average of around $330,000. They also report that Snap Ads videos cost about $40–$60 per thousand impressions, on par with a TV ad. AdAge reported that Snapchat also recently introduced "goal-based bidding," where advertisers can pay per swipe rather than just per view.
Snapchat ad targeting
In addition to targeting by age to ensure 13-year-olds don't see beer ads, Snapchat has recently started offering comprehensive targeting options:
Snap Audience Match: Targets Snapchatters based on email addresses and mobile device IDs
Snapchat Lifestyle Categories: Targets Snapchatters based on the categories of content they engage with on Snapchat
Lookalikes: Targets Snapchatters similar to a brand's existing customers
These targeting options are only available for Snap Ads. Geofilters can be targeted by geographic area ("geofence").
Snapchat has also recently partnered with Oracle Data Cloud to target Snapchat ads using Oracle's approximately 100 audience segments based on purchasing behaviors both on- and offline.
Best practices and Snapchat ad examples
Make the content fun and interactive
Snapchat is an interactive medium, where users are accustomed to engaging with filters and lenses to create fun, shareable Snaps. Snapchat ads that embrace this playful feel give your creative the best chance of resonating with Snapchatters.
When Universal Studios brought its launch campaign for The Secret life of Pets to Snapchat, the studio created a Snap Ad that allowed users to swipe up to create a Petmoji using a movie-branded tool. Snapchatters spent an average of 72 seconds interacting with the movie's content and characters through the ad and the Petmoji creation tool.
@NIrawpetfoods I created Bertie and Toby a PetMoji 😄 #woofwoofwednesday #TheSecretLifeOfPets What do you think? pic.twitter.com/CUOyso06JY

— #WoofWoofWednesday🐾 (@WoofWoofNetwork) August 31, 2016
Gatorade took things even further to create an old-school 8-bit game featuring Serena Williams as she worked towards her record 23rd Grand Slam win. Snapchatters accessed the game by swiping up on a Snap Ad, and spent an average of more than three minutes (196 seconds, to be precise) interacting with the game.
Go for highly shareable filters and lenses
Give Snapchatters the chance to create a fun, souped-up selfie with a Sponsored Lens, and chances are they'll post it to their Story, and maybe even share it to other social networks, like Twitter or Instagram. That means they're doing your Snapchat advertising work for you, expanding the reach of your branded content while encouraging friends and followers to seek out your Snapchat account so they can play with the Lens themselves.
When 20th Century Fox launched X-Men: Apocalypse, they replaced all the Snapchat lenses for a day with X-Men lenses that allowed Snapchatters to turn themselves into X-Men characters. Users spent an average of 109 seconds playing with the lenses.
Having fun #XMenApocalypse @XMenMovies @Snapchat #XMen #mutants #mutantandproud pic.twitter.com/OiZshmdM0v

— Travis Timmons (@travistimmons) June 1, 2016
Kraft added a fun twist to its Sponsored Lens by adding a score count tallying how many falling macaroni noodles users could virtually catch in their mouths while using the lens. Since everyone likes to show off a high score, it was a natural way to boost shares. Snapchatters spent an average of 20 seconds playing with the lens, which reached nearly 20 million users in 24 hours.
If you're not sure you're ready to commit your advertising budget to Snapchat, but you want to start marketing on the network, check out our posts on the basic and advanced tactics of Snapchat marketing for some organic Snapchat marketing ideas.
Hootsuite's on Snapchat! Click this link on mobile to go directly to Hootsuite's profile or scan the Snapcode below to add Hootsuite as a Friend on Snapchat.