How to Use Snapchat Codes to Market Your Business
Looking to make inroads with Snapchat's 188 million daily active Snapchatters? It may be time to crack the code—Snapchat codes, or Snapcodes, that is.
In this guide we'll cover the basics of Snapcode marketing, including Snapchat codes for filters, and Snapchat codes to add friends and gain followers.
Plus we'll look at the savvy ways brands like Pepsi, Burberry, and Disney have used Snapcodes to put a little snap into their digital marketing campaigns.
Bonus: Download a free guide that reveals the steps to create custom Snapchat geofilters and lenses, plus tips on how to use them to promote your business.
What are Snapchat codes?
Snapcodes are scannable badges that can be read by smartphones. Think QR codes, but with a white ghost, yellow background, and a unique arrangement of black dots. Each Snapchat user has their own individual Snapcode, which doubles as a profile picture and shareable "follow" button.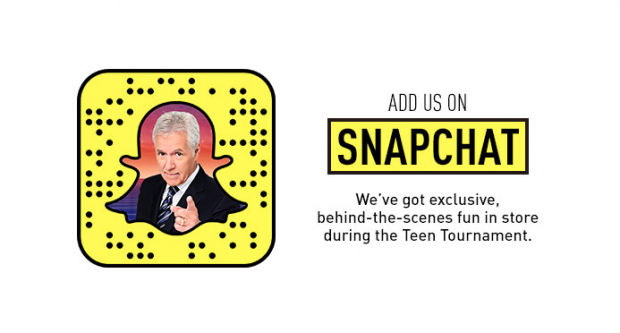 Snapchat codes allow Snapchatters to add friends and followers quickly, but that's not all. Special Snapcodes can be created to share branded filters and lenses, unlock exclusive content, link to specific web portals, and more.
For brands, Snapcodes are an ultramodern way to connect with customers where they already are, and engage them with contextually relevant experiences.
Brands that take advantage of Snapchat platform features can level up from merely advertising to entertaining followers with personalized, immersive, and interactive branded content.
8 ways to use Snapchat codes for business
1. Get more followers on Snapchat
The most obvious use of Snapcodes is to promote your presence on Snapchat and gain more followers. Include your company's Snapcode on any touch point where customers may be with smartphone in hand, which is virtually anywhere, nowadays.
Newsletters, packaging and business cards are all places you may want to add your profile Snapcode too. Some brands even swapped their Facebook and Twitter avatars with Snapcode profile pics, but that trend has dwindled, likely in response to updated branded content policies. However, Snapchat influencer and artist Cyrene Q. still uses her Snapcode as her Twitter avatar.
2. Connect with your customers in stores
Access to more data and behavioral targeting can make it easier to connect with consumers in the virtual world. But while brick-and-mortar environments may be comparatively data barren, in-store engagements are one of the most crucial touchpoints between the consumer and your brand.
In fact, a 2015 study found that in-store communication is more influential than all other communications, including advertising.
To bridge the offline retail experience, many brands have turned to Snapcodes. For the launch of Mr. Burberry in 2016, the luxury fashion brand put QR codes on the tags of its merchandise at select retail stores. When scanned, the Snapcodes connect customers to Burberry's Snapchat Discover channel. At the time, the channel contained style and grooming tips, as well as a Steve McQueen-directed cut of the Mr. Burberry campaign ad.
The Snapcode campaign didn't just lift Burberry's Snapchat follower count. It positioned the high-end retailer as an authority on men's fashion. Mr. Burberry was no longer just a fragrance and menswear line, but also a personal tailor and sartorial guru.
3. Create a gamified experience
If there's anything to learn from the success of Pokémon Go! it's that people love a good scavenger hunt, especially when augmented reality is involved.
Disney, Universal, and Six Flags sprinkled Snapcodes throughout their theme parks in summer 2018. Visitors who scanned the Snapchat codes got special access to Mikey and Minnie Mouse filters, lenses showing Minions puttering around Universal park grounds, and Superman's heroics.
It's easy to see the gamification potential of Snapchat codes for franchises or brands that have multiple or regular engagements with customers.
Imagine unlocking a special discount code with Lyft after scanning Snapcodes on five previous rides, for instance.
Or an airline with a leaderboard of frequent flyers who scan Snapcodes at airline lounges.
What about a coffee shop that unlocks secret menu items after a certain number of Snapcode scans?
4. Generate buzz and intrigue
To promote its thriller Girl on the Train, Universal Pictures released a mysterious series of billboards with a large Snapcode and the eerie question: "What happened that night?"
Scanning the Snapcode unlocked a branded filter, available only for one hour.
Cryptic campaigns that ask Snapchatters to "crack the code," using Snapchat cameras as detective magnifying glasses, taps into our irresistible urge to solve mysteries. Done well, the result can lead to a memorable and rewarding "a-ha moment" or "wow factor."
Include a call-to-action like "Snap to Unlock" for those users who may be encountering their first Snapcode in the wild.
To drum up some buzz for the Gilmore Girls revival and to celebrate the show's 16th anniversary, Netflix converted 200 real-world coffee shops into Luke's Diner, the fictional greasy spoon in Stars Hollow. Customers received coffee cups with Snapcodes that opened Gilmore Girls-branded filters, complete with "Netflix" charred into a piece of toast.
In one day the filter was used more than 880,000 times.
5. Turn fans into brand ambassadors
Snapcodes that unlock branded filters and lenses have the power to transform Snapchatters into ambassadors for your brand.
A 2016 KFC campaign featured Snapcodes on posters and packaging with the call-to-action "A quick pic with the colonel." A scan of the code unlocked a chance to take a selfie with the Kentucky colonel. "By unlocking the secret filter, people can have fun with the Colonel and share the moment with their friends," said Joshua Benge, KFC's social media manager in UK and Ireland.
From July to September this year, in one of the largest lens campaigns in Snapchat history, Pepsi Canada printed Snapcodes onto its 20oz bottles, 12 pack cases, and out-of-home ads. More than 20 codes were created, unlocking a variety of branded summer experiences, from campfire cookouts to skydiving. The activation resulted in 70 years worth of total playtime, and a reach of 8 million Snapchatters.
Brands can also encourage Snapchatters to share exclusive lenses with friends to expand the reach of their branded content and increase brand consideration.
6. Let followers "try things on"
In June 2017, Lancôme launched the first-ever bespoke makeup filter on Snapchat. The filter was essentially a makeover à la augmented reality, allowing Snapchatters to try Lancôme's Monsieur Big mascara and Matte Shaker lipstick shades without the need for makeup remover or travel to a store.
The filter was available for a limited time and then offered exclusively via Snapcodes.
This type of try-before-you-buy activation may not work for all brands, and could backfire if not implemented effectively. But done right, a flattering filter paired with a shoppable Snapchat ad could lead to instant conversions.
7. Offer exclusive content for second-screen engagement
Presenting peeks behind-the-scenes and extras are a great way to appeal to the second-screen impulse many viewers have during programs and live events.
In anticipation of the season 7 premiere of Game of Thrones, an exclusive viewer's guide was made available via Snapcode. The guide included extras, a who's who inventory of characters and houses, an interactive map, and histories. Viewers could look at this guide on their phones while watching the episode on TV.
Snap what is yours.
Unlock the #GameofThrones @Snapchat lens to prepare for the #GoTS7 premiere: https://t.co/zOckNP2fK6 pic.twitter.com/BvdOb4wZsG

— Game Of Thrones (@GameOfThrones) July 10, 2017
The Seattle Mariners was the first professional sports team to share a Snapcode on a jumbotron, with several other teams quickly following suit. A code on the big screen can offer fans quick access to player and team stats, locker room and practice footage, and more.
Sports games provide brands with a captivated audience of fans. With the right calls to action, they can keep their fan base engaged post game, too.
Of course it makes sense for sports franchises to push Snapchat subscription on their own turf, but nothing is stopping other brands from tapping a captive crowd and getting in on the second-screen sports action, too.
Bonus: Download a free guide that reveals the steps to create custom Snapchat geofilters and lenses, plus tips on how to use them to promote your business.
Get the free guide right now!
.@PelicansNBA 1st NBA team to display Snapchat 'call to action' on arena jumbotron, per @jdbt (???? @Repo) #SMsports pic.twitter.com/G7BlOIKw83

— Mark J. Burns (@markjburns88) December 3, 2016
8. Learn about your audience
One of the greatest perks of using Snapcodes is that it provides brands with more user data.
Information about where Snapchatters are scanning codes and engaging with products, which products are being engaged with, and more can be culled from campaign analytics.
Data mining can also be a strategic element of a campaign. For example, Gatorade deployed Snapcodes to offer fans access to exclusive content featuring pro athletes JJ Watts and Karl Anthony Towns. But to unlock the content, Snapchatters were asked to provide their names and email addresses, which could be used by Gatorade to retarget fans on Snapchat and other social platforms.
Snapcodes can also be employed to link to surveys, votes, or questionnaires. Use these as prompts for entry into contests and campaigns. It's a win-win when your brand can create a compelling experience for followers and collect customer feedback and information at the same time.
If you use Google Analytics and your Snapcode links to a URL, don't forget to add a Google Analytics tag.
How to access and share your Snapcode
Sign in here to download a high-resolution .PNG and .SVG version of your Snapcode.
To share your Snapcode from Snapchat:
1. Open the Snapchat app
2. Tap your profile icon in the upper left corner
3. Tap the icon again to enlarge. Snapchatters can scan the Snapcode directly from your screen
4. Click Share Snapcode and choose your desired method
6. You can also save your Snapcode to your Camera Roll for future sharing
How to scan a Snapcode
1. Open Snapchat and point your camera at a Snapcode. You can scan Snapcodes from computer screens, phone screens, TVs, jumbotrons, billboards, posters, packages, and more, as long as the resolution is high enough
2. Take a picture
3. A prompt should pop up on your screen
How to create your own Snapcode
To generate a URL Snapcode, simply add the website link of your choice and hit "Make a Snapcode!" You'll be given the option to add an image to the Snapcode as well.
You can also create Snapcodes in the app with these steps:
1. Open Snapchat and tap on your profile photo
2. Select the Settings icon in the upper right corner
3. Tap Snapcodes
4. Choose Create Snapcode, and add your URL
From the Snapcodes section of the app you will also have access to the Snapcodes you've created and their stats, as well as your scan history.