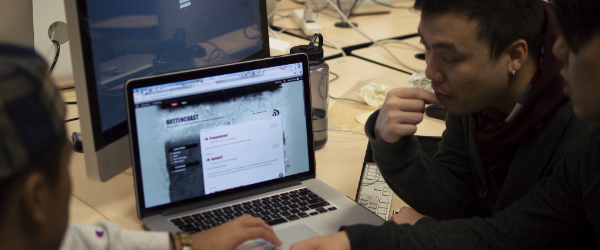 10 Tips For Finding The Right Social Media Consultant For Your Business
If honing your own digital skills is just not feasible and the pressure to improve your business's social media presence keeps growing, it may be time to seek help from a social media consultant.
Over the past few years, the use of social media for business has grown to include many different tasks.  "[A social media consultant] would need the ability to engage, market, support and do analytics," says Jaime Stein, Hootsuite's Senior Manager of Social Media, "basically be a jack of all trades."
You may be able to hire a team of social media professionals, each with a separate focus on marketing or analytics; smaller businesses, however, have to look for a consultant well-versed in all these subjects. Here are a few things you should consider to find the right kind of social media consultant to help achieve your business goals.
10 Tips To Help You Find The Right Social Media Consultant For Your Small Business
Tip #1: Social media consultants should be easy to find online
This isn't the case of "Let me Google this for you," as the purpose of hiring a social media consultant is to increase your business's visibility online—therefore, the ideal candidate should also be easily discoverable. Try searching for keyword combinations such as "social media consultant" + "your city" or "social media consultant" + "your industry," if physical location is not a concern.
Tip #2: Social media consultants should practice what they preach
A social media consultant candidate's best cover letter is their own social media account. Take Twitter, for example: if the candidate's promises include improving your brand's engagement on Twitter, see how much they interact with their own social media audience. How many Tweets do they dedicate to engage with their audience versus promoting their work? One social media expert is reported to write as many as 70 Tweets a day, with the majority of them responding to his followers. You want to see proof that the social media consultant values their own advice enough to follow it in their social media routine.
But it's not just the quantity of Tweets that matters, it's also the manner in which the consultant deals with the comments or questions directed at them. A good consultant should possess the ability to listen and understand problems that can often be ambiguous or unclear—such as complaints via Tweets, which can only be expressed in up to 140 characters—and address them accordingly.
Tip #3: Look for followers that count, not the follower count
Any social media consultant worth their salt has surpassed the days when being good at social media meant getting the most followers. In the age where Twitter following can be purchased, or largely consist of fake accounts and bots, it's the quality of the consultant's audience, not the quantity of it, that shows merit.
A social media consultant should be able to name social media influencers that follow them, as well as those they follow. Their ability to answer this question indicates a few things: first, it shows their awareness of their social media audience and the strategy behind their own accounts; second, they know how to engage with influencers, and will be able to help your business do the same.
Tip #4: Ask your social media consultant to show some numbers
Hiring a consultant is a considerable investment, and before you commit, you need proof that this professional has a tangible way to measure their own performance. Furthermore, Hootsuite's Senior Manager of Social Media Jaime Stein puts the ability to analyze data and come up with actionable insights as one of the top requirements for a consultant. We have written about social media ROI a few times in the past; read up, and see if the social media consultant discusses any of the same metrics with you.
Tip #5: Test the social media consultant's industry knowledge
Does the consultant have experience working with businesses in your field? While this is not an essential requirement if your initial goal is to lay out the basic social media framework for your brand, it will come in handy when it comes to launching social media campaigns. Ask your consultant what brands in your industry have the best social media presence and why.
If the consultant does not have any relevant industry experience, but appears competent in all other areas, ask how they may go about adapting a past project to the needs of your industry and your business in particular. A qualified social media professional should be able to outline a strategy for finding out the social media needs of your field, as well as realistic methods and a timeline for implementing this strategy.
Tip #6: A social media consultant needs to know their social networks
A qualified social media professional should have an answer prepared for the question, "What social networks should my business be on?" If the answer is, "Facebook and Twitter," think carefully: anyone active on social media knows the perceived value of the Big 4, but not everyone will be able to tailor your social media presence to the needs of your business. You should ask for specific reasons to join each network, and be wary of generic answers, such as, "Facebook has 200 million daily active users, so you have the widest reach." Follow the same rules as you would for any job candidate: see how much business-specific research the candidate has done prior to your conversation, and evaluate them accordingly. For example, if you are a small clothing brand looking to increase your online sales, your social media consultant is right to recommend Facebook, but they also need to mention Pinterest and Tumblr as potential platforms for your business.
Tip #7: Ask what inspires the social media consultant's work
Brands with an established social media marketing plans can easily be spotted through the quality and creativity of campaigns they execute. We listed some examples of our favourite campaign ideas, but can your consultant candidate do the same?
This demonstrates awareness of their own industry—plus, knowing what inspires the consultant may give you a glimpse into their future work. It can also raise some red flags: is the candidate only talking about big brands with a long history of social media success, such as Coca-Cola or General Electric, whose social savvy is known to everyone outside of the field? It may be the case that this consultant is familiar with the big picture, but doesn't pay attention to the next big thing—and that is not a risk you want to take with your own social media strategy.
Tip #8: Get an assessment of your business's social media presence
This is another way to check if the candidate has done their research—a social media consultant hopeful should not only be familiar with what your business does, but also where it currently stands on social media. This shouldn't be a comprehensive assessment, as that would essentially mean asking the consultant to do their work for free before they are officially hired; it can be as simple as asking them to name one win and one potential for improvement in your brand's social media presence.
Tip #9: Get the social media consultant to "explain this in 2 minutes"
Hiring a consultant doesn't mean that social media should remain a mystery for your business—part of the job description for a social media consultant is to fill the knowledge gaps when it comes to social media trends and best practices. The right candidate should walk you through any part of their social media plan, and explain any unknown terms in an accessible way. Thus, you can test their ability to do so before hiring them: ask them to explain a social media term or the importance of a certain social network for their business, in under two minutes. Imposing a time limit helps you see their level of expertise, as anyone who is well-informed on the subject should have the ability to distill any topic to the most essential two-three facts. However, remember to be reasonable: definition questions are the best, because even the best social media expert will be stumped to explain "why a social media strategy is important" in under two minutes.
Bonus tip: Check if the candidate has any formal education
It's not news that social media is a highly dynamic field, and it's difficult to keep an up-to-date formal curriculum, so social media experts have to keep an ear to the ground at all times to watch for newest trends and developments. However, there are programs aimed at teaching social media professionals proven best practices—our own Hootsuite University, for example, constantly adds new course material to keep up with industry standards. While the candidate should not necessarily be required to have formal education on the subject, having a course or a program on the resume demonstrates their willingness to explore different avenues to increase their expertise on the subject.
Help your social media consultant succeed by signing up for Hootsuite. Try it for free.