A social media scandal is only fun if you're not at the center of it. Balancing your professional image with the urge to post about spicy cases or engage with Twitter trolls can be tough. It's a tightrope walk where one off-side comment can send your career plummeting. You don't have to plead the fifth online — just follow these social media rules for lawyers, and you'll be safe.
This blog outlines why law firms and lawyers need social media rules, six rules to follow, the importance of a law firm's social media policy, and some social media ethical issues for lawyers.
Bonus: Get a free, customizable social media policy template to quickly and easily create guidelines for your company and employees.
Law firms and lawyers need rules on social media like tightrope walkers need nets. They'll save you from a career-ending slip-up.
Rules and regulations are par for the course in this line of work; lawyers operate under professional codes of conduct and ethical obligations. You need to uphold the integrity and fairness of the legal profession, whether in the real world or on social media.
Here are a few professional codes of conduct and legal obligations lawyers must keep in mind while navigating social media. It's important to note that while we have covered important codes and obligations, this is a non-comprehensive list.
Confidentiality
Lawyers have a duty to protect the confidentiality of their client's information. They must keep client communications confidential, except in specific circumstances authorized by law or with the client's consent.
Confidentiality is a fundamental principle in the attorney-client relationship. This is especially true for social media, where the audience could be in the millions, and it's almost too easy to share information.
When it comes to confidentiality online, lawyers also need to be aware of unintentionally sharing information through security breaches. Information security and cyber security should be a top priority for your social media accounts and your website. In fact, only 43% of respondents in an American Bar Association study said their law firm website used SSL security (or HTTPS protocol).
Conflict of interest
Lawyers are required to avoid conflicts of interest that could compromise their loyalty to clients. They must not represent clients if their interests conflict with those of another current client, a former client, or their own personal interests. This ensures undivided loyalty and prevents potential harm to clients.
When it comes to social networking, you can avoid conflicts of interest by taking steps to determine the actual identity of the people you're interacting with online.
LinkedIn, a place built for professional networking, is the number one platform for lawyers. According to the American Bar Association, of all the firms reporting a social media presence, 87% were on LinkedIn. That includes 89% of firms with 2-9 lawyers and 95% of firms with 100 or more lawyers.
But even on business-forward sites like LinkedIn, you can never be too sure who's behind the account. Be careful with the contacts you interact with and the information you're sharing.
Advertising and solicitation
Advertising and solicitation regulations should be top of mind for lawyers on social media.
For law firms and lawyers, advertising must be truthful and not create unreasonable expectations. On social media, it's important to represent yourself factually. On platforms like Instagram or TikTok, it's easy to get swept up in trending content. Just be careful you don't overexaggerate, even for the 'gram.
It's important to note that rules and regulations governing legal ethics may vary across jurisdictions. The sources above are from the ABA Model Rules of Professional Conduct, which serve as a widely recognized standard for legal ethics in the United States. For jurisdiction-specific rules, you're going to need to consult your relevant regulating body.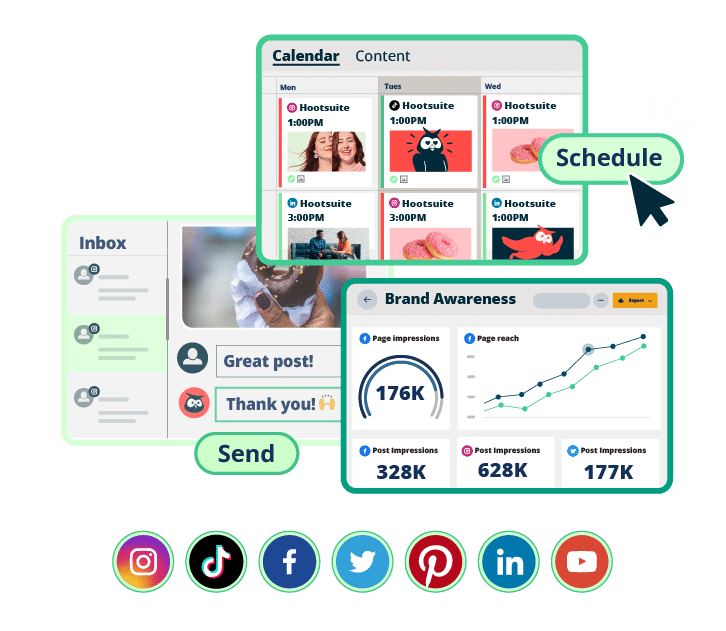 #1 Social Media Tool for Lawyers and Law Firms
Win new clients and grow your practice with the tool that makes it easy to reach and engage with prospects on social media.
Book a Demo
Lawyers use social media for a multitude of purposes, including 87% reporting professional networking, 70% for client development, and 65% for education or marketing.
As a lawyer or firm, investing in social media can pay off big time. But, while there's an opportunity for career-related growth, there are also legal pitfalls to avoid.
Here are six social media rules for lawyers to keep you in the clear.
Uphold the Duty of Confidentiality and avoid hypotheticals
As mentioned above, confidentiality is a legal obligation lawyers must uphold on social media. The ABA released Formal Opinion 18-480 in March 2018, addressing lawyers posting on blogs and social media specifically. It concludes that online communications (even with information that's in the public record) fall under Model Rule 1.6.
While we more or less covered this above, we have yet to touch on hypotheticals.
Let's say, hypothetically, you just finished up the most interesting case of your career. One stranger than fiction, that crime novelists everywhere want to emulate. So you change the names, dates, and locations, then post a case study outlining the case.
If readers can understand which situation it was or guess the identity of your client from the details you gave, you could be held in violation of Rule 1.6.
To avoid violating Model Rule 1.6, you must be absolutely certain you're not sharing any identifiable details or information.
Be aware of potential conflicts of interest
Above, we discussed avoiding engaging with others on social media who could pose a conflict of interest with your clients.
You must also avoid engaging in communication or even accepting contact with judges on social media. This can create an appearance of judicial partiality according to Formal Ethics Op. 8 and Rule 8.4.
Be wary of the friend requests you accept on your social media accounts.
Avoid communication that indicates a relationship
Inadvertently forming an attorney-client relationship is easier than you think on social media. Your followers might be asking you seemingly simple questions about the law, but the line between giving information and providing legal advice is thin.
A comment about a legal matter on its own won't constitute a relationship. But social media's conversational nature often means you're not just putting information out there. You're opening up an opportunity for a conversation, and once you start communicating back and forth, the implication of an attorney-client relationship starts to form.
With static pieces, like a blog or advertisement, you can avoid breaking this rule by including a disclaimer like "viewing this information does not create an attorney-client relationship."
Ask for permission for gated content and accounts
Lawyers are allowed to view and interact with public-facing content. For private accounts and content, however, you may need to ask permission (if the individual is represented, then from their lawyer) and identify yourself as a lawyer.
Also, when it comes to jurors, it's best to leave them alone on social media. You can review their internet presence, including postings and public accounts. But you cannot request access to private accounts or interact with their posts, which would be in violation of Model Rule 3.5.
Do not use a proxy as a loophole
Asking someone to break any of these rules on your behalf is also prohibited under Model Rules 5.1, 5.3, and 8.4. So if you were thinking of getting your assistant to friend a potential jury member so you can take a peek at their likes and dislikes… don't.
Uphold your ethical duty of competence
Model Rule 1.1 states you must be competent. You have an ethical duty to your clients and to the court to ensure everything produced by you or your firm is up to standard. While this is especially true in court, it's also true in the world of social media. You should not be publishing content that's not factually correct.
This can become an issue when outsourcing production to third-party software. Generative AI (looking at you, ChatGPT) has made producing written documents a breeze. But it's often a breeze full of factual errors.
ChatGPT, Google Bard, Jasper, Bing Chat, and all other AI writers have not gone to law school. They are not a replacement for your paralegals. These tools are pieces of software that do not have the critical thinking skills necessary to do your job like you can.
That being said, generative AI is an incredibly useful tool in the right hands. You can use AI to brainstorm content ideas, come up with captions (like Hootsuite's incredible OwlyWriter), and create campaign strategies. But, you always, always have to check its work.
Guess what? You're not just responsible for your own actions and behaviors online, but those of your employees, too. The accounts of non-lawyers employed or retained by your firm can fall under your responsibility. If they post unethical content, you may be in hot water.
One way to ensure compliance on social media for both you and your entire team is to implement policies, guidelines, and workflows. These elements (and more) make up a well-thought-out social media governance plan.
An official corporate document, your social media policy outlines the requirements for approved social media use within your organization. This document covers how your corporate accounts should be managed as well as acceptable use for your employees, both professionally and personally.
A social media policy will keep everyone at your law firm operating above board online. It should outline risks and pitfalls and provide resources for proper usage and compliance. Importantly, this policy should outline your approval process for content. Provide the detailed workflow you have in place to ensure there's a buffer between the first draft and the published piece.
A properly executed policy also has the added advantage of maintaining your brand identity at all touchpoints.
Create your own law firm social media policy using Hootsuite's free template.
Where a law firm's social media policy contains hard and fast rules, social media guidelines are more like suggestions and best practices. It can act as an employee manual on how to best show up on social media.
Guidelines can outline positive online behavior you want your employees to emulate. These documents are intended to make sure your firm and your people are represented in the best light. Guidelines empower your team to hype up your firm the right way.
A social media governance plan refers to your firm's collection of social media-related resources which guide social media use. These include social media policies and guidelines mentioned above. For lawyers and law firms especially, they can also cover additional documents related to risk and crises, regulations, and compliance.
Can a lawyer have a TikTok?
Yes! There are plenty of lawyers already on TikTok. TikTok's bite-sized video content makes it an incredible branding tool. Some lawyers on the platform, like Lawbymike, have turned into veritable TikTok influencers.
Can lawyers talk about their cases on social media?
Lawyers aren't technically banned from talking about their cases on social media. Under attorney-client privilege, however, lawyers cannot divulge details about anything their clients reveal to them in a court of law.
The Duty of Confidentiality, covered by Model Rule 1.6, also stops lawyers from revealing "information relating to the representation of a client unless the client gives informed consent."
Model Rule 1.6 has a few exceptions, one of which is "to secure legal advice about the lawyer's compliance with these Rules," but we would not recommend doing that over social media.
Should a lawyer have social media?
Yes. Social media has a huge audience; LinkedIn alone has 930 million members. It gives you the opportunity to connect with potential clients and increases your firm's exposure.
And remember, your competitors are likely on social media. You can get insight into what they're up to and what they're publicly posting.
You can also stay on top of legal and industry trends as they come up. Tools like Brandwatch can track not only industry news but also customer sentiments about your law firm. Any time you or your firm is mentioned online, you can get notified and hop into the conversation.
Lawyers and law firms worldwide use Hootsuite to streamline their social marketing efforts, improve their client experience, and ensure compliance with industry regulations. See for yourself why we're the legal industry's leading social media management platform!
Learn More About Hootsuite For Law Firms
Get more clients and more wins with Hootsuite, the #1 social media management tool for lawyers and law firms.
Book a Demo