Social Selling Within Large Organizations ~ Webinar Available On Demand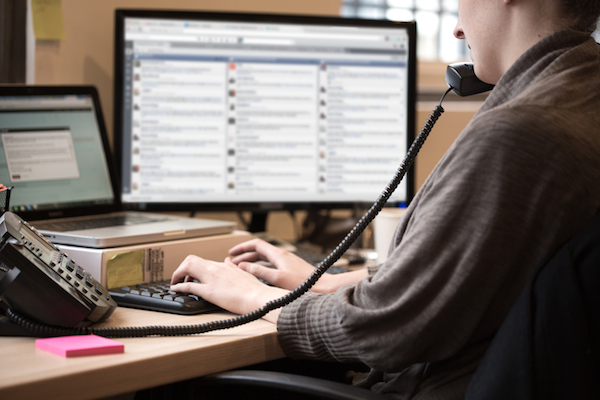 HootSuite's webinar, "Social Selling within Large Organizations", is now available for on-demand viewing. Hosted by Charlene Li, founder of Altimeter Group, and Julio Viskovich, HootSuite's social selling expert, this webinar will help you:
Leverage social media to uncover opportunities and increase sales

Beat the competition with deep observation and understanding of buyers' needs and buying signals

Become a trusted advisor to clients by curating thought leadership content

Implement an enterprise social selling strategy across your organization
Webinar Highlights
Julio Viskovich explained why buying signals are such a critical component of a social selling toolbox:
"Previously, you had conversations on the phone, and things would go dark. But now everything is out in the open and completely public. You have the ability to see what your buyers are talking about. When you know that somebody's in a buying mode, you can start to see the time in the sales cycle decrease, and quota attainment grow."
During the webinar, the audience was polled on which buying signals they look for or would like to look for. Almost half the attendees reported product or service reviews and pricing questions as their primary buying signals. These signals clearly broadcast purchase intent, and recognizing them is crucial to shortening your organization's sales cycle.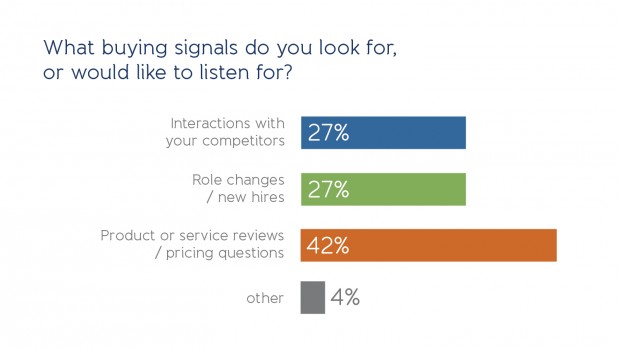 Of note, 27% reported that interactions with competitors are their most important buying signals. As social selling techniques become widely adopted, we expect to see more sales professionals keeping a close eye on each other's social interactions with customers and prospects. Watching other sales reps in your space will help you discover new opportunities and also defend your accounts from competitors. In addition, your organization should keep tabs on the social activity of its partners and companies that sell complementary products.
We also polled our audience to find out which social networks they use to connect with buyers. Perhaps unsurprisingly, 64% selected LinkedIn as their primary network for this activity.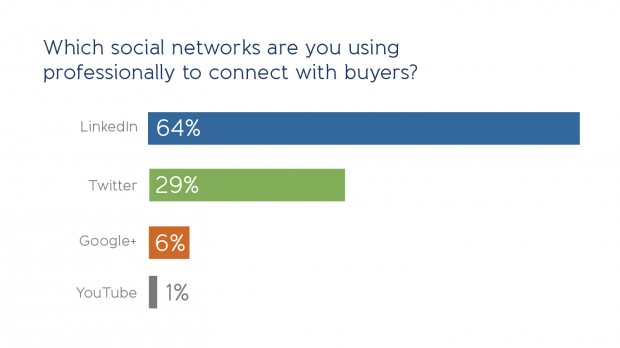 For many salespeople, using LinkedIn to obtain introductions remains synonymous with social selling. However, it's important to take a holistic approach to social selling, by using LinkedIn and other social networks to their fullest potential. In an increasingly competitive environment, setting up a LinkedIn profile and sending InMails is not enough. LinkedIn Groups have become one of the best places on the web to establish thought leadership and trusted advisor status with people in your industry. Joining multiple groups and monitoring them for buying signals will help you discover prospects, and contributing good content to groups will help prospects discover you.
Beyond LinkedIn, there are other social networks that can't be ignored. Twitter, for example, is an unmatched treasure trove of real-time buying signals and a natural complement to LinkedIn. If you want to gain a 360-degree view of your prospects, you need to look at them from all angles.
The nexus of Youtube and Google+ is where people talk about the video content that salespeople leverage from the marketing department, so monitoring these intertwined networks should be part of your prospecting routine, as well. "Video is a big piece of what's coming up in social selling," said Julio. "I really think we'll see YouTube get more use over the next year or so."
Discover how to master the competitive advantage that is social selling. Watch the webinar now.