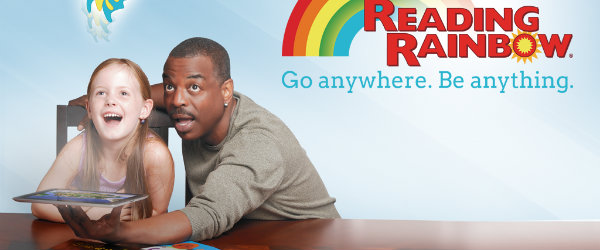 This Week in Social: Google Acquires Songza and Reading Rainbow Makes a $5 Million Comeback
When the time comes to round up each week's major social media news, it never fails to surprise us how rapidly the landscape of the social web can change. Social networks fall out of favour and new ones appear to take their place as the new users' favourite, and companies join forces to create the next-level product or service.
It can be difficult to keep up with the fast-paced world of social media news, which is why we have gathered the week's most important news right here for another instalment of This Week in Social.
Now that you have some time, let's get you caught up.
Latest From the Big 4
Every week Facebook, Twitter, LinkedIn and Google+ announce policy changes, updates, design tweaks, new features and other changes that can affect how you use their tools. Here are this week's highlights:
Google can now help you find the perfect playlist for your sophisticated summer entertainment. Confirming rumours that have been floating around since early June, Google has announced its acquisition of the personal playlist app Songza. The app's unique approach to playlist-building combines algorithmic methods and human curation to pick out music based on user's preferences. Money and staffing talk aside, what does the acquisition mean for current users of the app? Google has repeatedly promised that no changes will be made in the app itself for the time being, although Songza's unique playlist-generating capabilities will now be available for other Google services such as Play Music and YouTube.
Mobile ad startup TapCommerce made the latest addition to the Twitter flock, according to this week's announcement on the company's official blog. This comes alongside Twitter's rollout of mobile-app install ads, where TapCommerce's data-tracking strategies will undoubtedly play a big part in bulking up Twitter's mobile advertising. The startup's success lies in its ability to track the steps users take in different apps, similar to how cookies track your web browsing habits—a difficult feat to achieve in the mobile world.
World Cup Wins & Woes on Social Media
Vital World Cup games and different time zones don't make a good match for soccer fans, especially on weekdays. For those who don't have time to watch the game but still want to experience the excitement of scored points, there is @ReplayLastGoal, a bot that tweets each goal illustrated by a GIF. FIFA, however, was not a fan of this arrangement; the World Cup organizer cracked down on the Twitter bot, asking Twitter to remove the account on claims of a copyright violation. All old tweets were removed from the feed after the takedown notice, with a private backup history saved on an alternate account. It's unclear whether Twitter will go ahead with the takedown; in the meantime, for those who need to stay on top of the score, the new goals are still being tweeted.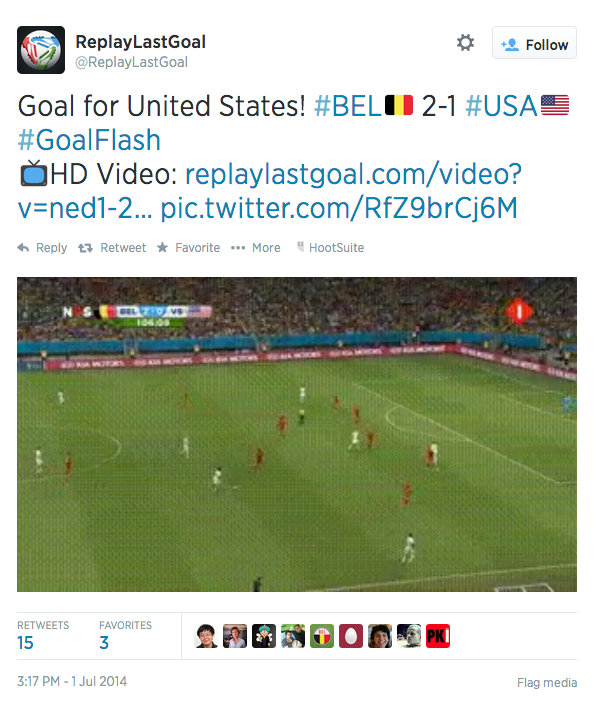 For Facebook this week, World Cup brought nothing but good news: the social media giant has announced the international soccer tournament has been the most talked-about event in the network's history. The tournament generated over one billion interactions, which include posts, comments, and likes. According to the Facebook blog, the impressive numbers owe greatly to interactions between star players and their fans, like this photo of Neymar and the Hulk—which goes to show that everyone wins when you engage with your followers on social media.
Next Big Thing
The social web is a dynamic landscape, with new players constantly shaking things up. Whether it's a new class of Y Combinator startup stars announcing their big ideas, or a surprise venture capital investment in an app rumoured to be the next Snapchat, this industry moves fast. Here's the latest:
Just because this section has been devoted to brand new ventures, it doesn't mean we can't take the time to highlight a glorious comeback. And glorious it was: LeVar Burton's latest attempt to bring back Reading Rainbow, a universal literacy initiative, resulted in Kickstarter's most-backed campaign ever. The campaign surpassed its initial goal of $1 million in just one day, and has closed with a grand total of $5.4 million. Thanks to both Burton and the official Reading Rainbow live Twitter countdowns for the campaign, the fundraising received a lot of support on social media. The funds will be used to develop Reading Rainbow programming across all platforms, including game consoles and smartphones.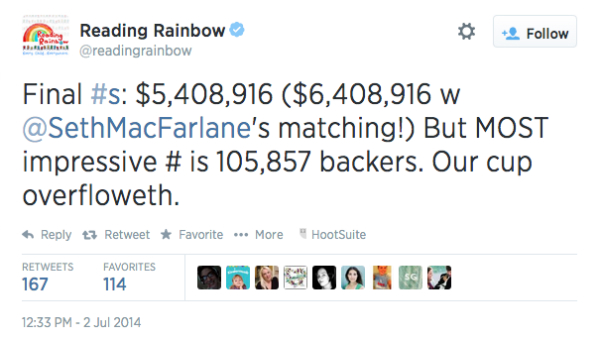 The creators of BlaBlaCar are riding the waves of success after the startup raised $100 million in the latest investment round, making it a strong contender for the title of the most successful tech company in France. The app works by connecting travellers heading to the same destination. You can book or offer a seat in your car for a small fee, with 10 per cent of the transaction going to the company. BlaBlaCar's unique revenue-sharing model distinguishes it from its American counterpart, Uber, and also helps it avoid regulatory problems with more traditional transport services. Another unique feature, which gives the app its name, is the ability to indicate how much travel talk you prefer from your companions; a single 'Bla' rating indicates a preference for a quiet ride, and 'BlaBlaBla' promises a chatty commute.
Long Read
Have you ever wondered how social networks with an enormous reach and an overwhelming number of users monitor for spam and harmful content? For Twitter, the secret weapon is Del Harvey, whose official title is Vice President of Trust & Safety. And she lives up to it, managing to do damage control and prevention for over half a billion tweets generated daily. Harvey, who conceals her legal name for safety reasons, deals with the unpleasant sides of free expression on the Internet: harassment, cyberbullying, exploitation, and threats. She was the main opposing force to Twitter's decision to replace the "Block" function with a mute button, arguing that the change would make cyberbullying easier (the change was reversed 12 hours after the launch, with the mute button added as an option later).
Del Harvey's unusual background, which includes the role of a lure on NBC's To Catch A Predator, makes her an expert in preventing child exploitation online. Her job nowadays involves telling the difference between spam and social media promotion, or a threat and a playful greeting—all of which can be incredibly difficult to tell apart, and can't all be trusted to automated systems. Whether you are a social media professional curious about cybersecurity, or a Twitter user interested in finding out more about who's keeping your feed harassment-free, Del Harvey is a fascinating figure to watch.