Coordinate for Efficiency and Accuracy with HootSuite Assignments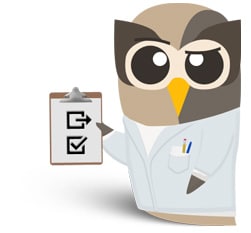 Many customer service groups, support desks, and collaborative teams depend on social networks as a primary way to manage requests. With HootSuite's new assignment feature, these teams can ensure all messages are handled quickly and efficiently by the correct personnel. When implemented, these tools will help teams assist customers and clients more quickly, more accurately, and with less redundancy.
With the new tools, updates are quickly assigned to team members — along with a note if needed — plus responses are tracked for accuracy from a single view. Additionally, teams stay coordinated with shared columns, and responding is even easier with shared Drafts. Teams can share their workload and email updates to others — all without leaving the HootSuite social media dashboard.
Ready to Work
Imagine a scenario where hundreds of messages come in daily via a company's multiple Twitter and Facebook accounts — some updates are comments or kudos, some are complaints, and others pertain to specific requests or projects. However, the one common trait is that each requires follow-up of some kind. The manager knows that some messages need a specific response, others require further investigation, while others need to be logged for sentiment analysis.
Using HootSuite, the team manager easily assigns the messages to the appropriate team member — perhaps one person manages support requests, another manages complaints, and someone else offers thanks for kind words. The messages are quickly answered by the team, who sees all their assignments in a single view rather than sorting through unfiltered columns and possibly providing redundant responses. Occasionally, a team member knows that a colleague could better handle the request, so she forwards the assignment to him with a explanatory note.
Meanwhile, the team manager keeps an eye on responses to ensure quality and to monitor how the team is performing. The team manager also notices the consistent reply messaging thanks to a shared Draft view, and even takes a moment to forward a few interesting updates to executives via email — all from within HootSuite.

The manager sends a team invitation to a new employee, granting him access to post from a few social network accounts. Starting at the "Launch" button, inviting a new user to the team only takes a moment. The new employee will be up to speed quickly, since columns are now shareable within the team.
The happy manager then sits back to admire the efficiency of the team's collaboration and realizes these tools provide more time to pursue new initiatives — resulting in happier teams and happier customers.
The best part is, all this is possible and ready to go now using HootSuite.
Social Media Springboar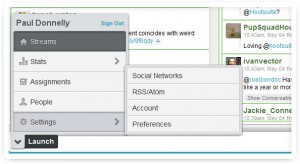 d
HootSuite's new Launch Button puts all your account management and team management tools in one convenient new location. Click Launch Button in the lower-right of your Dashboard to quickly access your account settings, manage your team, view your assignments, drill down into your clickthrough stats, or jump back into your Streams to continue monitoring your brand.
Meet Your New Tools
Message Assignment — Delegate Twitter and Facebook updates to team members via a pull-down menu
Message Annotations — Add notes to the assigned messages to provide context or instructions
Assignment Forwarding — Not the correct department? Re-assign a message to a colleague to ensure accurate reply
Assignment Tracking — Quick view of a message's status, including which are resolved, handed-off, or outstanding
Shared Columns — Collaborate with team members by viewing the same set of columns and messages
Shared Drafts — Utilize pre-written responses and share with your team to ensure consistency and efficiency
Forward Updates by Email — Share messages outside of the team by forwarding to anyone by email
New Launch Button — All options, settings, and tools are available from a single starting place for your convenience
Resources
Media kit: https://blog.hootsuite.com/media
Press release: https://blog.hootsuite.com/hootsuite-adds-assignments