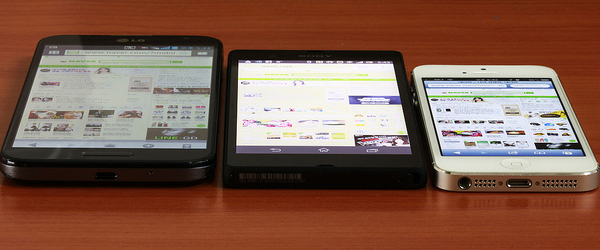 Tech Brands Get Social: How Product Launches Can Cause a Surge in Social Mentions
The past two weeks have been an exciting time in tech with top companies like Microsoft, Samsung, Sony and Apple debuting their latest products and innovations at the IFA consumer electronics trade show in Berlin. The trade show is the place for companies to introduce their latest technologies.
Between the presentations at IFA and Apple's live-streaming press conference on September 9th, social has been buzzing about the latest and greatest in tech. So how big of a splash do product launches really make in social? We found out using uberVU, Hootsuite's deep listening and analytics tool.
Each week, to prove the value of social data, we put two industry leaders head-to-head in a Social Media Face Off to compare the brands on social metrics such as mentions, sentiment and more to see what brand comes out on top. Recently, Apple went up against Microsoft  and when it came to social conversations around these top players in tech and two of their other main competitors—Samsung and Sony—they were all about excitement over new products and predictions on what's next.
When you look at the mentions trendline you can see large spikes on September 3 for both Samsung and Sony, which was the day both brands presented new products at the IFA conference. The day of its presentation, mentions of Samsung spiked to 328,161 mentions—Sony's spiked to 150,281 mentions. You'll see Microsoft also saw a spike on the day of its IFA presentation on September 4, bringing in 89,639 mentions. At the time of our matchup, Apple had yet to debut the iPhone 6, but the phone did cause buzz on August 28 when the company confirmed the date of the September 9th live-streaming event in which the phone was ultimately revealed. All four brands saw massive amounts of social chatter around product launches, but Samsung was the clear winner in mentions so let's dive deeper to find out exactly why.
Take a look at Samsung's conversation map from the uberVU via Hootsuite platform, which displays the most-talked about topics in relation to a specific keyword or phrase—in this case Samsung. The majority of the social conversation revolved around Samsung's new Galaxy products. The brand debuted the Galaxy Note 4, the Galaxy Note Edge, which is a curved screen phablet, and Gear VR, a virtual reality headset at the IFA conference. There was also a lot of the buzz around the fact that Samsung was introducing its new products ahead of the iPhone 6 announcement with "Apple" and "iPhone" appearing on the brand's map. We did some digging and found a good deal of mentions and articles suggesting Samsung was attempting to claim ownership of large-screen mobile devices since rumor was the iPhone 6 would have a much larger screen…..which we found out on Tuesday, it does.
Sony had the second largest spike in mentions due its introduction of the Xperia Z3, Xperia Z3 Compact, Xperia Z3 Compact Tablet, and the new SmartWear Experiences, which includes a smart watch, smart glasses and wrist fitness tracker. Base on the brand's conversation map, social was most interested in the Xperia product line. There was also a heavy focus on competitors with "Samsung" and "Apple" both appearing.
Microsoft's spike in mentions revolved around the debut of its new Lumia smartphone—its first since acquiring Nokia. You can see social chatter around its camera that was designed to take better selfies (seriously) and the Cortana feature, a Siri-like voice assistant. And like Samsung and Sony, Apple was also a source of conversation.
The social conversations around Apple before its live-streaming event on September 9, was all about what would be revealed. Social was clearly betting on the iPhone 6. Apple also saw some buzz around the competition with "Samsung" and competitive operating system "Android" both appearing. Not great news for Apple, but considering its brand name appeared on conversation maps for Samsung, Sony and Microsoft it's safe to say the brand has pretty impressive industry recognition.
We know now that Apple did indeed debut the new iPhone 6 during its September 9th event, as well as the iPhone 6 Plus, the Apple Watch and Apple Pay. You can see that brand mentions of Apple spiked dramatically during the event, registering 765,199 mentions. The brand brought in 1.8 million mentions over the two weeks prior to the event, so it's pretty impressive that Apple brought in almost a million mentions in just one day.
Looking at Apple's conversation map for September 9, we can see the clear winner was the iPhone 6, accounting for more than 30% of the overall social chatter about Apple. The Apple Watch, which social is still calling the iWatch, also saw a lot of play. Unfortunately for Apple, Apple Pay didn't make big waves in social, so it seems like the company still has work to do in generating enthusiasm and conversation about this new virtual wallet feature.
It's clear how much impact product debuts can have for technology brands in social. It's important for tech brands to monitor social before, after and during announcements in order to better understand just how much of an impact a launch is making. But social measurement shouldn't stop after a product's debut. Tech brands should also monitor social's reactions to products once they hit the shelves. Measuring buzz around new products and their debut can help tech brands source important feedback on products and help prep the next big launch.
Product launches clearly make waves for technology brands in social, but how did these brands stack up in other social metrics besides mentions? Go deeper into the social analytics we uncovered for Apple, Microsoft, Sony and Samsung in our on-demand Social Media Face Off: Apple vs Microsoft webinar. See the brands go head-to-head and come away with key takeaways and competitive intelligence for the technology industry.