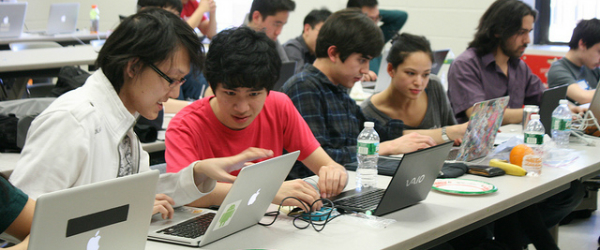 Preparing Students for Today's Communication Jobs: Why We Teach Live-Tweeting
If you're in marketing, communications, journalism, or another social-media-savvy field, you know live-tweeting an event can be a great audience engagement tactic. It's also a challenge—you've got to think on your feet and craft your messages both quickly and carefully while under pressure.
These are some of the reasons several of us at West Texas A&M University have begun to require live-tweeting as part of our courses in order to get our students ready for the demands of today's communication jobs. We have incorporated live-tweeting assignments into our Media Writing, PR Copywriting and New Media classes. This includes live-tweeting particular events—some they could attend in person on campus (e.g., guest speakers), some broadcast live on television (e.g., Super Bowl, Academy Awards) and some that were only virtual (e.g., Giving Tuesday).
Reasons Behind Live-Tweeting for Class
One of the great aspects of using live-tweeting is that it can be adapted for different purposes. For a writing class, the focus can be on wording, while a new media course can focus on the strategy behind tweeting for a live event. Media Writing instructor Kimberly Bruce said, "The live-tweeting class exercise proved to be a perfect way to continue the journalistic practice of clear and concise writing. For some students, this seemed to give them more confidence in all of their writing."
The basic assignment has been for students to watch at least 30 minutes of the event and tweet a certain number of times (three for Media Writing, five for New Media). We professors followed our class hashtags (e.g., #WTNM for my New Media class) and used Twitter lists to keep tabs on our students via Hootsuite. For New Media, students also compiled their Tweets into a Storify.
Why is live-tweeting a good assignment? Professor Bruce said, "It's imperative that communication students learn and practice all of the tools in the litany of media today. Live-tweeting is one of those opportunities that combines many of the tools in one experience. For example, students used writing, editing and even photography in this series of assignments while learning the specific guidelines for professional tweeting. This gives them experience entirely relevant to internships and employment."
Prep Work
Prior to live-tweeting, pre-event research was encouraged. We told students to look up what hashtags were likely to be used. We also suggested they look for hashtags and Twitter handles related to major stakeholders for the event (e.g., speakers, performers, sponsoring brands).
Professor Bruce also incorporated a training session where students watched a video and practiced live-tweeting by writing what they would have tweeted. They then had a group discussion covering the "Tweets" they wrote.
Live-Tweeting During Class
Although most of our live-tweeting assignments occurred outside of class, one Media Writing professor had his students live-tweet about Giving Tuesday during class. According to Professor Tanner Robertson, "Students were able to tweet or retweet using the hashtag #GivingTuesday to promote or encourage others to donate to their chosen causes." In addition to practicing their writing skills, Robertson said, "I saw students get to know each other on a much deeper level and saw what I would call a real university classroom — a classroom filled with debate, encouragement and questions about social issues.  I also saw students addressing these social issues with the tools they were learning (i.e., social media)."
Again, this points to how using live-tweeting in a class can be adapted to the course focus or to current events. Robertson said, "The latitude from this one assignment ultimately changed the entire direction of the course.  For many, I believe they understood the importance of media's role in society after seeing the power of it through social media and seeing how others are using it to promote change via Twitter.  For others, they began to take their assignments more seriously and performed much better research on their topics.  I believe they became journalists on this day."
Student Feedback
These live-tweeting assignments have been incorporated into the courses for several semesters, and we have sought feedback to find out what students have gained from the experience.
According to Bruce, "They all seemed to think live-tweeting at an event would be fairly simple. The post-event discussions proved different. They explained how difficult it was to get it right quickly and listen intently. To hear them talk about editing and rewriting on a professional platform was ideal. This is a practice we teach throughout the semester, but live-tweeting taught them on this occasion."
A majority of the students said the activity gave them practice in thinking quickly. One student said he learned "how quickly one has to get the information out or it becomes irrelevant."
The assignment also introduced them to tweeting professionally. One student said, "It helped me realize how useful Twitter can be in the real world." Another student said she "learned you have to do it on time, be professional, and precise about it."
As Professor Bruce mentioned, many of them were shocked by the challenges of live-tweeting. One student said, "it's a lot harder than you think." One student said she learned "how to multitask because you have to tweet and listen at the same time." One student's favorite part of the exercise was "being able to learn a skill that might be needed for a future career." One student said his favorite part of using Twitter for class was that "social networking runs just about everything nowadays and to be able to learn how to correctly write a professional Tweet was major to becoming more experienced for what the future may hold."
They also learned to pull out the golden nuggets from an event: "Live tweeting speakers or other events makes you think about what is important and be straight and to the point rather than tweet about the things that don't matter and aren't going to catch people's attention." The assignment also demonstrated the impact of Twitter. One student said she was shocked to learn how many "people are actually watching one event," and another said, "I had never tweeted and had no idea what a powerful tool it is."
Final Thoughts
Professor Bruce said, "The challenge in this series of assignments will continue to be teaching them to create content that adds to the discussion in a relevant and professional manner rather than simply tweeting it the same way others are tweeting it. In this way, tweeting about something so many others are, like the Super Bowl, pushes them toward research, writing quickly, concisely and creatively."
Students are getting to see a bigger world where their thoughts, their writing and their engagement matters. They are getting to think, act and react rather than just recite. This application of classroom learning is invaluable.

Want to learn how to create an engaging social media curriculum to your students? Register for our upcoming webinar, The Social Classroom: How to Teach Social Media, and find out all about how to get started teaching social media—and learn how to equip your students with the latest, industry-leading skills they need for success with social.