This post was originally published on LinkedIn.
"Hey Snapchat!" is how 48-year-old Mark Suster starts off his daily Snapchat videos, looking straight into his phone camera. This type of greeting would be natural coming from a teenager using the app. However, with his grey hair and Gingham shirts, seasoned Silicon Valley venture capitalist Mark comes across as a fish out of water … well, at least to the casual observer.
After all, Snapchat is the cool social network for teens… not dads. Sixty percent of its users are under the age of 25.
https://twitter.com/msuster/status/707967414168723456
So why is Mark bothering to share his sage advice (around teen-unfriendly topics like median valuations or seed and angel investment) each day on Snapchat?
It turns out he's just one of a growing group of savvy older users jumping on the Snapchat bandwagon. Presently, more than half of new users signing up to Snapchat are over the age of 25. I've seen these shifting user demographics firsthand. There has been increasing buzz around the network amongst my own industry peers, especially in recent months. And I too have been on Snapchat more actively this past year, seeing its raw potential more clearly than ever.
Underlying this all is the reality that Snapchat is fast becoming a serious player in the social media space. The network now has 100 million daily users with recent media speculation pegging its current value at an upwards of $20 billion. And as Snapchat becomes a mainstream communications channel—no different than Facebook or Twitter—marketers and business professionals young and old will simply have to learn the ropes.
Still need convincing? If you're holding off on Snapchat because you think you're too old,  here are some of the key reasons why you should think twice:
It is a good time to get on board
Long before he was sharing Snaps, Mark Suster was tweeting. Because he got on Twitter early, he was able to amass an impressive following (250K and counting). He's now leveraging that same early-adopter advantage on Snapchat to stand out from the crowd and win followers."[None] of my competitors — VCs between the ages of 35–55 — quite understand (or have the desire) to put out content on this media channel," he says regarding Snapchat. "So it provides me with a less crowded audience than publishing on blogs, Twitter, Facebook, LinkedIn, etc., where everybody else publishes."
It happens all the time. Virtually unknown people have become big names on networks like Instagram or YouTube—just by getting there before everyone else. Presently, only a small chunk of Snapchat users, 14 percent, are 35 or older. The moral of the story: Now is a great time for older users to get on and experiment before the inevitable flood of peers, competitors and customers rushes in.
It gives you access to a hard-to-reach demographic
Let's be honest. Snapchat's unique demographic is one of the biggest factors behind its (estimated) valuation of $20 billion. Snapchat users are generally still young—very young. They're mostly 13-25 years old, compared to Facebook users, who average out at 40 years old in the US. And, according to a recent study, teenage social media users now rank Snapchat ahead of Instagram, Facebook and Twitter as their favorite social network.
For brands and media companies, forever trying to connect with tomorrow's consumers, Snapchat offers access to a highly coveted demographic.
It has huge advertising potential
Over a third of Snapchat's 100 million daily users like to create "Stories" on the app, broadcasting daily collections of photos and videos from their lives. It turns out that people like viewing these, as well. Currently, users are watching a staggering 10 billion videos a day via Snapchat—compared to 8 billion on Facebook.
Not surprisingly, this is drawing advertisers' attention. It was reported earlier this year that senior ad buyers will start to advertise on Snapchat more than any other social media site. And with mobile video currently growing faster than any other form of digital advertising in the US, Snapchat advertising is poised to heat up in coming months and years.
It can help you build a loyal audience
Forty-year-old Snapchat phenomenon DJ Khaled joined Snapchat in 2015 after hearing about it from a friend. Fast forward a year or so, and the DJ, producer and self-proclaimed music mogul boasts a whopping 6 million followers on the platform. Loyal followers. A single 10-second snap he takes of himself doing the most mundane, everyday things—like watering his front yard—racks up to 3- to 4-million views in a 24-hour timeframe.
Now imagine the advantage Khaled has when he wants to drop his next album or announce an upcoming tour. The PR value of having an engaged, built-in following like his on Snapchat is priceless. Furthermore, Khaled estimates that 50 percent of his followers are new fans who discovered him solely via Snapchat. The potential to gain new exposure here is also just massive.
It lets you be authentic
In Snapchat's very first company blog post in 2012, CEO Evan Spiegel described the company's mission:  "We're building a photo app that doesn't conform to unrealistic notions of beauty or perfection but rather creates a space to be funny, honest or whatever else you might feel like at the moment you take and share a Snap." In other words, from the start, Snapchat set out to be a different kind of social network—one that's less about creating and projecting a polished image or persona (a la Facebook) than just about being authentic.
Staying true to this premise, Snapchat remains the social network where there is the least pressure for people to try and appear perfect. For people like Mark Suster, it's a clear advantage: "I love the authenticity of Snapchat. I don't have to put on airs and graces. I can just be me and try and be helpful."
It's quick and easy
Part of the real fun of Snapchat is that you can get your thoughts out there, with the push of a button. Compared to writing an article, it's a quick and effortless way to share with my followers bits of advice or a peek into my personal life.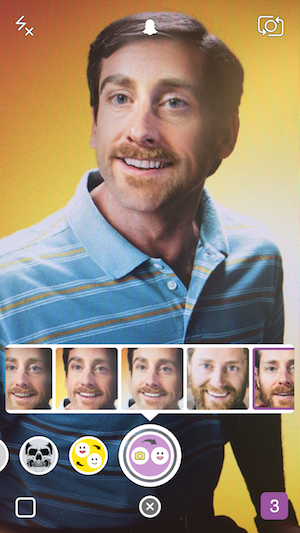 And Snapchat's ephemeral nature allows me do it without too much preparation or hassle. I'm not constantly worrying that my snaps will become part of my permanent online footprint, which. allows me to be more off-the-cuff and spontaneous. (Of course, it's important to keep in mind that anything you put out on social media or the Internet can become permanent. Chances are lower on Snapchat, but it can still happen.)
It is already catching up (in some ways) to TV
Last year, 40 million people tuned in to watch a livestream of the annual Coachella music festival—on Snapchat. (The "Live Story" consisted of a short montage of videos taken at the event by users, then curated and broadcast by Snapchat staff via the app.) Compare that to this year's Grammy awards in January, which drew a TV audience of just 20 million viewers.
Of course, a program like the Grammys is a much longer commitment than a two-minute Snapchat stream. But on the other hand, these numbers hint at a bigger trend: traditional media channels like TV are declining in popularity among younger generations. A Deloitte survey, for instance, showed that millennials from the ages of 14-25 now turn nearly equally to TV and social media as a source of news content. If the success of Snapchat's live streams is any indicator, the company is poised to become a major player as a content provider.
Want to follow Hootsuite on Snapchat? Click this link on mobile to go directly to Hootsuite's profile or scan the Snapcode below to add Hootsuite as a Friend on Snapchat.