Why Financial Services Must Take the Social Media Plunge
By HootSuite • 1 year ago • 10 Comments

This is the first in a special series of contributed posts by Joel Windels, Lead Community Manager at Brandwatch—one of the world's leading tools for monitoring and analysing social media. Joel will be investigating and uncovering the various ways that social media meets business, and providing you with insight and advice on how to make social work for your industry.
Why Financial Services Must Take the Social Media Plunge
The financial services industry isn't in a position to take big risks.
For starters, the global economic crisis has made significant dents upon both corporate wealth and consumer faith in the banking system. Meanwhile, the industry in general is almost unparalleled in the amount of regulation it must comply to. Finally, mistakes in the finance sector are incredibly costly, both monetarily and to reputations, with analysts and news outlets assessing every move each company makes.
So it's no surprise that many financial businesses have been slow to enter the seemingly risky and potentially controversial world of social media.
However, this hasn't prevented many of the world's leading financial brands from embracing social media, as it continues to radically change how business is done across almost every industry.

Who's Adapting?
Some corporations—such as American Express and Mastercard—are already harnessing the power of social for their business. This is a trend that is exemplified by the 2012 Social Brands 100, which reveals four financial service companies as among the best in the world at embracing digital.
Another great example of a financial behemoth approaching digital in a positive way is Morgan Stanley, who not long ago changed their rules to allow their huge swarm of analysts—some 18,000—to leverage Twitter and LinkedIn for business and client communication. The big caveat here however, is that the social messages they broadcast must be taken from a list of pre-approved content.'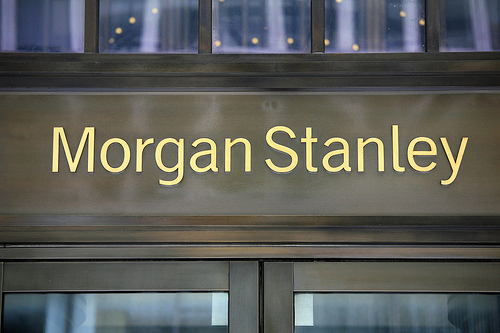 Joel Windels (@LinkYeah)
Joel is the Lead Community Manager at Brandwatch and is responsible for a wide range of their content, strategy and social activity. His background is in the games industry, but he now spends his time pioneering the power of social media monitoring and digital in general.
Images: Morgan Stanley, by Alex Proimos