#HootTip: Geo-Located Search
The HootSuite dashboard is chock full of features and tools to help you make the most of your social media management, and we're always adding more. To keep you up to date, or just refresh your memory, we have a new #HootTip all about a handy HootSuite feature.
Hoot Tip: Geo-Locate Your Search
For most businesses – especially small businesses – connecting with a local audience is the key to creating awareness and expanding your customer base.
But with so many people sending messages from social networks, how do you find the ones near you? Your time is too valuable to spend weeding through endless Tweets in hopes of finding someone nearby.

Thankfully, HootSuite has geo-located search built right in allowing you to filter your search according to distance and see only the messages from close by. Refine your search to industry related terms or brand mentions based on your location.
Here's how:
You may be a dentist looking for new customers or trying to spread awareness for services, and the social web is a great place to start.
1. Enter your search term in the Twitter search field. For example, someone looking for more dental patients could type "dentist."
2. Click the crosshairs icon on the right side of the search field.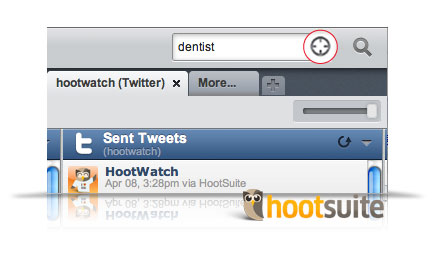 3. A window will then pop up showing search results within a 25 km radius of your current location.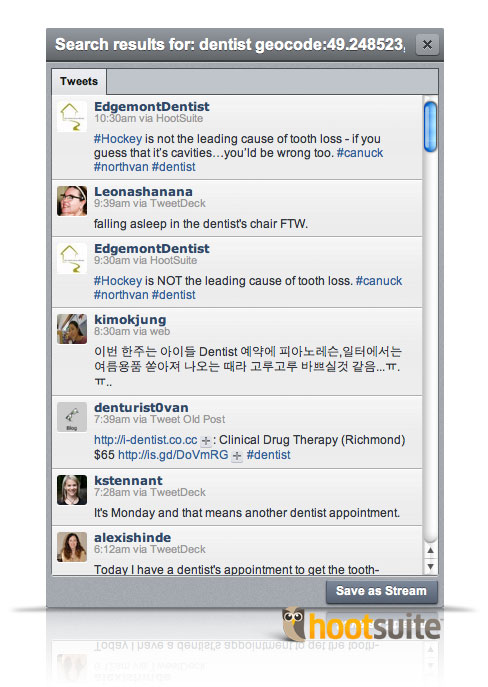 Give it a spin and you'll see just how many people are talking about your business. And when you do, try sending them a note to say hi, or offer some friendly advice – it's a great way to get your brand noticed and build trust with potential customers. By filtering your results you'll save time and get the most from your outreach efforts.
Stay tuned for a new #HootTip next week – they're short, sweet and Re-Tweetable so you can share your HootSuite expertise with your friends and followers. Some lucky RTers may just find themselves with a #HootKit… it's our way of saying "thanks for spreading the word."