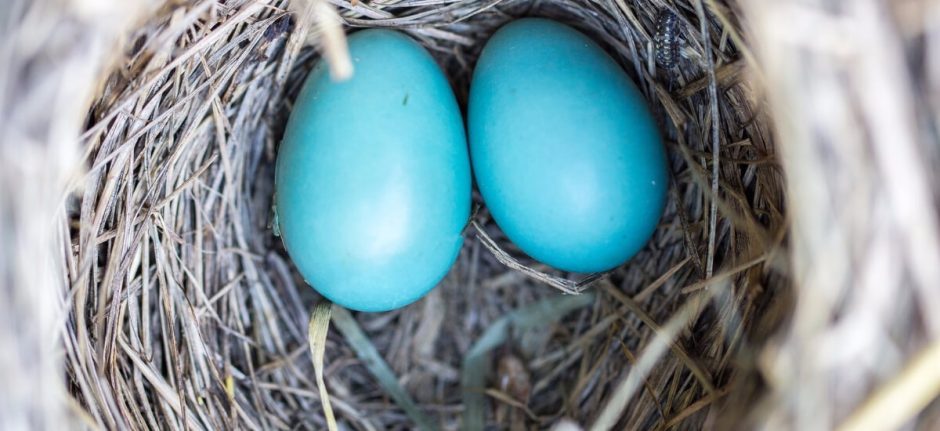 Twitter Hacks: 21 Tricks and Features You Probably Didn't Know About
With 313 million monthly active users, Twitter is a huge social media network offering plenty of potential for meaningful connection. But with more than 500 million Tweets sent every single day, it can be tricky to stay on top of the most relevant content, get your Tweets seen, and maximize the time you spend on your Twitter activities.
Fortunately, Twitter offers in-depth capabilities that allow you to laser-target your efforts. We've dubbed these strategies Twitter hacks because the lesser-known features can seriously up your Twitter game… if you know how to find them.
Table of contents
Bonus: Download the free strategy guide that reveals how Hootsuite grew our Twitter following to over 8 million users and learn how you can put the tactics to work for your business.
General Twitter hacks and tricks
1. Add emoji from your desktop
When you're working with 280 characters, emoji can save valuable space. They're easy to use on a mobile device, but can be a pain to access on a desktop. Fortunately, if you use a Mac, there's a keyboard shortcut to bring up the emoji character set.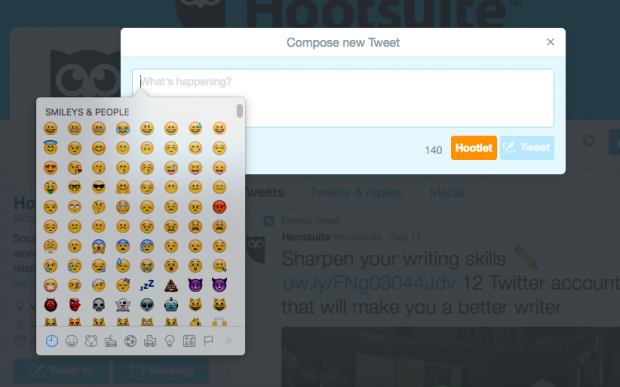 How to do it:
Place your cursor in any text field
Press the control, command, and spacebar keys
2. Beat the 280-character limit with a text screenshot
Sometimes there's just more to say than you can manage in 280 characters. Luckily, you can use the text application on your mobile device or any word processing program on your desktop to write a longer message, then share an image of that message in your Tweet. This isn't a strategy you should overuse, but it can come in handy when there's something you just have to get off your chest.
https://twitter.com/taylorswift13/status/754894689900359680
How to do it:
Open your favorite text or word processing app
Write your message
Take a screencap
Start a new Tweet, then tap the camera button
Add the screencap to your Tweet as an image, then add some text to introduce what the image has to say
3. Use Twitter Analytics to find the right time to reach more followers
The half-life of a Tweet is just 24 minutes, and a Tweet reaches 75 percent of its potential engagement in less than three hours. That means you need to Tweet at the right time to reach the most potential followers and maximize engagement.
Bonus: Download the free strategy guide that reveals how Hootsuite grew our Twitter following to over 8 million users and learn how you can put the tactics to work for your business.
Get the free guide right now!
Research generally shows the best posting times are 12 p.m., 5 p.m., and 6 p.m. Start at these times with your own strategic efforts, then use engagement data from Twitter Analytics to fine-tune your timing based on engagement. Once you know the best times to Tweet for optimal engagement, you can use Hootsuite to schedule your posts.
How to schedule a Tweet in Hootsuite
In the compose message box, click the Scheduling calendar icon
Select the date and time to publish the message (12:00am is midnight, and 12:00pm is noon)
Optional: Check the box to receive an email when the message is sent
Select your Twitter profile from the profile options to the left of the compose box
Click Schedule
4. Let Siri (or other personal mobile assistants) Tweet for you
If inspiration strikes while you're walking, driving, or in any other situation where handling your phone isn't an option, your device's mobile assistant can Tweet for you, hands-free.
How to do it on iOS:
Activate Siri (say "Hey Siri" or hold down the home button)
Say "Send a Tweet"
Speak the text of your Tweet
Confirm to send
How to do it on Android:
Activate Google Now (say "OK Google")
Say "Post to Twitter"
Speak the text of your Tweet
5. Use Twitter keyboard shortcuts
Did you know that there are keyboard shortcuts hiding right under your fingertips when you use Twitter on your desktop? You can keystroke your way to new messages, expanded photos, and more, all without touching your mouse.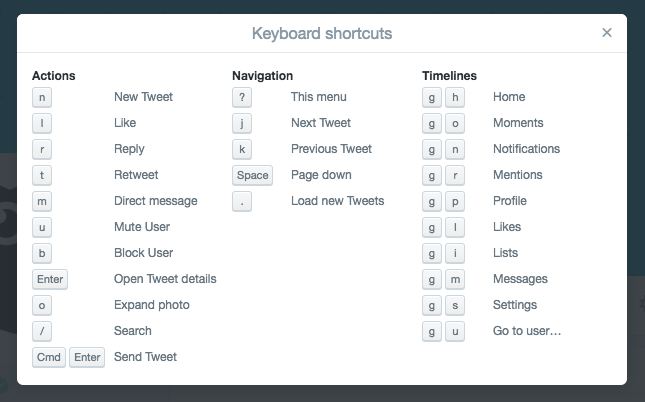 How to do it:
With your cursor in the background of any Twitter profile, press shift + ? to bring up the list of keyboard shortcuts (or take a look at the list above)
Use the keystroke combinations to navigate more quickly through your Twitter tasks
6. Schedule Tweets using Hootsuite
Okay, we may be biased on this one, but scheduling Tweets is one of our favorite Twitter tricks. If you're interrupting your workflow to sign into Twitter, write Tweets, and post them throughout the day, you're not making the best use of your time. It's much more efficient to create your Tweets in one dedicated chunk of time, then schedule them to post throughout the day.
How to do it:
In your Hootsuite dashboard, click Compose Message
Type your message and include relevant links and photos if you have them
Click to select a profile from the profile picker
Click the calendar icon
From the calendar, select the date for the message to be sent
Select the time for the message to be sent
Click Schedule
Learn how to get even more out of Hootsuite with free social media training from Hootsuite Academy.
7. Embed Tweets on any website or blog
You can share your own Tweets or anyone else's online using Twitter's built-in embed code.
Before we get started. How is everyone liking the new Twitter update? 140 characters PLUS media! #HootChat pic.twitter.com/9NZabLR5T3

— Hootsuite (@hootsuite) September 22, 2016
How to do it:
Find the Tweet you want to share
Click the … icon next to the heart icon
Select Embed Tweet
Copy the code and paste it into any HTML document (on a WordPress blog, paste the code into the "Text" view to include it in a post)
Bonus hack: You can also embed multiple Tweets from one or more accounts using embedded timelines.
8. Send a promoted Tweet to a target audience (and exclude existing followers)
You probably already know that choosing the right target audience is an important part of maximizing your Twitter ad budget, but you may not have considered the option to hide a promoted Tweet from your followers. Excluding your followers allows you to create an ad that speaks to a new audience using statements that might seem way too obvious—or even annoying—to your existing fans, or to create an offer that's most appropriate for people who have never interacted with your brand before.
How to do it:
Go to the Twitter ads dashboard and select your objective (followers, engagement, video views, clicks, app installs, or lead generation)
Click Create Campaign
In the "Select your audience" section, under "Select additional audience features," click Add followers
Uncheck the box that says "Also target your followers"
[insert screen cap: Follow the instructions above and create a screengrab showing the option described]
9. Pin a Tweet at the top of your profile
If one of your Tweets is converting particularly well, or if you have key information visitors to your Twitter profile should know, you can pin it so it always appears at the top of your timeline.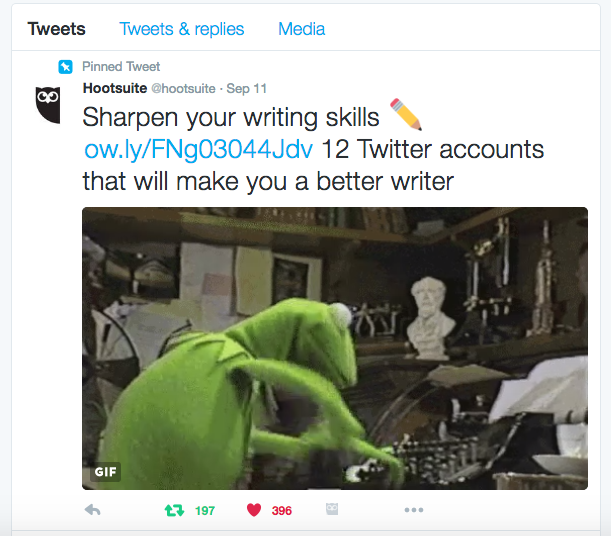 How to do it:
Find the Tweet you want to share
Click the … icon next to the heart icon
Select Pin to your profile page
Twitter search hacks and tricks
10. Exclude Tweets with links from search results
When you're looking for engaged Twitter users to interact with, you may want to exclude Tweets with links from your search. Why? Tweets without links indicate Twitter users are actively engaged on the network itself, rather than simply funneling traffic to other locations online. This can be particularly useful if you're following Tweets from a Twitter chat or live event and want to avoid links that pull you away from the conversation at hand.
How to do it:
When typing your search term in the Twitter search box, add "-http"
11. Use search operators to narrow your search
What's a search operator? It's simply a character or combination of characters used to search more precisely online. In the example above, "-" is a search operator that tells Twitter not to include Tweets that include "http."
How to do it:
There are a number of useful search operators. For example, since:[yyyy-mm-dd] will allow you to search Tweets sent after a specific date. So, typing Twitter hacks and tricks since:2016-10-01 in the search bar will only deliver Tweets containing "Twitter hacks and tricks" that were sent after October 1, 2016.
You can use search operators in combination. Check out Twitter's full list by clicking operators on the Twitter search page.
12. Use Twitter Advanced Search for lead generation
Twitter's built-in Advanced Search allows you to target your search based on geography, sentiment (positive or negative—imagine searching for customers who love you or hate you), and more, without having to remember any search operators.
How to do it:
Follow the steps in our blog post dedicated to Twitter Advanced Search.
13. Increase customer engagement using Hootsuite's Twitter search
You can uncover social media influencers, competitors, and conversations happening about your business using Hootsuite's advanced search capabilities, then use the intelligence gathered to increase engagement with followers and customers.
Learn how to get even more out of Hootsuite with free social media training from Hootsuite Academy.
How to do it:
Follow the steps in our blog post dedicated to this topic.
Twitter profile hack
14. Request your archive of Tweets
Upon request, Twitter will provide you with a full archive of all your Twitter activity, right from your very first Tweet.
How to get it:
From your Twitter profile, click the profile icon (a small profile picture in the top bar), and select Settings
Scroll to the bottom of the screen and click Request your archive
Wait: It may take up to a few days for Twitter to process the request
Watch for an email from Twitter. When you receive it, click Go now to download your archive as a .zip file
Unzip the file, then open index.html
Twitter List hacks and tricks
15. Segment your feed with lists
If you're following more than a couple hundred people (and you are, right?), it can become virtually impossible to keep track of the content you want to see. Enter Twitter Lists, which allow you to create custom feeds of groups like influencers, customers, leads, or prospects—so you can engage appropriately with each important group.
How to do it on Twitter:
For instructions for iOS or Android, visit the Twitter Help Center.
Click on your profile icon to show the drop down menu
Click on Lists
Click Create new list
Select a name for your list, and a short description of the list. Then select if you want the list to be private (only accessible to you) or public (anyone can subscribe to the list)
Click Save list
To see the Tweets in your lists on Twitter, go to your profile page, click the Lists tab and click the name of the list
How to do it in Hootsuite:
In your Hootsuite dashboard, click Add Stream
Choose Twitter from the social network list on the left-hand side
Click on the Lists tab
Select your desired Twitter profile
Check the bubble marked Create a new list
Enter a name for your list and, if you like, a description
Choose whether you'd like your list to be Public or Private
Click the Add Stream button to create your list
Learn how to get even more out of Hootsuite with free social media training from Hootsuite Academy.
16. Keep an eye on your competitors without following
You want to keep an eye on your competitors, of course, but you don't want to give them a valuable follow. You also don't necessarily want them to know they've caught your attention. Enter private lists: A stealthy way to create a feed of competitors without following them.
How to do it:
Follow the step-by-step instructions in the above hack
When choosing your list's visibility, select Private
17. Find out whose lists you're on
Knowing what lists you're on helps give you a sense of how people perceive your account and helps you find potential new contacts who have not yet followed you.
How to do it:
Note—you can only find out whose lists you're on using the iOS and web interfaces. There's no option to do so in the Android app.
From your profile page, go to your Lists tab
Click Member of
18. Subscribe to other users' public lists
When looking for people to follow, or people to add to your lists for competitive intelligence, you might want to see if others have already done some of the work for you by creating lists of relevant accounts. A great place to start is by looking at the public lists created by influencers in your field or your largest competitors. If a list looks worth investigating, you can simply subscribe to the list without having to duplicate it on your own account.
How to do it:
Go to the profile page of an influencer in your field
Click Lists
Click on the name of the list you want to look at
Click Subscribe
19. Search for lists
What if you want to go deeper into list discovery, beyond lists belonging to influencers you're already aware of? There's no way within Twitter itself to search for lists, but that's where Google comes in. Just like you can use search operators within Twitter to narrow your search results for Tweets, you can use search operators in Google to find Twitter Lists.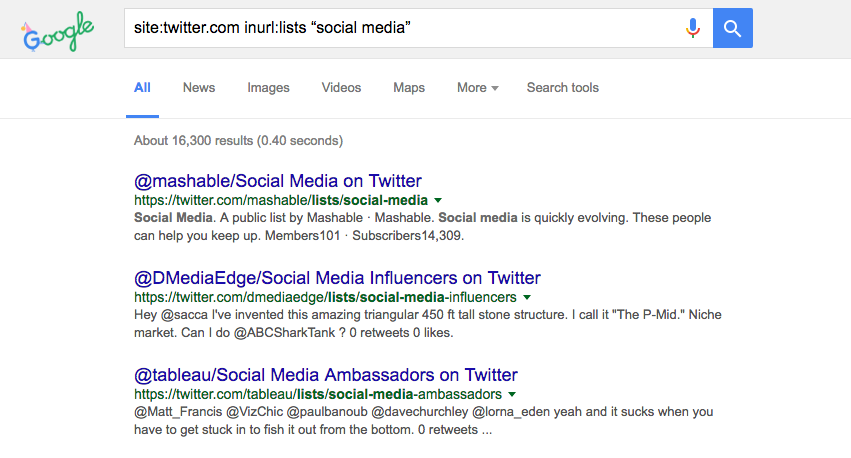 How to do it:
Using Google, enter the following text before your search term: site:twitter.com inurl:lists
Rich media Twitter hacks and tricks
20. Upload up to four images per Tweet
Twitter no longer counts images toward your Tweet's character count, so you can add an image without taking space away from the text of your Tweet. And there's no need to stick with just one—you can attach up to four images to any Tweet (excluding animated GIFs… each Tweet can only have one of those). You don't want to go overboard and upload multiple images with every Tweet, but this can be a great idea when posting from an event, destination, or product launch, for example.
How to do it:
When composing your Tweet, click or tap the camera button
Select up to four images to attach
Click Tweet
21. Add stickers to images you Tweet
Just like Snapchat, Twitter allows you to add stickers to the images you Tweet, injecting a little bit of extra personality.
How to do it:
Note—you can only add stickers using the iOS and Android apps. There's no option to do so in the web interface.
When composing your Tweet, tap the camera button
Select an image to attach
Tap the sticker icon (a smiley face)
Tap the sticker you want, then hold and drag it to the right spot on the photo
Pinch, stretch, or turn the sticker using two fingers to customize size and angle
Coming soon! Unleash your creativity by adding fun #Stickers to your photos on Twitter: https://t.co/Ph92Oivyhy pic.twitter.com/NZoM6nHenD

— Twitter (@Twitter) June 27, 2016
The list of Twitter hacks and tricks is sure to grow as marketers get ever more creative in their use of this important social network.
Save time managing your Twitter presence by using Hootsuite to schedule posts, share video, engage with followers, and monitor your efforts. Try it free today.