5 Ways Women Drive Social Media
Brands have long known the importance of appealing to women. Studies show that the fairer sex are responsible for 80 percent of household goods. Now that social media has become such an integral part of a marketing strategy, it's even more important for brands to relate to their female audience. Check out this amazing Infographic by Finances Online: "Why Women are the Real Power Behind Social Media."
Numbers don't lie: women are dominant on social media. The implications of that fact depend on the business you're in, but however you use social media, you should understand the extent of the gender gap. Lets take a look at 5 ways women are driving social media:
More Women Use Social Networks
According to a Pew Study, women use every major social media channel more than men, with the exception of LinkedIn. Pew found that 78 percent of online U.S. adult females use Facebook, while only 69 percent of men do; 54 percent of women are on Tumblr (only 46 percent of men) and 20 percent of women are on Instagram, while 15 percent of men are. One fairly even split exists for Twitter, which sees 18 percent of women and 17 percent of men.
We also have two social networks that are heavily used by one gender opposed to the other: one-third of women are now using image sharing site Pinterest, but only 8 percent of men; and 24 percent of men are using LinkedIn while only 19 percent of women are.
Women are on Social Media More Often
Women tend to spend more of them time online on social media networks. According to another Pew Study, 73 percent of online adults are using a social network of some kind. 30 percent of women involved in the research have said they use social media several time per day in 2013, opposed to only 26 percent of men.
Women are More Likely to Interact with Brands through Social Media
Once on social media, women are more likely to interact with brands. When it comes to showing support for a brand, 54 percent of women have done this versus 44 percent of men. 53 percent of women have accessed some kind of offer from brands on social media, while on 36 percent of men have done the same. Women also will comment on brands through social media channels more than men, 28 percent to 25.
Here's where brands really need to pay attention: women are more likely to purchase from brands they follow. Women control up to 85 percent of the purchasing in the United States. According to Women's Marketing Inc., 65 percent of women use social media to learn more about brands and products. Add everything up, and it seems like making social media a critical part of a brand's marketing strategy could be a good idea.
More Women Read News on Social Media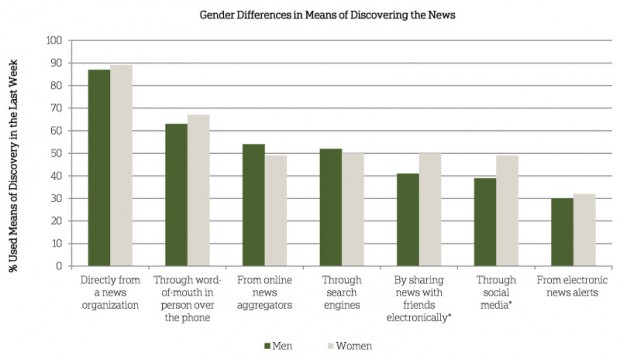 It's easy to see that women use social media more often and in more ways than men. Is it really a surprise that women are more likely to get news from social platforms? In a new study by the American Press Institute, 49 percent of women said they got the majority of their news through social media, compared to only 39 percent of men. Women are also more likely to share news through their social networks. More traditional new outlets like television and radio are preferred by men.
Women Use Social Media via Mobile
A Nielsen study shows that every day women spend nearly 10 minutes social networking through the mobile web, or through apps, while men spent a little less than 7 minutes. Step your game up guys. Women are really leading the trend of accessing social media via mobile, and when it comes to accessing social content, it's all about apps. One-third of people say either their smartphone or tablet is the primary way they access their social media. Social networking through PCs has declined slightly (5% decline), however the overall amount of time spent increased by 24% over the same period.
Come on guys, time to get it together on social media. When it comes to managing your social media, HootSuite is the way to go. See how you can get HootSuite Pro for free for 30 days.