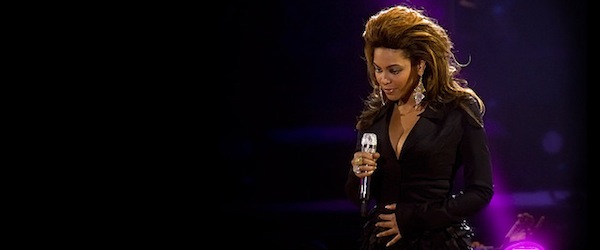 The Beyoncé Effect & MetLife: How the Star Caused a Social Surge for the Financial Services Industry
If anyone can cause a stir in social media, it's Beyoncé. Case in point: she currently has the internet in uproar over her potential divorce from husband, Jay Z. But did you know she also recently made waves for MetLife? Yes, MetLife the insurance provider. So what has Queen Bey done to make insurance and financial services trendy in social? We found out using uberVU, Hootsuite's deep listening and analytics tool.
Each week, to prove the value of social data, the uberVU via Hootsuite team pits two industry leaders head-to-head in a Social Media Face Off to compare the brands on social metrics such as mentions, sentiment and more to find what brand comes out on top. Recently, Aflac went up against MetLife and when it came to mentions across social media, MetLife blew away the competition with 33,925 mentions over a two-week period. That may not seem high, but when you compare it to the 4,419 mentions of Aflac, it's a staggering 7 times as many mentions.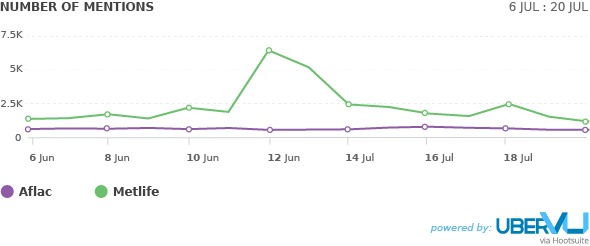 As you can see on the mentions trendline, MetLife hit a huge spike on July 12 with 6,289 mentions—that's more mentions on one day than Aflac brought in over two weeks. And for that, MetLife can thank Beyoncé. Turns out the cause of the spike was due to a Beyoncé / Jay Z  concert held at New Jersey's MetLife Stadium. You can see on the trendline that the surge in mentions (and fandom) ensued for two days due to photos, videos and recaps being shared in social.
It's easy to see that MetLife's stadium sponsorship had a culture-jacking effect in social. The insurance brand was able to earn name recognition in Beyoncé-related tweets, resulting in a huge volume of mentions. Take a look at MetLife's conversation map from the uberVU via Hootsuite platform, which displays the most-talked about topics in relation to a specific keyword or phrase—in this case MetLife. "MetLife Stadium" accounted for 34% of the conversation around MetLife. The Beyoncé / Jay Z concert was so popular it took over almost the entire MetLife conversation map with "Beyoncé", "stadium", "tickets", "at MetLife Stadium", "concert", "Jay" and "Bey" all appearing.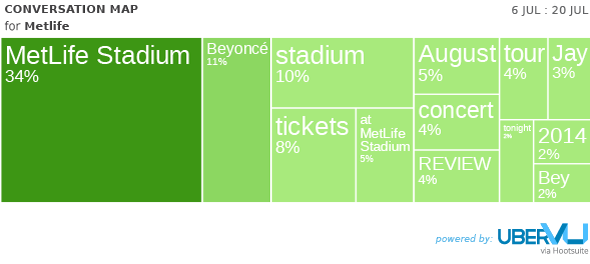 While MetLife's conversation map proves the majority of social chatter on July 12th was due to the concert itself and not the insurance brand's services, you can't deny that the sheer amount of social mentions of MetLife proves the stadium sponsorship is paying off big time in terms of brand awareness.
The news gets even better for MetLife when you dive into the sentiment behind the surge in mentions. The insurance brand brought in an impressive 41% positivity score, with only 3% of its mentions registering as negative. This past week, MetLife registered 28% positivity, a number much more on par with other insurance providers we monitor. When a brand's social conversations are unintentionally hijacked by a story or topic not produced by the brand itself, it can often be a cause of concern. But with the concert earning such positive association for MetLife, it's clear the hijack was nothing but good news for the insurance brand.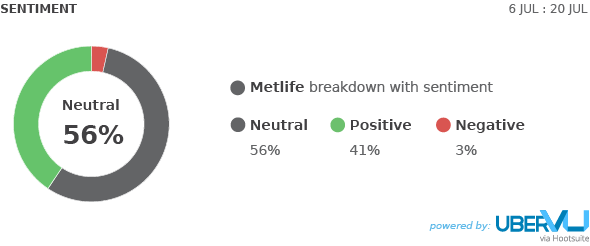 Not only did MetLife see a huge surge in mentions and positivity, but the brand also earned high exposure in social with 189 million impressions. Its typical average? 8.9 million. This dramatic increase was due to mentions by influencers like John Legend (a popular R&B singer who attended, and tweeted about, the concert), and top posts from New York-based publications covering the concert. The concert helped the MetLife name extend further in social than it typically does, extending to millions of people it may not have otherwise reached.
"The Beyoncé Effect" was not something MetLife planned or paid for in terms of a campaign and yet the insurance brand was able to secure an impressive surge in brand mentions, positive brand awareness, plus, extended brand recognition with an audience it may not have reached on its own. Those are three highly-desired KPIs, all achieved without a planned marketing effort. That's a huge win for MetLife!
"The Beyoncé Effect" was a clear win for MetLife, but how did the brand stack up against its competitor, Aflac? Go deeper into social analytics we uncovered for MetLife and Aflac in our on-demand Social Media Face Off webinar. See the insurance brands go head-to-head and come away with key takeaways and competitive intelligence for the financial services industry.