The Financial Services Guide to Implementing a Social Media Strategy ~ White Paper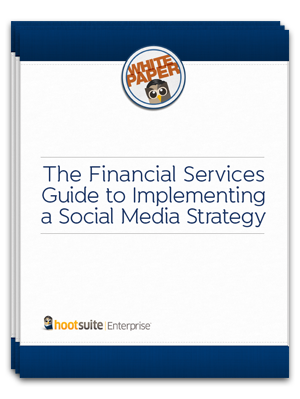 In 2013, the Financial Services Industry is poised for widespread adoption of social media. Recent guidance from multiple agencies has eliminated regulatory uncertainty and paved the way for FSI organizations to scale up their social media activities in a managed, compliant fashion. For most financial institutions, the crucial next step is to form a comprehensive strategy that lays out how social media will deliver on business objectives.
HootSuite's latest white paper, The Financial Services Guide to Implementing a Social Media Strategy, offers detailed steps for how FSI organizations can take control of social media assets and execute a strategy that will guide all social interaction, both externally with clients and among stakeholders and staff internally.

In this white paper, you'll be presented with best practices for:
Taking control of your FSI firm's social assets by safeguarding and centralizing ownership over these channels.

Communicating with customers, partners and investors through social media while staying compliant with regulations for fair disclosure, records retention, customer privacy and more.

Educating your employees from the C-suite down about social media use by building a training and accreditation program.

Facilitating knowledge sharing by deploying an internal social network, involving your partners and promoting collaboration.

Listening methodically to your customers and competitors on social media, by setting up keyword streams and creating workflows for directing customer feedback.

Serving your customers on social media by creating a triage process for complaints and questions.

Localizing your social presence by monitoring brand mentions based on location, targeting specific demographics and socializing your community outreach.

Recruiting and retaining skilled employees by marketing your employer brand on social media and keeping workers engaged with an internal social network.

Generating actionable data from social media programs that your organization can use to optimize marketing efforts and improve customer experience.
FSI Clients, Investors Using Social More Than Ever
If there is any doubt as to why FSI firms need a social media strategy, as 2012 survey by Brunswick Group should put them to rest. The survey found that 28% of investment professionals had investigated an issue based on something they had seen on Twitter and
12% had made an investment decision after reading Twitter. The same study showed that institutional and private investors are increasingly contributing their own investment information to social networks.
So not only are customers using social media to interact with FSI organizations, but investors are increasingly turning to these channels to gather information, voice their opinions, and spread information about institutions. Financial institutions that abstain from social media will lose mind share with professional investors and analysts, while those with a social media strategy will be able to put their brokers and executives front and center on Twitter, LinkedIn and other social channels.
The potential for improving workflow through internal social networks, enhancing customer service through external social networks, and improving your bottom line by bringing stakeholders into your social efforts is only growing with time. It's also easily accessible to FSI firms, as long as they know how to harness it.
Empower your organisation while keeping things under control with this complete guide to social media strategy for financial services. Download The Financial Services guide to Implementing a Social Media Strategy now.
And for a more basic look at how FSI organizations can establish themselves on social, download 8 Social Media Tips for Financial Services.