Why Financial Services Must Take the Social Media Plunge

This is the first in a special series of contributed posts by Joel Windels, Lead Community Manager at Brandwatch—one of the world's leading tools for monitoring and analysing social media. Joel will be investigating and uncovering the various ways that social media meets business, and providing you with insight and advice on how to make social work for your industry.
Why Financial Services Must Take the Social Media Plunge
The financial services industry isn't in a position to take big risks.
For starters, the global economic crisis has made significant dents upon both corporate wealth and consumer faith in the banking system. Meanwhile, the industry in general is almost unparalleled in the amount of regulation it must comply to. Finally, mistakes in the finance sector are incredibly costly, both monetarily and to reputations, with analysts and news outlets assessing every move each company makes.
So it's no surprise that many financial businesses have been slow to enter the seemingly risky and potentially controversial world of social media.
However, this hasn't prevented many of the world's leading financial brands from embracing social media, as it continues to radically change how business is done across almost every industry.

Who's Adapting?
Some corporations—such as American Express and Mastercard—are already harnessing the power of social for their business. This is a trend that is exemplified by the 2012 Social Brands 100, which reveals four financial service companies as among the best in the world at embracing digital.
Another great example of a financial behemoth approaching digital in a positive way is Morgan Stanley, who not long ago changed their rules to allow their huge swarm of analysts—some 18,000—to leverage Twitter and LinkedIn for business and client communication. The big caveat here however, is that the social messages they broadcast must be taken from a list of pre-approved content.'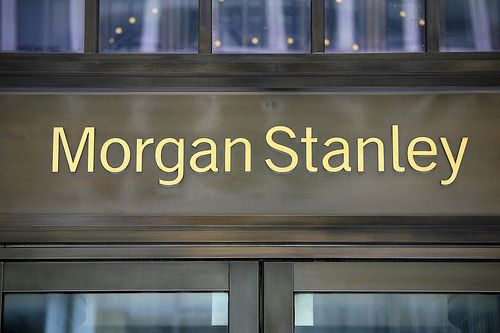 We'll be covering exactly how the very best have made social media work for their businesses in much more detail over the coming weeks, so stay tuned.
Such examples also prove that while it's understandable that financial service companies have been apprehensive about stirring a hornet's nest by setting foot in social, missing this chance could be even costlier in the long run.
Proceed With Caution
It would be naive for the likes of Morgan Stanley to adopt these practices without any thought or foresight, especially since many of these companies specialize in risk mitigation. Indeed, a sub-industry has spawned to fill this need for adaptation and change, with financial service compliance systems available to ensure that businesses are fully prepared to utilize social. HootSuite's Compliance Tool helps financial service companies conform, analyze and monitor their activities in digital.
It's important to identify two of the key areas of social media compliance that financial services companies should be investing in:
1. Social media 101: educating all staff on social media fundamentals, explaining what each platform is and how it should be used. Establishing house rules for use on each platform, even for personal use, is essential in mitigating potential risk.
2. Policy and strategy: corporations need to ensure that owned media is subject to a set of protocols so that the chance of mishap is reduced. Meeting FSA obligations, maintaining a consistent brand voice and having a style guide are all important when using social media platforms. It's also essential that these rules are flexible enough to adapt to the rapidly changing trends in social.
Fully Compliant: What Now?
After creating an environment for effective, low-risk engagement with social media, financial service companies are exploring different avenues to best leverage the huge opportunities that the medium offers.
The sheer breadth of opportunity now available to financial services due to social media is staggering, many of which we'll be looking at more closely in the coming weeks.
Social CRM: Managing and nurturing a client base has never been easier. Consider how much money could be saved on staffing call centres to handle customer service by transferring it to online mediums, or by shifting to dedicated social CRM platforms. Many also allow customer service and response to customers engaging in relevant candid, non-directed conversation, outside of official feedback systems.
Lead generation and drip marketing: Large, active communities can be fed targeted content and marketing material in dramatically different ways than has been the case for the previous 50 years, with engaged consumers actively following your content and updates. Email marketing, social network presences and other online activities can all work in unison to broadcast a company's message.
Research: Monitoring and harnessing the data available from social media is yet another advantage for financial services. Understanding consumer demands, predicting future trends and identifying customer habits are all now readily accessible, with big data very much the zeitgeist in the industry at the moment.
Will it be Worth it?
For now, let's consider this phone analogy as highlighted by Benjamin Ellis: It's well documented that most companies in the 1930s were cautious about investing in phone technology, with the cost of new operators, complex technology installation and establishment of new protocols just a few of the many obstacles to businesses in embracing the new medium. However, a leap forward to 1940 shows just how effective the ROI was for those that did choose to invest, and getting it right at the crucial time proved vital. The 2010s are the new 1930s, and now is the time for the financial services industry to get on board, start thinking strategically and take that dreaded plunge.
Financial services have become a strong focus within social media circles in recent months, so examining the challenges and opportunities that face these companies is more relevant than ever. Over the next few weeks we'll be looking at how companies can't, should and are adapting to the fast-moving world of social media, starting with today's post on the current state of the sector.
HootSuite Social Compliance is the most comprehensive social media compliance solution available for financial services professionals. Want to know more?

Joel Windels (@LinkYeah)
Joel is the Lead Community Manager at Brandwatch and is responsible for a wide range of their content, strategy and social activity. His background is in the games industry, but he now spends his time pioneering the power of social media monitoring and digital in general.
Images: Morgan Stanley, by Alex Proimos