Put Your Boss at Ease With HootSuite Security Services
Social media is one of the most powerful and effective means to communicate with fans and customers. So why are some brands still hesitant to spread social media outside of marketing? Often, it boils down to security.
As you scale your social media strategy across departments, involving more and more employees to support your social business goals, the chance of a mistake or a full-blown crisis can increase exponentially. But it doesn't have to.
HootSuite Security Services provide your brand with the protection and assurances it needs to take on social media with confidence. This security system is built to minimize the potential risks of hacks or errors, even as you scale your social media strategy throughout your entire business.
HootSuite Security Services offers Enterprise users 3-tiered protection: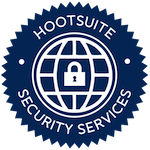 1) A social media audit: Ensure that no rogue accounts or fake brand profiles exist, and all permissions are organized and under central control
2) Social profile monitoring: Email alerts ensure the people in charge will know of any issues as they arise, so they can respond accordingly
3) A crisis simulation: We help simulate an irregular social media situation in a private, controlled environment, allowing your team to test its response strategy and suggesting necessary improvements or changes advance
Sharad Mohan, HootSuite's Director of Customer Success, has seen the value of these crisis simulations first-hand. Having trained many clients on how to respond, and then seeing how they do so by simulating a crisis in a controlled environment, Mohan has witnessed the dynamic of a team change as they panic or get stressed.
"If someone gets emotional and speaks outside of your brand voice, it can be very harmful to the overall brand and result in a loss of clients, revenue or worse," he explains. "More than the crisis itself, it's important that everyone comes together and responds with one voice, immediately."
After every crisis simulation, our representatives do a post-mortem with the customer. We tell them where they can improve and need help, and leave them better prepared to embrace social without concern.
Seventy-six per cent of social media crises could have been prevented or diminished. Don't be one of the brands scared away from a major business opportunity. Contact us about HootSuite Security Service today.