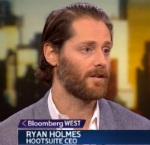 Each year, billions of dollars are spent by big corporations working towards building a strong brand through social media presence. For these corporations, there may be multiple employees with access to accounts- which proposes a problem. What happens when this hard earned consumer trust can easily be destroyed by a compromised account? (Earlier this year, Ryan recapped the Top Corporate Twitter Disasters of 2012)
In this video, HootSuite CEO Ryan Holmes discusses how to protect your brand on social media networks using HootSuite's Safety and Compliance features. HootSuite acts as a go-between for the user and social media network, thus being able to open and close the gate access to media sites such as Twitter and Facebook. In addition, security systems are put in place to double check messages being sent. Learn more about HootSuite's Security Features, and why this may be an essential tool for your business.
Learn more about HootSuite Enterprise and request a demo.