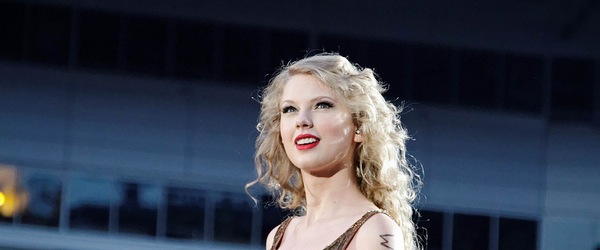 Want to know how to Build Anticipation on Social Media? Look to Musicians
For the past few days, Taylor Swift has been dropping cryptic clues on Twitter and Instagram that have left her fans thinking the country singing starlet may soon be releasing her fifth studio album.
It may not just be wishful thinking. Online reports analyzing her tweets suggest the speculation adds up.  Swift's gone two years in between each album release and her last one, Red, was in 2012. The numbers in her clues seem to hint at an August 18th release in New York City.
Cluuuuue number twooooo….. pic.twitter.com/F0Qpul43QF

— Taylor Swift (@taylorswift13) August 6, 2014
pic.twitter.com/KB4ShdnYia — Taylor Swift (@taylorswift13) August 7, 2014
The engagement on these social posts has been incredible. While it helps to have a fan base in the millions, these teaser posts can still teach businesses a valuable lesson: how to build anticipation on social media.
Traditionally, brands had to pay exorbitant amounts for TV commercials or print ads, so they weren't going to waste money to tease a new product. Now, social media provides businesses with cheap, even free channels on which they can drop hints about new products or services in advance of official launches. This is an effective way to keep people coming back to your social profiles, and to create a buzz around your business.
There are several different ways to create this type of buzz, and the music industry's biggest stars have become masters of this art.
First there was Queen Beyoncé who surprised fans with a previously unannounced album on iTunes just after midnight on a Friday last December. After the album dropped on the music service, she uploaded a teaser trailer for it to her Instagram account. Beyoncé aptly captioned the video: Surprise. Then industry giant Pink Floyd announced its first studio album since The Division Bell two decades ago via a tweet from singer and guitarist David Gilmour's wife, Polly Samson.
Btw Pink Floyd album out in October is called "The Endless River". Based on 1994 sessions is Rick Wright's swansong and very beautiful. — Polly Samson (@PollySamson) July 5, 2014
Others are using social media platforms to build hype around a possible upcoming album. Songstress Adele is known for her two studio albums 19 and 21 – each named after her age at the time of its release. She started hinting on Twitter after her 25th birthday that we may be seeing the number 25 again soon.
Bye bye 25… See you again later in the year x pic.twitter.com/HEmY14El5s — Adele (@OfficialAdele) May 4, 2014
Meanwhile Canadian-born pop sensation Justin Bieber took a page out of Beyoncé's book and uploaded not one, but 11 teaser videos on Instagram – each one hinting at a new song – just a few weeks ago.
He capped off the night on Twitter, mysteriously mentioning that he had a great night in the studio. Perhaps recording his new album?
Great night in the studio

— Justin Bieber (@justinbieber) July 23, 2014
It's not just superstars using social media to gain traction for their work. Up-and-coming artists, like These Kids Wear Crowns, also turn to social media to promote their upcoming albums.
The six-person band from Chilliwack, B.C., was first discovered on MuchMusic's DisBand, a show that landed young bands facetime with music industry executives. TKWC signed a deal with EMI after their stint on the show.
They released an album – Jumpstart – early on in their careers, but the band and their sound matured. TKWC is now gearing up for its second c.d. release. Lead vocalist Alex Johnson says he'll be building up to the release on all of the band's social media platforms using Hootsuite.
He's been using Hootsuite for nearly two years now after looking for something to help him manage all of the band's social media accounts more easily.
Before Hootsuite, he would sometimes miss essential posting times. Now, he can pre-schedule everything weeks in advance and still post spontaneously.
"I haven't missed anything," Johnson says.
The first single from their new 10-track album will be released online in early September and the band is using Twitter, YouTube and Facebook to create a "bit of a build up" towards the release.
Whether you're dropping hints or surprising your followers out of the blue, social media is a fantastic business channel for creating buzz around a product launch or release. And if you need inspiration, following your favorite musician is probably a great place to start.
To build buzz for your next big project, try Hootsuite for free.