There's never been a better time to become a social media manager.
The average social media user spends 2.5 hours a day scrolling, liking and commenting. That's the equivalent of five weeks a year!
All that screen time presents millions of possible chances for people to discover new brands, products, and services.
That's why social media is one of 2023's most important marketing channels. To get in on the action, brands need to dream up beautiful content, and build thriving communities around their brand.
But they can't do it alone. That's why there's so much opportunity out there for skilled social media managers!
If you love getting creative and connecting with others online, your skills are in high demand.
Today, we'll explain how to become a social media manager in 2023. Keep reading for actionable tips, a step-by-step guide, and industry advice from one of Hootsuite's in-house experts. Or watch this video:
Bonus: Our free social media manager career toolkit includes resume, cover letter, and portfolio templates, along with a complete guide to social media job descriptions and frequently asked interview questions. You got this!
A social media manager is a person who handles a brand's presence on social media.
Who is your brand, on social? What do they share (and not share)? How do they interact with customers and their broader community?
Social media managers are in charge of planning, creating, and publishing content that's true to that brand identity. They'll also analyze and report on its performance, and keep up with their community through comments and DMs.
Does that sound like a big job? It is!
Social media managers have a lot of responsibility, because they're driving an incredibly important marketing channel.
Many customers use social media to research purchases, and discover new brands. For online-only businesses, social media can be their only way of getting to know a brand!
That's why social media isn't internship territory anymore.
"The biggest change I've seen is the shift from entry level jobs, to actually having a seat at the table," says Trish Riswick, Social Media Specialist at Hootsuite. "Companies realize the importance of social, and that the social team, especially, knows a lot. I think that's a real testament to where social is heading in 2023 and onward."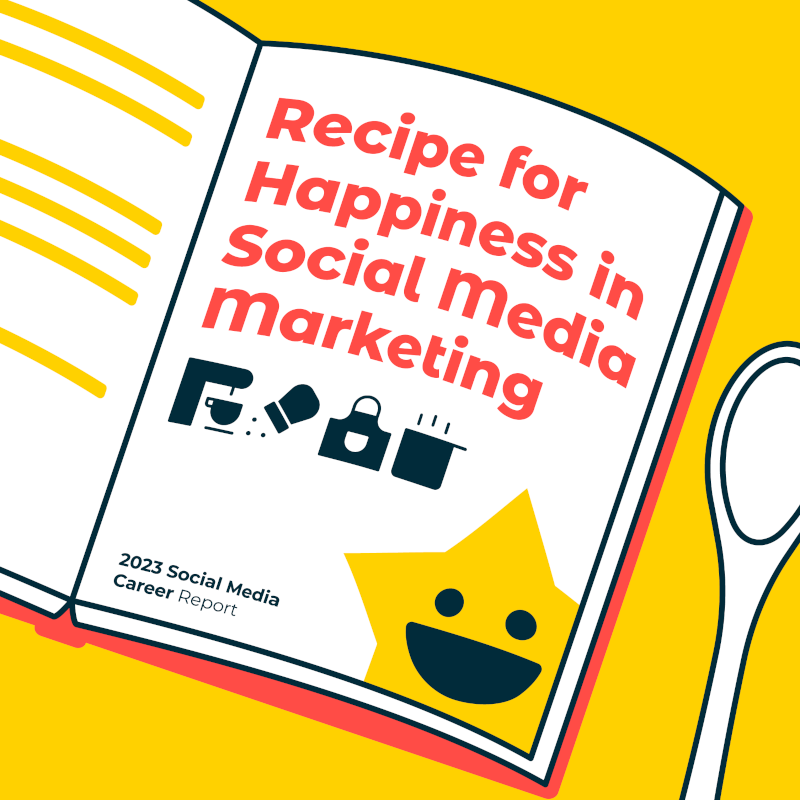 Are you paid enough?
Download our Social Media Career Report for stats on social media manager salaries, benefits, job satisfaction, mental health, and more.
Get the report
What does a social media manager do?
Social media manager is a dynamic and challenging role. As you create, publish, and report on content, you'll be switching between many different duties. Typically, those include:
Creative copywriting
Graphic design
Shooting and editing video
Photography and photo editing
Content planning
Content strategy, often in cooperation with the larger marketing department
Community management
Analyzing and reporting on content performance
All in a day's work 🥱

Shout out to all the social media managers juggling so many hats while keeping their social channels afloat. You're all the true MVPs 🌟 pic.twitter.com/7jtsbgkbhK

— Hootsuite 🦉 (@hootsuite) December 8, 2022
This might look like a huge (and possibly intimidating) list. But you don't need to be an expert at all of these things to start working as a social media manager.
Smartphone photo and video is more than adequate for a lot of social media content. And thanks to tools like Canva, graphic design and photo editing are more accessible than ever.
Larger companies might also have a team for managing social, rather than just one person. That would mean you'd be working with other people, whose skills complement yours.
Plus, a willingness to learn is one of the most valuable skills a social media manager can have! So if there's anything you're not comfortable with just yet, it's ok to learn as you go.
Social media is always changing. So exactly what you need to do as a social media manager will change with time, too.
But there are some big-picture skills that underpin the more specific, tactical ones we just described.
Flexibility
To succeed as a social media manager, you need to be ready to keep learning, experimenting, and adjusting as you go.
"This job changes literally day by day, and second by second," says Trish. Whether the current trend is carousels, video, or something else entirely (hello, Metaverse), you have to keep creating amazing content.
That means staying up to date and learning new skills when you have to, because social media platforms and their features are always changing.
You also need to be ready to adjust your content plan on a dime. "Something could happen in your market or in your community that just completely changes the direction that you're going in," Trish continues. "Or you might get feedback from your audience, and realize that what you thought was working actually isn't. You just have to roll with the punches and change it up!"
Communication
Like we mentioned, social media is often the front lines of communication with customers. You're being trusted to share important brand messages. You need to do that with confidence and clarity — while keeping people entertained and engaged.
That's why copywriting skills, and strong communication generally, is an evergreen skill for social media managers.
"You need to make sure your points are crystal clear, and your audience isn't interpreting them in any way they're not supposed to," Trish explains. "If people aren't engaging with or reacting to your copy, it means your communication is probably not where it needs to be."
Communication skills are vital for community managers, social media professionals who specialize in responding to DMs and engaging their community on social.
Content curation
As a social media manager, you won't create every single social media post from scratch.
Thanks to tools like Canva, actual content creation is easier than ever. You'll also be repurposing content created by other people, like trending memes and user-generated content (UGC).
You need to combine all those different elements into a strong, cohesive social media presence that's true to your employer's brand. That's why, while your technical skills do matter, it's possibly even more important to have a keen aesthetic eye.
Independence
Whether or not you're working on a team, you'll need to be motivated and self-directed to thrive as a social media manager. You'll be making many important decisions every day, as you create and publish content that will be seen by hundreds or thousands of people.
"You really need to trust yourself," says Trish. "That can be scary, but it's what you need to make it in this industry. You need to have the confidence to believe in yourself and believe in your abilities to make really cool things happen."
There's no one, single way to build a career in social media — and no two social media manager jobs are exactly alike.
You might want to work freelance, or as an in-house employee. One company might be all about long-form LinkedIn content, while another might emphasize viral video.
"In social media, you can now see your career trajectory a bit more clearly," shares Trish. "That's amazing, because I think a lot of us started off in positions where we didn't really know where we would go next, and now we do."
But here are the basic steps to landing your first social media manager job — wherever you're starting from, and whatever a dream job looks like for you.
1. Brush up on your social media knowledge
You're already a social media lover. But to be a social media professional, you really need to have your finger on the pulse.
As you're searching for your first role or client, immerse yourself in the social media landscape.
What brand's presence are you inspired by? What trends or content types do you seriously love? Is there a particular niche, or type of product, you can picture yourself working in?
If you like, you can certainly learn in a more formal way, too. There are so many ways to educate yourself about social media — from free YouTube channels to affordable online courses.
If you're not sure where to start, we've got you covered.
2. Get experience
The beauty of social media is that it's an inherently democratic place. Anyone can jump in and start experimenting, wherever you're at in your journey.
You might choose to manage other accounts to build up experience. If your friend makes creative textiles or gorgeous ceramics, why not team up and help them promote their work? Or, look around for internships and co-ops, or try trading your services for products from small business owners.
You can also use your own presence as a learning tool. Building a meme account or niche TikTok presence helps you learn what it takes to get views — and later, it can prove to clients that you know your stuff.
3. Create a portfolio
As you collect experience, showcase it in a portfolio to share with clients and potential employers.
You can include social media work you've done for clients, in previous jobs, or for yourself. You can even create 'spec work' (a.k.a. unpaid, uncommissioned work done to show off your abilities) for brands you admire.
There are many ways to create a portfolio, and they don't have to be complicated. You can make a standalone website, use a service like Gondola, or even compile samples into a downloadable PDF. You could even set up a social media account, like an Instagram page, to showcase your samples!
Here's how New York-based agency social fly shows off their client work:
Source: socialflyny.com
4. Update your resume
In creative industries, your portfolio does a lot of the heavy lifting. But clients will still ask for a resume, and yours needs to sparkle.
Your goal is to stand out from the crowd, so have fun and get creative with the design (just make sure it's still easily readable).
Try including a 'Profile' or 'About Me' section at the top of your resume to summarize what makes you special. You can also decide to include only relevant work experience, rather than a laundry list of every job you've ever had.
Pro tip: For more on crafting the perfect social media manager resume, check out our guide!
5. Network, network, network
Whether you're a freelancer or in-house social media manager, you'll need to put yourself out there to find clients and potential employers.
In 2023, networking doesn't just mean showing up to events with a drink in hand (though you can certainly do that, too). The best place to network as a social media manager is… on social media!
LinkedIn can be a fantastic place to connect with potential employers, and look for openings at companies you love. Depending on your niche, Instagram and Facebook might also be a good place to find clients, especially if you're targeting small businesses.
Beyond finding work, networking helps you connect with industry peers, so you can keep learning, find mutual support, and get inspired.
It's an important question — but there's no one simple answer. Like many other jobs, what you'll earn as a social media manager depends on a number of factors.
As a social media manager, your salary or pay will be affected by:
Your geographic location
How advanced you are in your career
Whether you're a freelancer or in-house employee
The size of the company you work for, and what industry they're in
The average pay for an in-house social media manager in the United States is about $50,000 per year, often with benefits like health insurance and 401k plans. Most positions fall between $40,000 and $65,000 annually.
If you're just starting out, you should expect to earn around the lower end of that range. As you gain experience, you'll earn more! Big companies might pay a lot more — possibly over $100,000 per year for senior positions.
As a freelancer, pay can be a little more complicated. You might want to bill clients hourly, or on a flat monthly retainer model.
You'll likely want to base your rates on how much experience you have, as long as they can cover your overhead costs.
Here are some typical freelance social media manager rates for 2023:
Junior (0-2 years): $25-$35/hour
Mid-level (3-4 years): $45-$85/hour
Senior (5-8 years): $90-$120/hour
Expert (10+ years): $125-$250/hour
If you already have a job in social media marketing, you can use this social media salary calculator to see how your compensation compares to the industry average:
Not sure where to start with creating your social media manager resume? Make it easy with our free, downloadable resume templates!
Bonus: Our free social media manager career toolkit includes resume, cover letter, and portfolio templates, along with a complete guide to social media job descriptions and frequently asked interview questions. You got this!
You can use these templates to update your existing resume, or build a new one from scratch. You can also use them as a starting point to tweak and adjust to your needs!
Build your own brand
Nothing shows that you know social media better than your own thriving presence!
Building your own social media brand is a great way to find clients and job offers, network with other professionals, and position yourself as an expert.
On her account, designer and freelancer Rachel How uses a consistent visual style and keeps all her content on-topic.
If you run other successful accounts in different niches, like vegan cooking or dog videos, you should talk about them, and share what you've learned along the way. But the main focus should be you, as a social media professional.
Keep up with social trends
To be a great social media manager, you need to stay aware of trends large and small, from this week's trending audio to whole new platforms that rise in popularity.
For example, we think small businesses are going to start tapping into the power of creators like never before!
You should never be a mindless trend zombie. But you should know what's current, and have fun with it in a way that feels authentic and on-brand.
Understand business metrics
It's one thing to know what good social media content looks like. But for a successful social media manager, it's even more important to understand why you're creating it in the first place, and how it fits in with your overall social media marketing strategy.
What business goals and outcomes are you trying to achieve, and what social media tactics will you use to achieve them? How will you measure success?
Some examples could include:
Boosting brand awareness with organic content
Converting followers into customers with social commerce
Building an email list by promoting lead-gated assets
Reaching your target audience with social ads
Be open-minded
The right social media job for you might not be exactly what you'd expect. For example, if you've worked in finance or fashion until now, don't assume that your first social media manager job also needs to be in that area.
Similarly, don't be afraid to take roles that feel "entry level," or even internships — especially if you're pivoting into social from another career path where you were more established!
Of course, you should choose to work with companies whose product or service you'll enjoy talking about all day. But don't be scared of opportunities that feel a little unexpected.
Tailor your job applications
Even if you have a beautiful, all-star resume, you should still change it up a bit for every job you apply to.
This shouldn't need to be more than a few minor tweaks. For example, make sure the skills you've listed match what's in the job description (as long as you actually have those skills, of course).
Always apply with a unique cover letter, too. Try to draw a personal connection between you and the company. What do you love about their brand? Why do you want to represent them on social media?
Use social media management tools
As a social media manager, you're jumping between many different kinds of tasks. Use social media management tools to make your life easier.
Here's what it would look like to track your Facebook posts' engagement in Hootsuite:
Never stop learning
To succeed in this exciting — and challenging — field, you need to be a dedicated lifelong learner.
The good news is that social media is no longer in its infancy, and you don't have to figure it out alone any more.
Hootsuite Academy offers a variety of certification courses, from foundational to advanced. There are also plenty of resources online to help you get comfortable with emerging skills, like social selling.
Hootsuite makes your life as a social media manager easier. Manage your social channels, collect real-time data, and engage with your audience all in one place — so you stay organized, prepared, and inspired.
Do it better with Hootsuite, the all-in-one social media tool. Stay on top of things, grow, and beat the competition.
Free 30-Day Trial