HootSuite´s Social Media Security Management with #HTTPS & Secure Social Media Profiles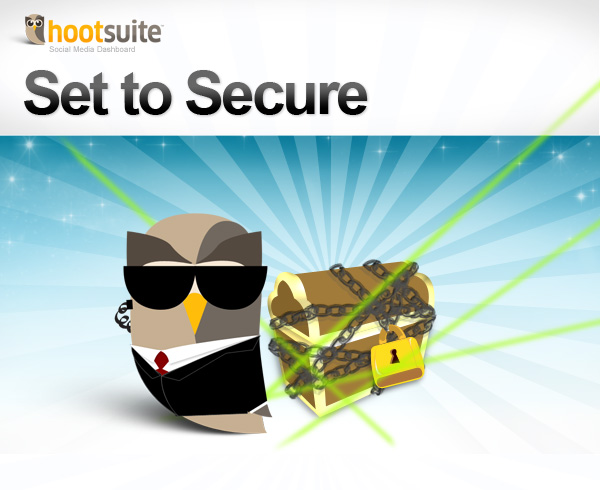 In keeping with highest industry standards, HootSuite has elevated security to a higher level with application-wide SSL as well as Secure Profiles on 3 mobile platforms.
These powerful features add another level of protection for your valuable social profiles. HootSuite's security benefits also include account provisioning which allow you to share access to profiles without sharing passwords, plus malware and spam prevention measures.
All these tools help prevent nefarious attacks and clumsy accidents so, whether you are sharing State secrets, business announcements or your Grandma's recipes, your data is now even safer.
Lock it Down
HootSuite is now HTTPS enabled which means you can opt-in for a more secure data transfer when logged in to the dashboard on public networks. Once you've selected this secure mode, your messages and accounts are protected with SSL/TLS – including "cookies" which track your session login status and can be exploited to gain access to your account.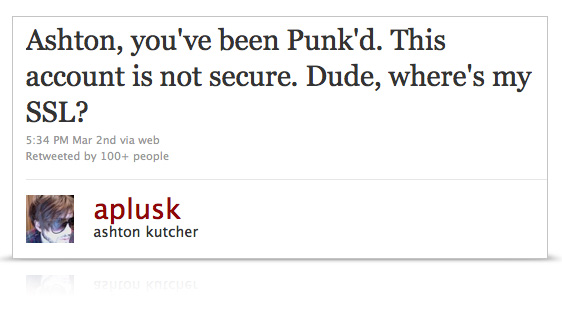 Perhaps you saw the recent news about socially-stacked Ashton Kutcher's Twitter account being hacked at a TED conference earlier this year. Indeed, savvy ill-willed intruders can find loop-holes in unsecured networks and break into accounts, hijacking them for personal use. Now with HTTPS, all of your HootSuite data is encrypted, preventing access from unsecured networks.
Getting Secure: To prevent conflicts with some corporate firewalls and browsers, HTTPS must be manually enabled in HootSuite. To go secure, simply :
You'll know you are secured when you see a specific icon in your browser: In Chrome, the lock next to the web address bar will turn Green. In Safari, you'll see a (very tiny) lock icon in the top right corner of the window. In Firefox, you'll see a lock icon on the far left of your address bar. In Internet Explorer, the lock icon is towards the right of the address bar.
Mobile Ready: All HootSuite mobile apps – iPhone/ iPad, BlackBerry and Android – are also HTTPS-ready for protected messaging on-the-go, plus now you're even more secure on the web from wherever you login.
Prevent Mobile Mishaps
Following up on the recent Secure Profiles announcement, HootSuite Enterprise teams can now utilize a safety 'double check' before posting via mobile devices. Secure Profiles are designed to provide high-profile brands with greater control when sending messages from corporate profiles by preventing unintended (and possibly off-brand) messages from posting.
Now, Secure Profiles are available on all HootSuite-supported mobile platforms for Enterprise customers using Android, iPhone/iPad or BlackBerry.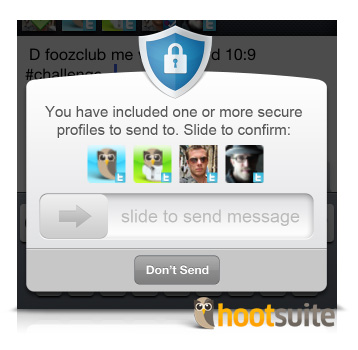 When a social profile team member posts to a secured profile, they will see a pop-up that prompts to confirm or cancel the message. The version for web was released earlier this month following a series of messaging mis-haps on Twitter  including some expressing colorful opinions on driving in Detroit. Scott Bartosiewicz experienced this first-hand, and is now a Hootfan for life:
More On The Way
HootSuite continues to grow the toolkit of security-focused features. Stay tuned for more releases coming soon by following @HootWatch & @HootSuite on Twitter. Please let us know what other features you like by writing a suggestion, or voting up another, on the HootSuite Feedback Request Channel.