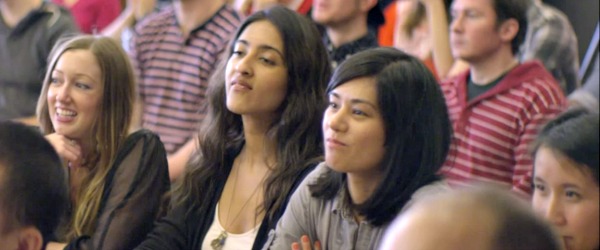 Lightning Talks: Bring Your Organization Closer Together in 5 Minutes
After attending Vancouver's Polyglot Unconference in May 2013, Beier Cai and Rahim Lalani approached me with an idea: kickstart short, unconference-style talks on technical topics within our Engineering group. I loved this riff on the traditional lunch-and-learn and decided to set a short time limit of just 5 minutes per talk.
Why so short? Short is all you need to start a conversation. Short also defines our modern day attention spans, and short is hard because this constraint requires you to think critically and creatively about how to convey only essential information. We started out with only technical topics but soon expanded to include non-technical topics and now include speakers from other parts of our organization as a way to expose our audience to different roles and functions.
My Rule of Fives
A maximum of 5 talks, for 5 minutes each, in a session that lasts no longer than 55 minutes. Fifteen months later, our boardroom has hosted 50 sessions, 64 different speakers, and heard 200 talks. From our high school summer student, to our co-ops, to guests, to Senior Engineers, to our CTO, these presenters and their talks sparked innumerable conversations and friendships.
Software Engineer Chris Bolton on "The Lives of Hyperconnected Teens"
Why it Works
Language makes us human, and I believe we all love to listen to a story; so every second Thursday, 40-50 of us get together in our small boardroom for Lightning Talks. These bi-weekly sessions let us hear from people who we may not otherwise talk to in our day-to-day, and reveals a different side of our coworkers: their hobbies, pursuits, or talents. One speaker described his time as a professional oboist with the VSO and then delighted us with a snippet of Mahler's 9th. Another walked us through how she and her partner designed and painted the murals in our meeting rooms. These kinds of surprises keep things interesting, spark laughter, start conversations, and so we come back for more and our intimacy grows organically.
External Communications Manager Sandy Pell on creating two Hootsuite murals
As a speaker you have an opportunity to teach, inform, and inspire others by expressing what you do and what you care for. While you expand your knowledge by preparing for a presentation, you also solidify it after your presentation when you answer questions from the audience and explain yourself in more detail.
Presenting in front of an audience isn't always easy, but here you can speak in a safe place and practice your ability to think and communicate about what you do and love. This ability to express yourself and communicate by telling a story is critical as you move up in any organization because you must be able to express your ideas more succinctly, to more people, more often.
I encourage every new hire in our technical groups to attend at least one session and to strive to deliver two talks a year, because I know they all have something fantastic to share.
Sample Talks
Coding Bootcamps: Not Actual Camping
Cold Talk: DJ'ing a Winter Trip
How I ran 2013 km in 2013
Being a Witness in a Software Patent Trial
Analyzing Disasters with Elasticsearch 1.0 and Kibana 3.0
How to Travel Japan (Hacks and Tips)
Designing + Painting our Elf + Barn [meeting room] Murals
Three Seminal Events in Cryptography
WTF is a Monad?
Making a Reddit App for Hootsuite's App Directory
Design your Migration Script the way Spammers do
LESS is More (and more cheap CSS jokes)
Rubik's Cubes and why they're Awesome
Speeding Up Layout Implementation on Android with Jimu Mirror
A11y Tools or Why the Heck is my Computer Talking to me?
Blog Editor David Godsall on "Writing Blog Posts"
Our Model
A comfortable meeting room with good lighting and a projector
A curator who carries this torch for this idea, sets up the room, and influences people to attend and talk
Voluntary sign up to a list of upcoming (and past) talks that is visible company-wide
A way to crowd-source ideas and vote up popular topics for talks
A calendar invite that repeats bi-weekly, has optional attendance, and near to lunch-time (11AM, 12PM, or 1PM)
A time-keeper that gives a 1 minute warning and an audible alarm after 5 minutes
Q&A for around 3 minutes following the talk
Video recording to benefit both the speaker and the audience afterwards
I'd love to see this model adopted at each of our physical office locations so I'm taking this show down the road to our HQ2 building to promote the concept and see if I can inspire someone to make it happen there.
Connection
You may or may not realize how much talent, experience, and insight is hidden within your organization. Lightning Talks are a simple and inspiring way for you to surface those people, celebrate their stories, and bring your organization closer together.
Noel focuses on training, development, employee engagement, and outreach for Hootsuite's technical groups. He loves to exchange ideas and would like to hear how you do these things at your organization. Get in touch via twitter @noelpullen.