Webinar: Nexgate Partnership Bolsters Social Media Compliance, Security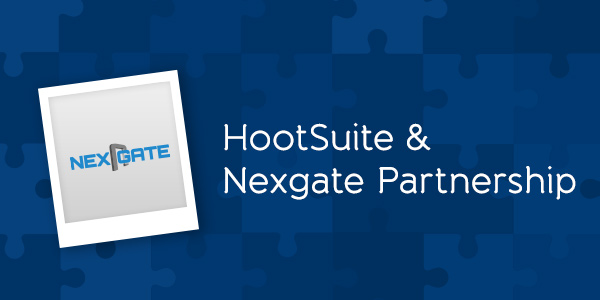 Today HootSuite is proud to announce a new strategic partnership with Nexgate, a leader in enterprise social media security and compliance. The partnership with Nexgate will provide HootSuite Enterprise customers with protection against a full spectrum of social media threats, from malware to spam to compliance risks. To find out how your business or institution can leverage the HootSuite and Nexgate partnership, join Ray Kruck, Chief Revenue Officer at Nexgate and Kevin Zellmer, Global Director of Enterprise Business Development at HootSuite for a comprehensive webinar, available on-demand.
Regulated organizations that want to confidently expand their social footprint need a complete and secure environment for social media at an enterprise scale. Here's how HootSuite Enterprise and Nexgate can lock down social media compliance and security while unlocking the business potential of social media in every department.
Manage and Enforce Policies
By deploying a single social relationship platform across every business function, companies are able to manage team workflows to ensure security and regulatory compliance. But as they activate teams and individuals from every corner of the enterprise, content moderation and monitoring, security, and regulatory compliance become increasingly complicated. Recognizing the demand for scalable security and compliance technology, HootSuite and Nexgate have teamed up to automate policy management and enforcement.
Policy Management
Establish specific policies for individual business units, divisions, and groups. Meet FINRA, HIPAA, SEC, and PCI standards or implement your own custom policies.
Automated Content Moderation
HootSuite Enterprise automatically passes posts to Nexgate to ensure all content conforms with your predetermined compliance policies, including scanning all URLs for malware or other risks. Nexgate classifies all content posted to your wall or feed (from you or your followers) using advanced data classifiers, and automatically logs, archives, or removes content that violates your policy.
Maintain a Compliant and Secure Ecosystem
If an individual or team publishes messages directly from the web to a brand-owned account (or even through an unauthorized third-party application), your company's entire compliance strategy goes out the window. HootSuite's partnership with Nexgate eliminates that threat by locking down all your company's social applications and accounts to prevent unauthorized access and publishing. Now, your entire organization's social activity can be managed and protected in one, secure enterprise platform.
Secure Publishing
Safeguard your company's social profiles against publishing through unauthorized applications, ensuring that all social activity occurs within the managed and secure HootSuite Enterprise platform and your enterprise isn't at risk from rogue social applications.
Advanced Social Profile Security
Nexgate ProfileLock™ prevents hackers from hijacking your brand-owned accounts. Receive custom alerts whenever changes are made to account profiles and immediately lock your account to stop hackers from co-opting your brand and followers.
Auditing capabilities
Audit all social media communications for compliance and governance policy. Enable advanced archiving of outbound and inbound messages for future e-discovery. Produce comprehensive reports for auditors with just a few clicks.