How to Protect Your Social Media Accounts from Spammers
We're seeing an increase in attempts by spammers to gain unauthorized access to social media accounts by exploiting password weaknesses. HootSuite itself has not been compromised, however, unauthorized users are attempting to login to HootSuite using user IDs and passwords acquired from other websites or networks, with minimal success.
How HootSuite is helping to protect you:
At HootSuite, your security is our top priority. We're deploying numerous security measures behind the scenes to protect you:
1) Social Verification: We will require you to verify yourself using Twitter or Facebook login credentials associated with your HootSuite account (you'll need to know the passwords for these networks). If you're a team member without access to social network credentials, then we will verify you via the email address associated with the HootSuite account.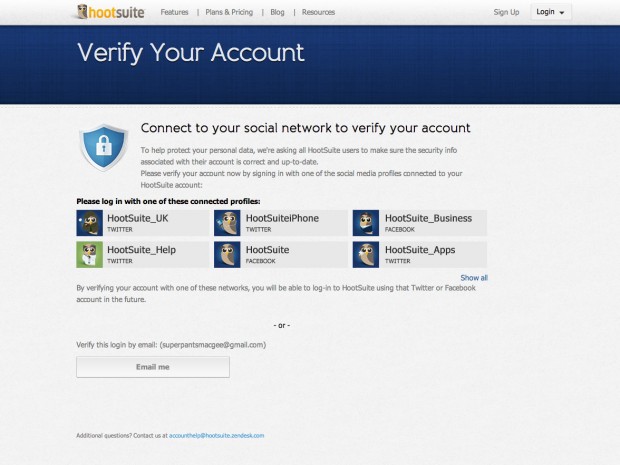 2) Location Verification: We'll record your location. If you login from another location, we'll want to make sure you're the authorized user, and not an external threat, and ask you to verify yourself again. This is an extra step to gain access, but a necessary one to protect you and your accounts.
What you need to do:
Create a secure password according to our best practices.
We recommend:
Avoid using the same password for any other login

Using both upper and lowercase lettering

Including a number and/or character

Choosing a combination of letters and characters longer than 8 characters

Avoid sharing this password with anyone
Start with our help desk article that addresses this specific situation
Where to get help:
Have a look at our best practices article on password security: https://blog.hootsuite.com/the-first-lesson-in-social-media-security/
Read up on our CEO's Security recommendations: https://blog.hootsuite.com/7-ways-hack-proof-social-media/
Larger companies should consider a social media audit through our Security Services team. Visit our Security Services page to learn more.
Follow @HootSuite_help for updates.
If you're an Enterprise client, contact your Account Manager who can provide you with more details.