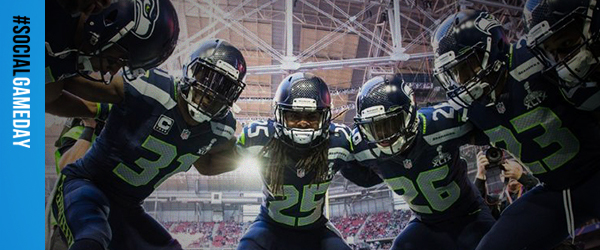 How the Seahawks Social Media Team Tackled the Super Bowl
Hootsuite salutes the people behind the major campaigns, big events and championship games—the Social MVPs who create golden social media moments for their brands' followers and fans.
We know the painstaking preparation that goes into running a social media campaign. With that in mind, we created the #SocialGameDay series as a tribute to the community managers, social media specialists and digital strategists crushing it from kickoff to the final whistle.
We're releasing a series of interviews with social media teams along with tactical best practices to help you and your team succeed before, during and after your #SocialGameDay. Check out more stories here. 
On February 1, the Seattle Seahawks took to the field at Super Bowl XLIX hoping to bring home back-to-back championships. Up in the press box, their social media team had already kicked off their own game day.
Rest up Seattle. Tomorrow is #SB49. #WeAre12 #Hawkitecture pic.twitter.com/VlS69KfZRG

— Seattle Seahawks (@Seahawks) February 1, 2015
Their first Tweet on Super Bowl Sunday was sent at 1 a.m. Their second followed at 3 a.m.
It's another @SuperBowl #Gameday! #SB49 — Seattle Seahawks (@Seahawks) February 1, 2015
More than 150 would follow before the day was done.
Congratulations to the #SB49 champion @Patriots. Great game. #NEvsSEA #SB49 pic.twitter.com/UBQkQdr0df

— Seattle Seahawks (@Seahawks) February 2, 2015
Over 28.4 million global Tweets containing terms related to the game were sent during Super Bowl XLIX, making it the most social Super Bowl ever. The day ended in disappointment for the football team, but the Seahawks' seven-person digital and social media team was able to engage their fans and influencers on social media, share live updates from the game, offer up timely videos and images, share statistics and generally create an engaging second screen for football fans around the world. They had navigated their busiest day of the year without error.
The Game Day Template
The Super Bowl was, of course, an extraordinary day for the Seahawks social media team. But Kenton Olson, their Director of Digital Media & Emerging Media who leads the digital and social team, said they approached the Super Bowl much like they would any other game day. The Seahawks social media team creates a game day template in the offseason—a guide for what and when to post on social media every time the team has a game.
This template lists all the different pieces of content they want to share each game day, from pre-game videos to post-game photo galleries and everything in between. It's vetted before each game and pieces are added to or dropped from it as necessary. In planning their Super Bowl social media presence, "we still used our game day template as a starting point and we built on top of that," Olson said. "Each team and game is unique so there are opportunities to go through and add additional elements or resources."
The Game Day Routine

On a regular Sunday in the NFL, the Seahawks social media team will get to the venue approximately three hours before the game. For a typical one o'clock game, this means they'll get there at around 10 a.m. Game day responsibilities are then divided up amongst the team:
Someone live-tweets the games
Someone captures and shares video
Two interns help maintain the website and load up content
Two writers and producers focus on publishing
Everyone focuses on their individual responsibilities but the team still works together throughout the game to share opportunities and insights, and react as needed. From there, the team will start knocking off tasks from their checklist, what Olson refers to as their "playbook for the day." They continue to do so until around 7 or 8 o'clock at night, spending most of the day up in the press box. "In terms of volume of work we do, 10% of our content is pre-game, 30% is in-game and 60% is post-game," Olson explains. This ratio is simply a factor of all the discussion that takes place and all the rich media that becomes available after the games.  
Measuring game day success
The Seahawks have over 880,000 followers on Twitter and over 3.5 million likes on Facebook. This is impressive, but it's not the basis of how the Seahawks team measures its success. "We look most at the number of engagements each post has," Olson says. "We look at every individual day and see if average engagement per post is up or down." It is on engagement that they determined their Super Bowl performance, and the numbers tell an impressive story. During the week of the Super Bowl, the Seahawks fielded over 4.5 million total engagements across all of their social media channels. This included: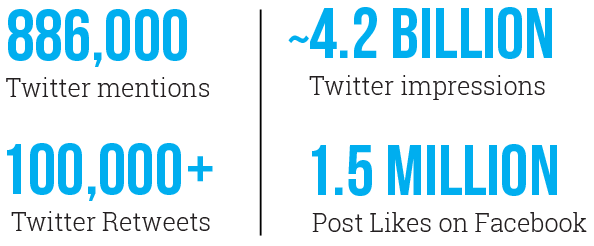 Actively tracking engagement also allowed the Seahawks team to deviate from their template when they determined that certain content was performing extremely well or not up to their standards.
In-between game days
During the NFL season, the Seahawks usually only have to go a week between game days. But once the season ends, there are months of no football where they still have to keep their fans engaged on social media. This might seem like a major challenge, but Olson says the NFL has done a tremendous job ensuring that football fans always have something to look forward to. "During the off-season it's not really the off-season. There's an event happening every couple of weeks. We don't feel the need to create something just to create something. We just work on the news cycle. You never know when a roster transaction or major team event will take place. There's a lot of stuff that just pops up." Being agile has benefited the Seahawks social team on multiple occasions. Before every Seahawks home game the team has a bird (Taima) that flies through the stadium before the team heads out onto the field. This past season Taima got away from the handler and landed on a few fans in the stands. The Seahawks public relations team issued a response from the bird itself.
Statement from Taima (the Seahawk) regarding the pregame incident of 11.9.14: pic.twitter.com/vy2AQKGGBA — Seattle Seahawks (@Seahawks) November 11, 2014
Their fans on social media loved it, and the Tweet received over 3,000 combined favorites and retweets.
Lessons from the Seahawks for your game day
Here are a few lessons you can take from the Seahawks social media team and apply them to your own social media game days:
A game day template is a great way to prepare your social media team before a big event. You can still be agile and adjust as necessary.
Actively track your content performance so you can hone in on content that is performing well and ditch content that isn't clicking with your audience.
When you've built a solid following, engagement is a better metric for tracking your day-to-day social media performance than new followers or Facebook Page likes.
Game day doesn't end once the event is over. Use content and rich media from your events to continue to engage followers afterwards.
You should be engaging followers in between game days as well, but don't share content just for the sake of sharing content. Focus on quality.
Learn how sports, media, and entertainment brands are getting real results from social in our latest white paper.