New Social Media Security Tool for Businesses within HootSuite – Secure Profiles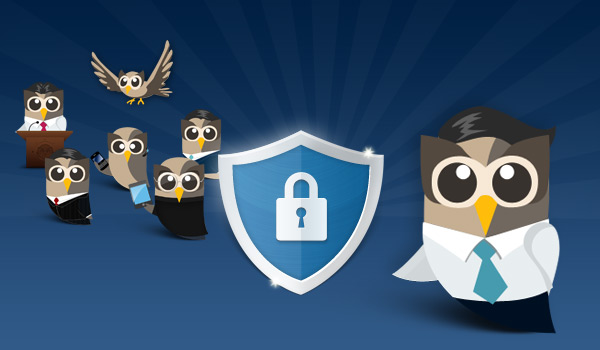 HootSuite is pleased to announce the release of the all new Secure Profiles feature – a tool designed to prevent high-profile brands from accidentally posting personal updates from valuable corporate profiles.
Slide to Protect
The integrity of your messaging is crucial to your brand's reputation. This is especially true online where errant messages can be picked up and re-broadcast to a world-wide audience before you realize the message even exists. But in this fast-paced, always-online business climate, mistakes can be made — and this is a concern for large brands with multiple social media contributors.
Now you can get in front of PR conundrums before they even occur. HootSuite Secure Profiles have been designed specifically for organizational teams so that:
Account owners can designate chosen social profiles as "Secure"
Team members are prompted to confirm or cancel messages before sending
Secure Profiles are available on web (iPhone, Android and Blackberry available shortly)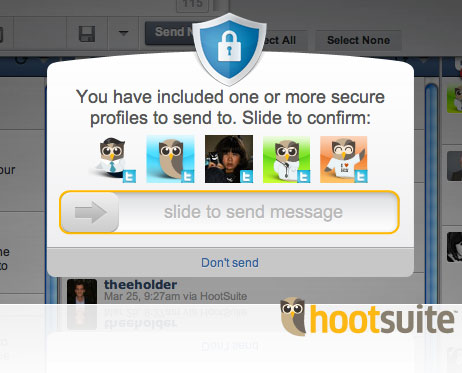 Message Mishaps
When you're dealing with humans, mistakes are inevitable. Even the most experienced and fine-tuned social media teams can find themselves spending valuable time and resources to undo or deflect split-second mishaps.
A team member who isn't paying attention might accidentally select the wrong profile to publish their personal message to. Before you know it, you could have a Tweet expressing views on anything from driving skills to drinking preferences which may not be reflective of your brand.
This tool was built in response to incidents in which personal messages were broadcast over official brand accounts including @ChryslerAutos, @redcross and @marcjacobsintl. Each of these unique situations caused marketplace confusion and affected brand sentiment – and they were all preventable.
While some of these errant updates were elegantly mitigated, in each case, HootSuite's security-focused tools could have prevented the distracting media attention.
We've closely watched the recent stories about unintended Tweets and wanted to help companies prevent social media mishaps. With HootSuite's Team Provisioning and Secure Profiles tool, organizations can continue using social media to promote their brand confidently while maintaining a high degree of security."

– Ryan Holmes, HootSuite CEO
Enterprise-Ready Security
The value of using social media to broadcast messages, engage audiences and monitor your brand online is immense. The social web is an incredible forum for building community and brand awareness, so ensure that your efforts are not undone by simple mistakes.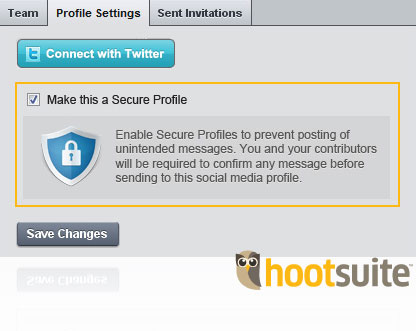 The Secure Profiles feature is available exclusively as part of HootSuite's Enterprise plan. Designed for large organizations with multiple team members, the Enterprise plan includes access to comprehensive tools to monitor, engage and measure your social media ROI. Visit hootsuite.com/enterprise to schedule a free personal demo with the @HootBusiness team.

Social Advice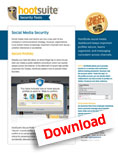 To help maximize your social media efforts, visit our growing library for an Info Sheet entitled Social Media Security. This one is all about using HootSuite's many team security functions. You'll also find many other helpful Info Sheets and Case Studies that outline examples of using social smartly.