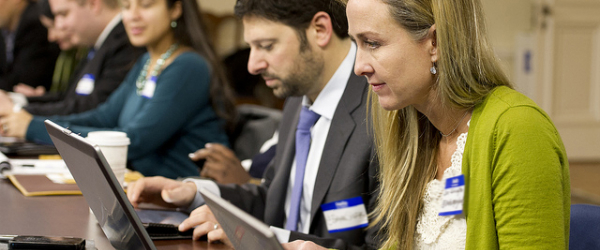 New Technology for Regulated Industries to Deal with the Complexity of Social Media Compliance
At Hootsuite, we've seen first-hand the increased adoption of large-scale social media programs among global healthcare organizations, government agencies, and large financial brands. But while the benefits of social media for business are well-known, social media does raise the possibility of manual work and compliance costs for organizations in regulated industries.
A global survey by Thomson Reuters Accelus reveals that compliance teams are already struggling to keep up with the complexity of regulatory change. The survey included 600 practitioners in 71 countries and found that compliance costs and daily workloads are increasing across the globe.
"All the signs are that 2014 will not provide any let-up for compliance officers. Indeed, there will be no reprieve for the risk, control and governance functions in regulated firms. Many regulatory changes are still a moving target."

2014 Cost of Compliance Survey, Thomson Reuters Accelus
Over a third of organizations spend at least a whole working day every week keeping up with regulatory change. The number of compliance teams spending more than 10 hours a week tracking and analyzing regulatory developments has nearly doubled in both the U.S. (13 percent in 2013 and 25 percent in 2014) and the Middle East (8 percent in 2013 and 18 percent in 2014).
Despite compliance and regulatory issues, though, many organizations continue to push ahead. According to eMarketer, new research from Duke University's Fuqua School of Business shows that financial firms are continuing to invest more in social media.
US marketing executives in the banking, finance and insurance industries reported that while they currently spend 5.9% of their marketing budget on social media, they expected this share to grow to 7.4% over the next 12 months and 15.7% in the next five years.
New technology to help
Hootsuite Enterprise has been helping organizations in regulated industries realize the rewards of social media, while mitigating risk and maintaining compliance.
Our social relationship platform includes a complete compliance solution, making it possible for organizations to securely scale social media across different teams, regions, and departments.
One of the new features that we've added to our solution is called Pre-Publishing Review. This feature further protects your organization and prevents non-compliant messaging from ever being published.
For example, a healthcare professional might mistakenly use language in a Tweet that could be interpreted as misleading. While Hootsuite Enterprise can already detect and remove non-compliant content published on your organization's social networks, Pre-Publishing Review takes compliance a step further.
This new feature automatically screens outbound content and will halt the publication of non-compliant content before it ever reaches a social channel. This prevents any rogue messaging from being published, stopping compliance issues before they happen. The appropriate compliance officer however, would still receive a notification that the event happened.
This is an enterprise-only feature, being released in partnership with Nexgate, the world leader in enterprise social media security and compliance solutions.
How Pre-Publishing Review works
Pre-Publishing Review takes a proactive approach to compliance, making sure that all outbound content meets established standards such as FINRA, FDA, HIPAA, FTC, FCC and more.
Prior to a message being published to a social network, Pre-Publishing Review passes it to Nexgate for review.
The content passes through pre-determined filters set up in Nexgate and the body content and links are intelligently scanned for threats and compliance violations.
If a message is in violation of any pre-determined filters, the message is rejected for publication and an error bar appears in the Hootsuite dashboard, making it easy for compliance officers to identify the issue and edit the rejected message.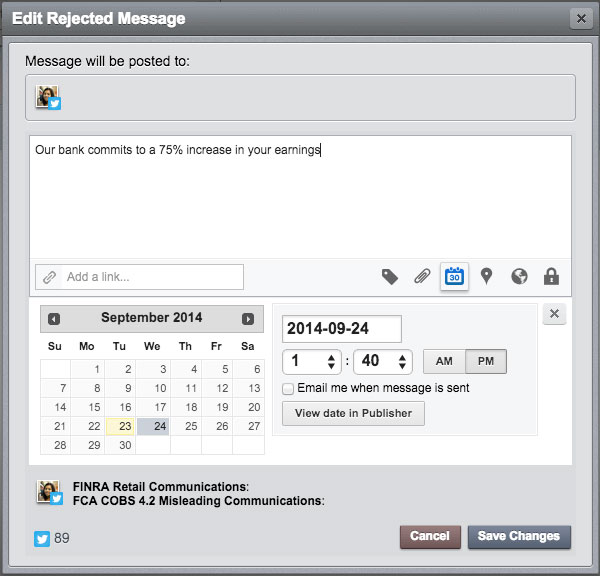 Decreasing the risk of rogue messaging
Here are a few examples of how Pre-Publishing Review helps different industries get the business rewards of social media with fewer risks.
Finance: avoid or reject any mention of guarantees and other terms in accordance to FINRA regulations
Government: compromised social accounts will not be able to post any harmful or false messages
Pharmaceutical: ensure responses regarding off-label products in an accurate and non-misleading manner
Non-regulated industries such as media can avoid publishing sensitive or confidential information (i.e prematurely before a major announcement) by blocking specific keywords across their organization's social accounts
Find out more about our compliance solution
Our Compliance Guide offers a detailed look at how social relationship platforms can help your organization put the right compliance controls in place.
Discover how financial firms, insurance providers, and other regulated industries can tap into the business value of social media.
Evaluate social relationship platforms based on the long-term needs of your organization.
Understand the current compliance capabilities of social relationship platforms.