The Social Media Opportunity for CIOs

The role of the IT leader is changing. CIOs must shift their focus from "keeping the lights on" to enabling organizational growth through new technology and improved processes. That means playing an active role in setting business strategy and aligning IT with business goals. With social media efforts taking an increasingly important role in the business, CIOs have an ideal opportunity before them: demonstrate their ability to evolve by facilitating the organization-wide adoption of social media in a secure, compliant manner.
The following passage is an excerpt from "Enabling the Business With Social Relationship Platforms," a HootSuite-sponsored white paper from CIO.com. To read the full white paper, download it today.
The Social Media Opportunity
In a survey conducted by IDG Research on behalf of HootSuite, 45% of respondents indicated that enterprise social media is a highly important part of their overall business strategy today. Nearly three-quarters — 73% — expect social media to be a critical or very important part of their overall business strategy three years from now.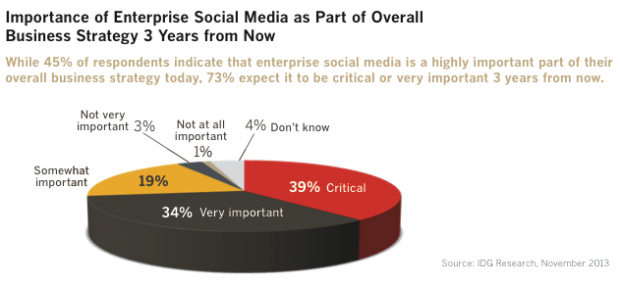 The fact that social media is becoming an increasingly important part of business strategy is a testament to the benefits of social media. Survey respondents report some initial success in achieving desired business outcomes via enterprise social media initiatives, though there is much room for improvement. Creating new marketing strategies, improving customer service and support, boosting sales and increasing competitive advantage top the list of important potential business outcomes of enterprise social media initiatives.
 For most organizations, accomplishing these goals will require preparation. Coordinated enterprise social media governance, structure and prioritization are in their infancy, and therefore may lack centralization, oversight and an internal champion. For 60% of organizations, enterprise social media strategy today is in the hands of a few individuals or a single team/department. Twenty-three percent of survey respondents identify their organizations as "social businesses," where enterprise social is in the hands of multiple teams or departments, and 10% consider their organizations to be a "social enterprise," a social business operating across time zones and cultures with enforced policies and empowered teams. That leaves plenty of room for improvement.
In addition to the business benefits, social media offers CIOs an opportunity to work with and build bridges with lines of business. According to the survey, there is a misperception that business executives are not as enthusiastic as IT about enterprise social media strategy. But business executives are significantly more likely than IT executives to highly rate the importance of enterprise social media as part of business strategy today (58% vs. 39%).
While the majority of all survey respondents (62%) feel senior business executives are at least supportive of the integration of enterprise social media into business strategy, those in IT are more than three times as likely as others to perceive business executives as indifferent or reluctant. Once CIOs recognize this fallacy they can embrace social media as an issue of mutual concern and breach the topic with their business counterparts.
Social media clearly provides CIOs with an opportunity to deliver value to the business. But the best news is this: Business executives are likely to welcome IT's insight and guidance. Though IT is viewed as the top enterprise social media evangelist (61%) ahead of marketing (41%), executive business leadership is most likely to have primary control over the budget for enterprise social media tools. IT is typically involved in evaluating solutions and selecting vendors when organizations are purchasing enterprise social media tools and solutions.
To learn how CIOs can empower their organizations with social relationship platforms, download the full white paper today.