7 inspirational social media campaigns
Social media campaigns are the rocket fuel of your marketing efforts: a concentrated burst of energy that pays off in a major boost to your brand reputation, awareness, or sales.
Looking for inspiration for your next social media campaign? We've gathered a selection of the best over the last year to show you how it's done.
Bonus: Download a free social media campaign template to help you plan your next goal-crushing campaign of any size or budget. Assign responsibilities, set timelines, list deliverables, and more!
What is a social media campaign?
A social media campaign reinforces or assists your social media marketing strategy. It's a series of coordinated actions that are intended to fulfill the goals set forth in your strategy.
A social media campaign will feature specific outcomes that can be tracked and measured over a specific period of time (e.g., one month). It should be more concentrated and targeted than your "business as usual" social media content.
Your campaign can be limited to a single network or take place across multiple social media platforms. Often it will have a specific theme, such as "Black Friday" or "Fashion week."
7 inspirational social media campaigns
Look no further than these seven examples for inspiration for your next social media campaign.
Cheetos' Snap to Steal Snapchat campaign
Platform: Snapchat
What did Cheetos do?
That Chester Cheetah is a demanding guy: when it came time to launch a brand new snack product — Cheetos Crunch Pop Mix — a Super Bowl Sunday commercial just wouldn't do. So the Cheetos marketing team devised a specialized Snapchat AR experience that allowed Snapchat users to point their camera at a Cheetos TV commercial and virtually "grab" a bag off the screen.
Taking part in this digital experience paid real-life dividends — people who used this custom AR experience received a coupon for one free bag of Crunch Pop Mix.
This one took some serious planning (and dollars) between the Super Bowl ad itself and uploading all 1,440 frames of the commercial into Snapchat's machine-learning software, but it paid off big time.
More than 50,000 bags were "stolen" from the commercial, and traffic to the Cheetos site increased by 2,500%.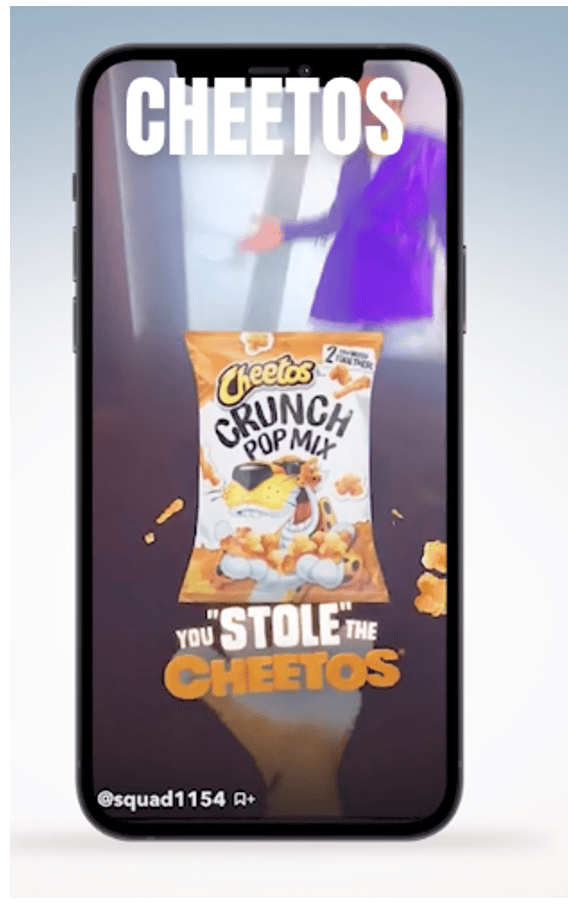 Screenshot: The Webbys
Why it worked
This campaign was an innovative mix of "old" media and new and gave Snapchatters two incentives to take part.
First, because the commercial was only airing for a limited time, it made the experience of using the AR filter quite exclusive. And who doesn't want to feel special? Secondly, there was a real-world reward for participating: free snacks!
What you can learn
Blending digital experiences with real-world ones is a powerful way to stand out and be memorable amid all the social noise.
Can you create some sort of "treasure hunt" moment — like spotting a unique TV commercial or finding a specific real-world space — to spark joy and inspire users to share their triumphant discovery with an exclusive filter or AR effect? Can you make someone feel special for being part of your campaign — or at the very least, feed them something delicious?
Aldi's #FreeCuthbert Twitter campaign
Platform: Twitter
What did Aldi do?
In 2021, UK supermarket chain Marks and Spencer launched legal action against competitor Aldi, alleging a copyright infringement on the design of a caterpillar-shaped cake. M&S felt that Aldi's "Cuthbert the Caterpillar" cake looked a little too close to its own "Colin the Caterpillar" cake. Yes, you are correct; this is truly stupid. Instead of lawyering up, Aldi took this ridiculous clash online with a big dose of British cheek and a Twitter campaign that would go viral.
"'This is not just any court case, this is…#freecuthbert," Aldi tweeted, playing off of Marks and Spencer's catchphrase.
This is not just any court case, this is… #FreeCuthbert

— Aldi Stores UK (@AldiUK) April 15, 2021
Knowing exactly how to get traction among Twitter users, the brand's official account posted goofy court puns and jokes about the fight for Cuthbert's freedom. They later tweeted a photo of the new packaging of Cuthbert: in a box with jail-cell bars. The user-generated content poured in to pile on: memes, memorabilia, and parodies with the hashtag racked up over 60,000 tweets.
@AldiUK I bet Cuthbert wouldn't do this…#freecuthbert #cuthbertthecaterpillar pic.twitter.com/L8bL6105LV

— Helen Bray (@likkleh81) April 24, 2022
— jennymeehan (jennyjimjams) (@jennymeehanart) April 15, 2021
Why it worked
Treating a caterpillar cake like someone who has been wrongfully accused? Comedy gold.
The tweets just write themselves!
Adding the hashtag to the ongoing "drama" was a clear invitation for others to join the conversation and take part, and the premise was so open-ended and low-barrier that it just begged to be memed.
What you can learn
You don't have to face legal action to stir up some fun, but if you find your brand in a mild crisis, maybe there is an opportunity to put a positive spin on it and have some fun.
Saying "oops, we got it wrong" or "we're in an irritating situation" is a relatable sentiment, and asking your audience to laugh with you in hard times will only build good vibes and brand reputation.
For instance, maybe you have a supply chain disruption. Can you apologize for the delays but also jokingly blame it on some sort of adorable stuffed animal who becomes a mascot for the issue or a hilarious scapegoat in the future?
Just spitballing here. It's hard to think straight when you suddenly crave caterpillar cake.
The UN's Empower Moves TikTok campaign
Platform: TikTok
What did the UN do?
That's right, the United Nations are using TikTok, and we are here for it. The UN Women's council launched a TikTok dance trend to help spread the word about self-defense moves. "In a year when women's safety took up more of the conversation than ever, UN Women wanted to come up with a way for girls to feel safe again," says the organization's Webby awards application.
Working with a self-defense expert and a choreographer, the UN created and filmed an #EmpowerMoves dance routine that included a sequence of four simple, easy-to-remember defense moves.
It launched organically as a TikTok dance trend. After it had taken off, the UN revealed the moves that were secretly within the dance, sharing tutorials of each action in their TikToks (yeah, this campaign's got layers, baby!).
From there, even more influencers and media personalities jumped onto the trend.
In addition to 130 million video views, the resulting earned media coverage had a 4,924% ROI. Cha-ching! (Except I guess the goal is to empower women and not to make money. But I don't know what the sound effect is for that?)
Why it worked
The UN Women's council had a message to get out to a specific audience (young women), so it wisely looked around at where that audience was spending time online and what they liked to do there.
By packaging educational material in a fun, interactive, trendy format, they organically blended in with the rest of the TikTok world.
What worked well here is that they collaborated with a pro choreographer and filmed their original videos in a style authentic to TikTok — this didn't feel like your try-hard co-worker trying to get everyone to come to a safety seminar at lunch,
What you can learn
Join your audience where they are, and have fun doing what they're doing. And if you're not an expert in the activity or the style or the lingo, don't be shy about asking for help from someone who does, whether that's collaborating with an in-the-know influencer or outsourcing your graphic design or video production to someone who 'gets' the aesthetics of your target audience.
Smirnoff's Social Ingredients Instagram campaign
Platform: Instagram (and beyond)
What did Smirnoff do?
The vodka brand looked at the trending headlines of the day and whipped up a custom cocktail recipe to match. When Britney Spears' conservatorship was stopped, they shared the #FreedBritney; when Squid Game was all the rage, the Traffic Light was on the menu. You get it.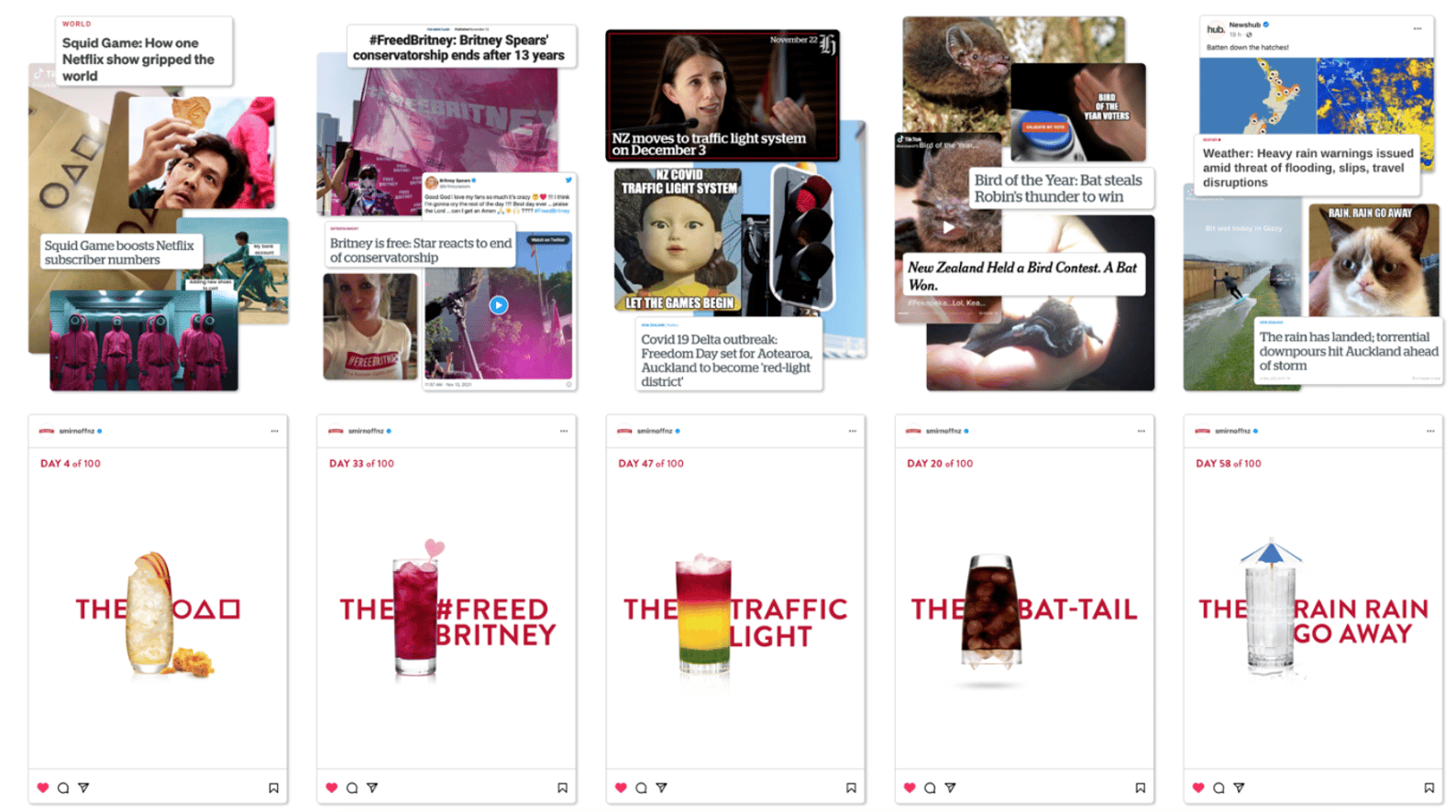 Source: AwardEntry.org
By tapping into conversations that were already attracting online attention, Smirnoff earned 11 million impressions with this 100-day campaign. Cheers to that.
Why it worked
Smirnoff spent 100 days creating cocktails that didn't just show off its product — these drinks were designed to tap into the zeitgeist. They didn't try to start a new trend or come up with the next big thing: they happily hopped on the bandwagon and offered their own unique take on the cultural conversation. Smirnoff also was smart to brand the series as a campaign, though cocktail riffs on current events could also be a great ongoing addition to the general content calendar.
What you can learn
Go beyond reposting or commenting on a trending hashtag and add your value. What is your unique point of view on the day's events or trends? Can you create a product or service, a dance, a song, or a unique reaction that people will want to come back to? Consolidate your hot takes under one hashtag or campaign name to brand it as your own, and give people something consistent to seek out again and again.
If you're a sparkling water brand, for example, you could do a TikTok series where your colleague tells you the weirdest thing trending each day as you're sipping your delicious product, and you do a spit-take reaction. Obviously, this would be called #SpitTake, and obviously the views would come pouring in. You're welcome.
Fi's 'Chief Broke Officer' campaign
Platform: LinkedIn and Instagram
What did FI do?
New online bank Fi, based in India, wanted to encourage users to try out its app — so naturally, the marketing team created a LinkedIn job post advertising for a "Chief Broke Officer."
According to Fi's entry for the Shorty Awards, "We decided to take every millennial's biggest pain point and turn it into something they could flex to."
The posting was detailed about experience and strengths and acknowledged in a playful, sardonic way just how many people have a broken relationship with money.
The sentiment struck a nerve: the LinkedIn post was shared widely across that platform and trickled over to Instagram, too, ultimately inspiring a whopping 3.3 million people to apply for the role. Fi's social media channel followings grew by 5,000%, too. Not bad for one little post.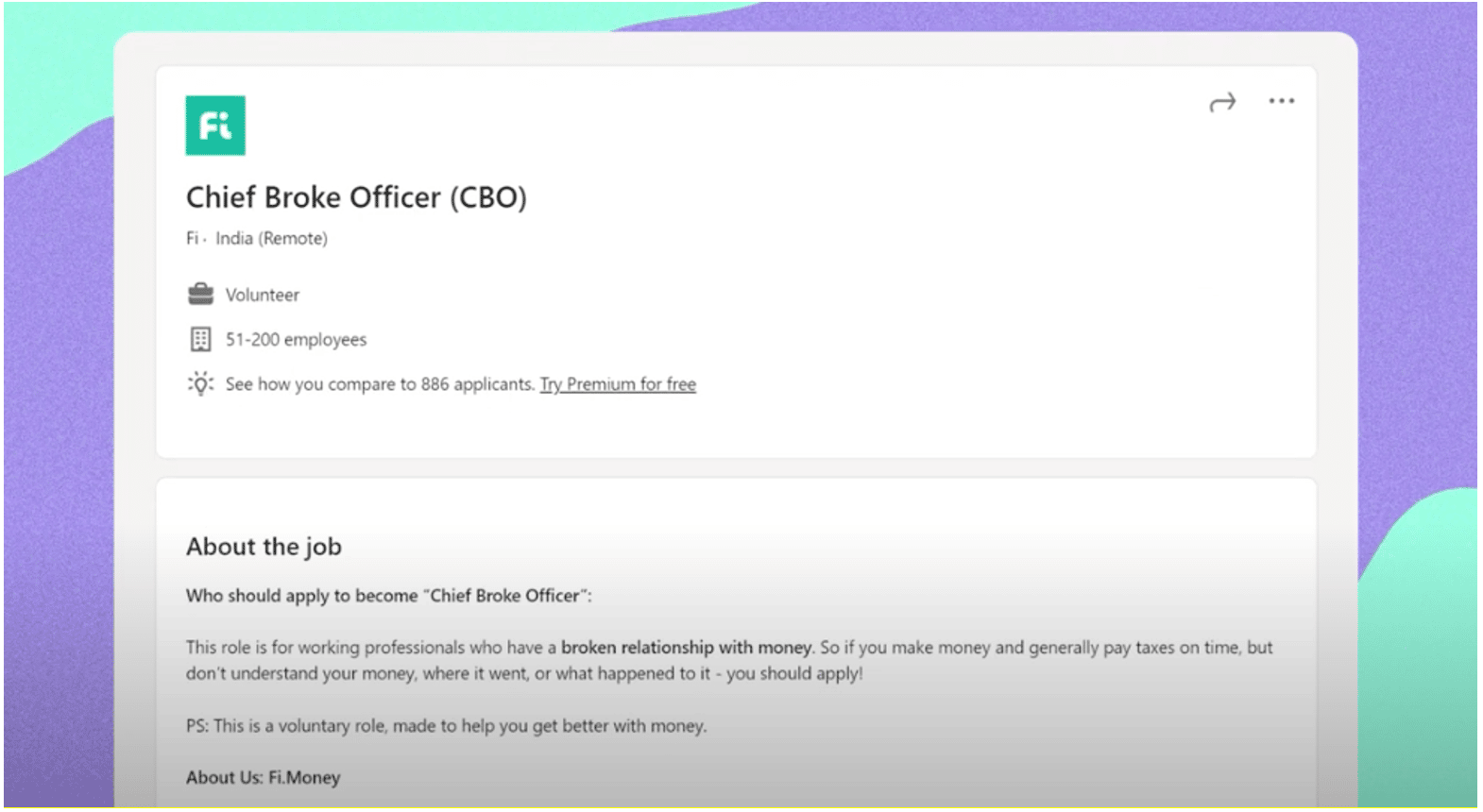 Source: The Shorty Awards
Why it worked
This job posting may have been an unconventional way to build buzz about a new brand, but it hit home for many people: at least 3.3 million folks felt seen. Connecting with your audience is definitely an art, not a science, but Fi cracked the code here by reframing a common vulnerability as a strength. There's something fun, too, about posting a goofy job post alongside serious ones. It instantly frames the brand as not-like-the-others.
What you can learn
What pain points or challenges does your desired audience struggle with? If you can narrow in on whatever that may be and build a campaign around celebrating that, you might just strike a chord.
Another great lesson here is using a platform or medium in creative ways. Here, they've disguised a marketing campaign as a job posting. Maybe you could launch a new mascot by creating a Facebook profile for him (or a Tinder profile?).
HBO Max's #BadaBinge campaign
Platform: All of 'em!
What did HBO Max do?
To build anticipation for the Sopranos prequel, The Many Saints of Newark, HBO and HBO Max spent six weeks encouraging people to binge-watch all six seasons of the original series. The marketing team gave the assignment across Instagram, Facebook, and Twitter: "Start now!"
They created weekly check-ins and prompts, sharing memes and photos along the way that lined up with the suggested timeline of watching so that fans could enjoy the same jokes and moments together again, just like they might have if they'd watched it weekly on the show's original run.
HBO also used Checklists on Twitter and quizzes on Instagram Stories to offer a playful, interactive way to engage. There were first-time-watch recaps on TikTok, "Best of the Sopranos" clips on Youtube, fan-made compilations, and more. There was even a "six degrees of separation" game on the HBO Twitter where fans could name an actor (any actor), and the HBO Twitter account would try to connect them to the Sopranos universe.
Every possible twist on Sopranos content was spread across every possible channel. To consume it all, you're going to need to carbo-load on Carmella's ziti.
Let's organize a sit-down, eh? Keep this #BadaBinge going. pic.twitter.com/Fbmq1rib8A

— HBO (@HBO) September 20, 2021
Why it worked
The 360-degree social media coverage made it impossible to ignore that this new film was coming up. Was it intense? Sure. But it garnered some serious success: a 200% increase in streams of The Sopranos and 1 million streamers on launch day for The Many Saints of Newark.
What you can learn
Sometimes, more is more. If you've got something big coming down the pipe, don't be afraid to obsess over it.
The key to this type of all-in campaign, though, is a variety of content, not just reposting the same thing over and over again or cross-posting identical content on every channel. Get creative, aim big, and explore your idea from every different angle without repeating yourself. If someone follows you across all channels, seeing the same GIF seven times a day is a surefire way to annoy. Capice?
Havana Club Rum's Amparo Experience Instagram account
Platform: Instagram
What did Havana Club Rum do?
While most Instagram social campaigns are based around hashtags, Havana Club Rum has done something pretty creative with the platform and created an Instagram account for a historical figure: its founder, Amparo Arechabala.
Havana Rum Club is very proud of its history. By sharing that history through an Instagram account as if it were Amparo personally posting back in 1957, it amplifies the humanity, authenticity, and romance of the brand.
View this post on Instagram
Why it worked
Here, Havana Rum Club takes the familiar format of Instagram as day-to-day documentation of our lives and applies it in a new way. Sharing the history of your company can either be dry and boring, or it can be vibrant, visual, and personal. HRC's is the latter. Plus, the marketing team seems to have dumped some money into production value here — it looks like there is a full-on film somewhere that they've mined for images and clips.
What you can learn
If you want to contain a campaign or one-off story in one neat-and-tidy package, a specific Instagram handle might be the way to do it, particularly if you're anchoring it around a person, whether they're a real, historical, or fictional character. It's a particularly great way to breathe life into possibly dry content — not every brand is lucky enough to have "betrayal by the Cuban government" as part of their back story, Havana Rum Club.
Social media campaign template
Feeling inspired? Ready to get started with your own great social media campaign? We've got a template ready to help you hit the ground running.
Bonus: Download a free social media campaign template to help you plan your next goal-crushing campaign of any size or budget. Assign responsibilities, set timelines, list deliverables, and more!
Social media campaigns: frequently asked questions
Why do a social media campaign?
Social media is a powerful communication tool for brands. After all, platforms like TikTok, Facebook, Instagram, Twitter, Pinterest, Youtube, and LinkedIn are where people spend an average of 147 minutes a day. If you have a message to get out into the world, this is a great place to spread it.
As opposed to more traditional advertising and marketing methods (like radio spots, print ads or television commercials), social media marketing campaigns allow brands to interact and engage with a highly targeted audience, and then measure the results of that campaign in incredible detail via social media analytics.
When done right, social media campaigns can be an effective and inexpensive way to raise awareness or increase sales with your target audience and maybe even earn some customer loyalty along the way.
What is the cost of a social media campaign?
The cost of a social media campaign can range from $0 to $10,000.
In other words: there's no one-size-fits-all solution in the thrill-a-minute world of social media. Your campaign budget can be as spendy or as scrimpy as you want it to be.
You can absolutely create a free social media campaign if you've got time (and talent!) to spare. Read a guide to creating engaging content, get your hands on some free stock photography or free graphic design tools. Schedule your posts to go out at the best time, cross your fingers that you've done everything right to appease the platform algorithm, and then make sure you're spending some time engaging with your followers and answering questions.
Of course, for those who are short on time or skills, there are ways to invest in help for your big social media campaign, too. You might hire someone to take original photos or handle community management. You might sponsor an influencer to help spread your message to a new audience. Or, you might consider budgeting for social media ads or boosting a post.
How to pitch a social media campaign?
To pitch a social media campaign to a client, you first need to identify your audience and the goals you want to achieve with your campaign, i.e., how will it help grow engagement among high-income millennials or drive more sales among tennis-playing boomers.
Then, you'll need to create a comprehensive plan. Here are the steps you should consider:
Research – Do your research on the audience. What are their pain points? How do they communicate? Which networks do they hang out on?
Define Goals – Set the goals of your campaign, such as increasing brand awareness or driving more sales. Be specific. How much of an increase in brand awareness can you expect to drive from your campaign, for example?
Get inspired by competitors. What types of campaigns do your competitors run? How would this one compare to theirs? Is there a gap in the market you can fill?
Develop Content – Based on the research and goals, mock up some examples of content that will resonate with your target audience in this campaign.
Estimate how much it will cost – Consider how much it will cost to produce the content, how much you'll pay for advertising, and how much employee time or freelance budget you'll need to achieve your vision. Make sure you can justify the return on investment (ROI) of the campaign in this section as well.
Once you're done with these steps, put it all into a brief or a deck and present it or share it with your client or manager. Be open to feedback and prepare yourself for questions. Sometimes pitching a campaign idea is just the start of a brainstorm that can lead to an even better campaign idea.
How to track social media campaigns?
Tracking the success of your social media campaign starts with defining what your goal is. That way, you'll know what social media metrics actually matter.
For instance, if the goal of your campaign is to get tons of website traffic, measuring your likes might not be relevant. Alternatively, if your goal is to rack up followers on TikTok, then that follower count is your golden ticket.
Once you've decided what numbers you're looking at, you can use an analytics tool to review the data you need.
All of the major social media channels have their own in-app insights tool. Here's the step-by-step guide for everyone because we're sweeties like that.
Of course, we're a bit biased towards a little all-in-one tool called Hootsuite Analytics. With Analytics, you can review your data at a glance or schedule regular custom reports. Drag-and-drop tiles with the metrics of your choice to create your own flexible, interactive interface that exports in whatever file format your heart desires.
Pro tip: If you want to nerd out on the numbers even more, consider Hootsuite Advanced Analytics (available as an add-on for Business and Enterprise plan users). The tool measures organic and paid content metrics for Facebook, Instagram, Twitter, and LinkedIn, and organic content metrics on Pinterest and YouTube, and calculates ROI across channels and campaigns.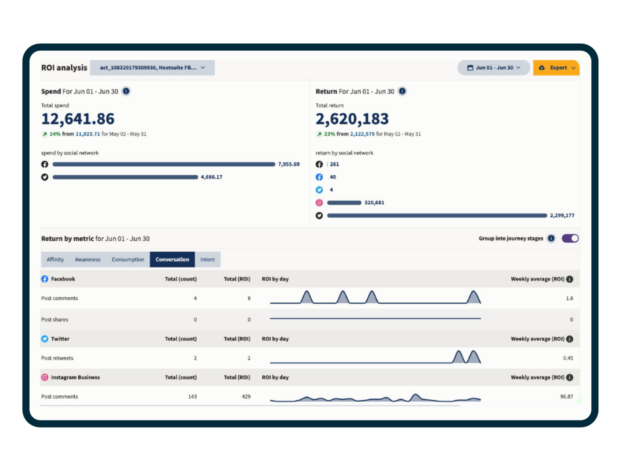 Find a more detailed guide to social media analytics here.
Okay, that's enough out of us. You're informed, you're inspired, and you're ready to create a social media campaign that will take the internet by storm. Happy (campaign) trails to you, friends.
Use Hootsuite to manage your next social media campaign. From a single dashboard, you can schedule and publish posts across networks, engage the audience, and measure results. Try it free today.
Do it better with Hootsuite, the all-in-one social media tool. Stay on top of things, grow, and beat the competition.
Free 30-Day Trial