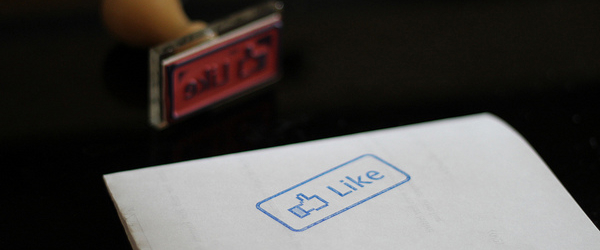 Choosing the right social media metric to track is a daunting task for any social media professional. With numerous social media metrics available, it can be difficult to choose which ones best suit your business goals.
The first step to social media analytics success is to outline your business objectives or goals. These goals can be: increase brand awareness, increase customer engagement, or increase sales. Once you have chosen a goal, a Key Performance Indicator (KPI) needs to be identified as a way to measure if the goals were achieved. KPI's can be social media metrics such as: follower growth, clickthrough rates, or likes on your Facebook page.
So how do you know which social media metric you should be tracking? Here's a breakdown of a business goal, the social media metrics you should track for that goal, and what each metric means.
Achieve social media analytics success with these social media metrics
Goal #1: Increase social media engagement
Social media metrics to measure: Likes, Shares, Comments, Retweets, Mentions, Favorites
Retweets are your Tweets forwarded by people who follow you to their own network of followers. This gives you the opportunity to reach more people who may think your content is valuable. That new network of Twitter users who are exposed to your Tweets have the potential to become a part of your primary network if they come back and follow you.
Mentions refers to any Tweets in which your Twitter handle, or any keyword you are tracking, is used. When you have a high number of mentions, your Twitter audience is telling you that you are adding value with the content you are sharing. Note: your Twitter handle has the @ symbol directly in front.
Favorites mean that someone has marked your post as one of their favorite Tweets. That post then gets added to the user's list of favorite Tweets, open for anyone to see.
Likes are a way for people to show that they find what you posted interesting.
Comments left by users are a direct way for people to engage with your posts and start a conversation. Comments are great to track customer feedback and insight to your customer's perspective.
Shares take your content to the next level by spreading it across networks that you are not directly connected to. This allows you to increase social media engagement and brand awareness.
These metrics allow social media professionals to report on how their social media strategy is performing, and see if their content resonates with their audience. It also allows businesses to track and measure whether or not they are achieving their goals of increasing social media engagement.
Goal #2: Increase customer acquisition on your website
Social media metrics to measure: URL clicks and traffic from social media
URL Clicks can be measured from Tweets or Posts that include a shortened URL like the Hootsuite default link shortener, ow.ly. Tracking your URL clicks can give you a nice picture of the number of clicks coming from a specific region and which posts drive more people to take action.
Traffic from Social Media can be reflected through tools like Google Analytics. However, it's important that businesses have set up their website with Google Analytics in order for this to work. This data provides businesses with a sense of which social networks and social posts are driving people to your website. From this analysis, businesses can evaluate which social networks to focus on and which posts drove the sale.
Tracking these social media metrics allow you to track social media ROI and how social media affects your business goal of increasing customer acquisition on your website. It also allows businesses to know what kind of content drives sales.
Goal #3: Increase brand awareness
Social media metrics to measure: Follower Growth Rate, % Change Over Time in Followers, Twitter Sentiment, Reach by Region, Clicks by Region
Follower Growth Rate reflects the increase of followers and is one of the most popular metrics. Businesses can easily see if they are making a splash on social if they have a significant increase in follower growth.
% Change in Followers Over Time is important to measure because it allows businesses to look at a specific time or event, and evaluate the effect on followers. If follower growth was particularly high for a specific event, the business can plan more events similar to it. This is a great way to find appropriate audiences to spread awareness about your business.
Twitter Sentiment refers to how people feel about your brand. It is measured by taking into account emotions when someone is mentioning your brand, company, products or services. Understanding sentiment provides businesses with the advantage of avoiding a possible social media nightmare. It is also a powerful tool to evaluate how well marketing initiatives are doing.
Reach by Region allows you to see the number of people who saw your Facebook posts or any content about your Facebook page, broken down by city.
Clicks by region breaks down the clicks on your shortened URLs by country for all links sent via your Twitter profile during a specific date range. This shows you where in the world your posts are getting engagement. It also shows you the reach of your brand.
These social media metrics are just some ways to track brand awareness. You can also include metrics found under social media engagement, like shares and retreats, to track brand awareness. Tracking these metrics are important for businesses to know how well they are reaching their audience, and where they are reaching their audience.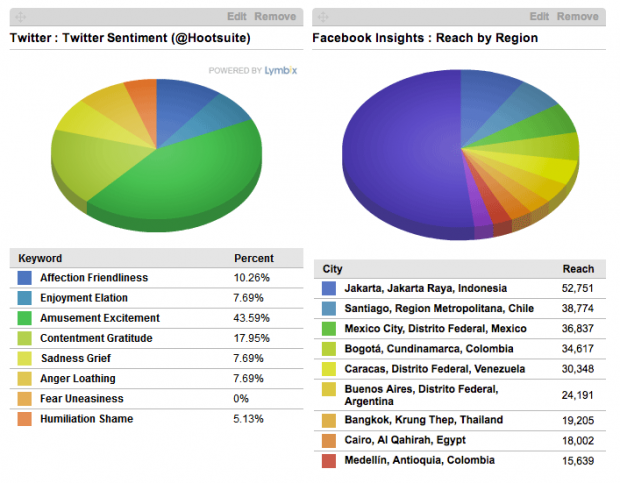 Start tracking these social media metrics with Hootsuite Pro. 
Sign up for a Free Trial today!