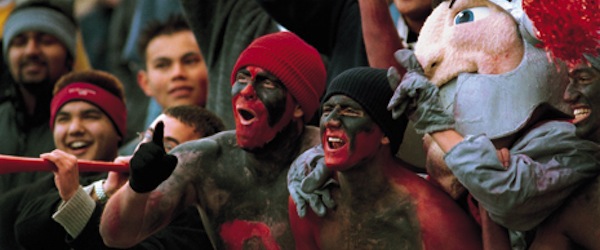 Post-secondary institutions need to understand how powerful the impact of social media is on every phase of the student lifecycle when developing communication and outreach strategies.
Student Services offices can—and should—interact with students in a much more positive, measurable way using social media. By having different departments working together, higher education institutions are able to create a campus that is social both online and off. We will be discussing these topics in greater detail during our upcoming webinar, Making the Grade: Tapping into the Student Life Cycle Through Social Media, so join us for a lively discussion with leaders from three different schools on the subjects of social media and higher education.
Here are some areas that immediately benefit from streamlining and coordinating social media channels. For more practical information on how to get started, download The Social Campus: Social Media Throughout the Student Lifecycle.
1. Community and culture
Culture. Community. School spirit. Whatever the label, a school's reputation is judged on the engagement of students, staff, alumni, and surrounding community. Institutions can improve perceptions, internally and externally, with some creative social sharing. Taking the initiative in broadcasting good news stories such as the accomplishments of current students, alumni, faculty, and individual departments like Athletics, builds a more tangible sense of belonging. It's also beneficial to shine the spotlight on the achievements of community members, creating goodwill, friendships, and lifelong ambassadorship.
Kareem Rahaman, the Digital/Social Media Specialist at Ryerson University in Toronto, will be talking more about student retention through campus community in the webinar, Making the Grade: Tapping into the Student Life Cycle Through Social Media. Juntae DeLane, the Digital Brand Manager at the University of Southern California, will also be there, sharing ideas on how your institution can enhance its online reputation by engaging students through Facebook, Twitter, YouTube, Google+, and Pinterest.
2. Social and athletic/sporting events
Athletics is arguably one of the most visible departments, with the power to boost an institution's reputation with the student body, alumni, and the public. It is in the best interest of any post-secondary institution to act as head cheerleader when it comes to athletic teams and stars, and there is no faster, trackable, more manageable method than social media. Using channels like Twitter, Facebook, YouTube, Google+, Instagram, and LinkedIn to broadcast on-brand messages, images, and videos builds morale and enthusiasm, and there is always the chance that something will go viral, amplifying the reach well beyond the institution's walls.
3. Mentoring/intergenerational support
If your higher education institution isn't already encouraging current students to connect with new prospects who have requested information or view books, now is the time to start. Similar to the way athletic events promote school spirit, dialogue between enrolled students and possible recruits fosters a sense of belonging and pride in the current students. It also urges them to evaluate what they like and don't like about the application process, wins and challenges that mark different years, and how their interaction with the school has helped them acclimatize. This kind of human connection is a great way to answer questions, foster goodwill, and lay the groundwork for lifelong support and identification with the school.
4. Calendar of campus events, public programs, and fundraisers
Campus events, programs open to the public, and fundraisers are excellent opportunities to build community engagement, as well as market specific programs and the institution as a whole. (Examples include promoting course projects, marketing theatre productions, fine art shows, student publications, recruiting student volunteers for research in the sciences, and building engagement for grassroots events like bake sales or student-driven holiday celebrations.)
As students are made better aware of—and are able to take part in—projects and campus events, there is more student interaction between years within a discipline, and between disciplines, which can allow for more elaborate and innovative projects, and stronger student engagement in the institution. Plus, it creates ambassadors for life.
Welcoming people outside of the traditional student body also builds the profile of the school with current community partners, businesses, potential funding bodies, and international institutions, leading to relationships that benefit current and future students.
Join us for the webinar, Making the Grade: Tapping into the Student Life Cycle Through Social Media, where Kristen Convery, the Director of Multimedia Content for Ohio State University, will address how social media can help institutions improve alumni relationships and strengthen fundraising outreach efforts.
5. Campus alerts, safety, and crisis communications
Immediate response to an unforeseen event or crisis with consistent, professional messaging is crucial. Handled appropriately, social media acts as a powerful communication platform during a crisis. On the flip side, if left unchecked or accessed by uninformed staff or contributors, that powerful voice can turn into a public relations nightmare. Hootsuite's Professional Services can provide you with customized training and a response plan to enable you to use social media in crisis situations. Download the Higher Education Implementation Guide, The Social Campus: Social Media Throughout the Student Lifecycle for detailed information.
And remember, listening is just as important as talking when it comes to maximizing social media during a crisis. Monitoring what people on the ground are saying allows the response team to broadcast relevant updates and information, avoiding "canned responses" that can erode trust and escalate hearsay and rumor. For example, you can keep it human by sending messages with a personal voice in real time.
A major goal of all higher education institutions is to engage with students, prospective recruits, and alumni. Although there isn't a magic formula in creating a culture that's inviting, exciting, and inclusive, we can give you the tools that lay the groundwork using social media. Download the Higher Education Implementation Guide today, and learn how to further target and maximize your institution's social media efforts.
This blog post is the second in a series about higher education institutions and social media. Each post will highlight learnings and takeaways from Hootsuite's Higher Education Implementation Guide, and provide insights into using social media to reach students (prospective and current) and alumni.