8 Social Media Tips for the Retail Industry ~ White Paper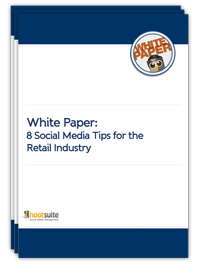 Has your retail business adopted a social media strategy?
HootSuite's latest whitepaper, 8 Social Media Tips for the Retail Industry, highlights the most efficient steps through which retailers can implement or improve a social media strategy and take advantage of these consumer channels.
This white paper explores the advantages of:
Identifying where your social media strategy is, and where you want it to be.
Monitoring social conversations and listening to your clients and the competition.
Engaging to build community by acknowledging the voice of the customer and interacting to offer perks and advice.
Empowering your practitioners and teams to engage your customers in conversation directly.
Encouraging your Social Teams to collaborate and distribute new learning both within the Team and your organization as a whole.
Securing your social profiles to avoid publishing errant messages.
Measuring your Social ROI by building the capacity for measurement into every social action.
Honing your messaging in order to amplify what works.
Retail Leads Social Business
The retail industry has led the pack in accepting that the future of business is social. Still, retailers tend to keep social media confined to certain departments or tasks. To ensure that your business is on the right social path, we created this white paper outlining a simple, eight-step roadmap to social success, that you can use to implement and evaluate social within your various teams and departments.
No matter how advanced your business' social media strategy is right now, the 8 Social Media Tips for the Retail Industry White Paper will guide you step by step through best practices in social integration, evaluation, communication, collaboration, security and measurement, specifically catered to the retail industry.
"The customer is always right" may be a maxim of years past, but when 80 per cent of internet users between the ages of 18 and 50 use social media, retailers need to accept that the right course of action is one that inevitably involves a social media strategy. Find out how to tap into customer conversations and organize your teams to close the loop on social with these 8 Social Media Tips for the Retail Industry.