The Australian Election Tracker ~ Watch the Social Media Campaign Unfold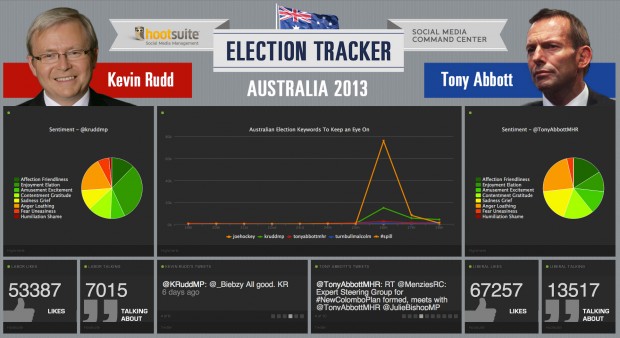 On June 26th, Australian Prime Minister Julia Gillard's Twitter mentions skyrocketed. But it wasn't for the reasons she might have hoped. Gillard lost in a Labor Party leadership ballot, and former prime minister Kevin Rudd reclaimed the title in a vote that could have significant impact on the forthcoming Australian elections.
As we have seen in the past, social media erupted in response to the news. Gillard's Twitter mentions leaped by tens of thousands, and despite losing the ballot her Twitter sentiment remained positive.
With this party leadership change comes a change to our 2013 Australian Election Tracker. View the updated tracker, now featuring Kevin Rudd, here.

A Social Media Election in Australia?
Within the next few months, Australians will take to the polls in great numbers to elect the men and women that will lead their country for the next three years.
With millions of Australians using social networks like Facebook and Twitter to get their news and information, social media will be a big part of the political dialogue leading up to that election, and will play a fundamental role in ongoing discussions and analysis of the parties and their leaders.
To help people follow and explain — in real-time — the many social conversations that will focus on this election, HootSuite has built a custom 2013 Australian Election Tracker using its command center technology. Each individual module offers a snippet of valuable social media data related to the election. But together, all of this visualized data can in one look provide a comprehensive indication of any voter shifts, controversy and political success or failure.
The Australian Election Tracker monitors:
The number of Twitter mentions of each party and their Twitter handles

The share of voice and sentiment around each party's Twitter handles

The sentiment of Twitter discussions about Labor and Liberal/National Coalition leaders Kevin Rudd and Tony Abbott

The "Likes" and number of people talking about each party on Facebook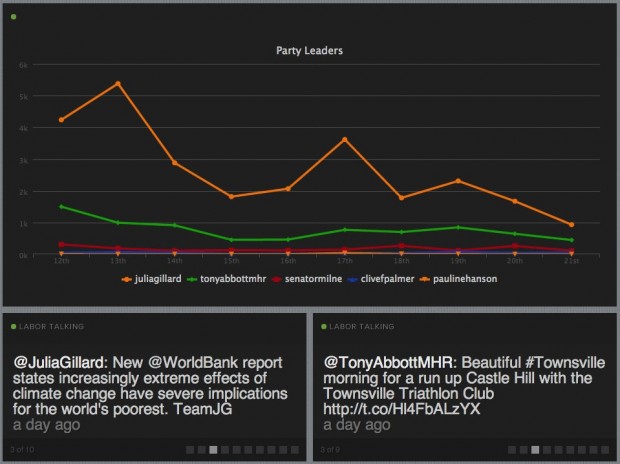 In 2010, during the last Australian election, the two leading parties — Labor and the Liberal/National Coalition — fought an extremely tight race and both finished with 72 seats. As such, with both parties striving to earn a majority, the next few months are going to be jam-packed with political events, campaigning, and public dialogue on the issues that matter to the country's 23 million people. These will play out on the ground, on traditional media channels, and on Facebook, Twitter, YouTube, Instagram and every other social network used by the Australian people.
During the U.S. election campaign last fall, we saw how engaged the candidates, and the public, could be on social media. From sharing the latest election news to actually monitoring voter sentiment, social networks provide a very important glimpse into the opinions and feelings of voters. These online discussions may be the best indicator of the campaign's hot issues and biggest blunders. In turn, HootSuite's command center provides real-time intel and gathers all of this data onto one screen.
The Australian Election Tracker will be live from today until the newly-elected prime minister takes the stage to address the nation. Will you be following along?

HootSuite's command centers are available to all businesses and organizations.
Click here for more information.