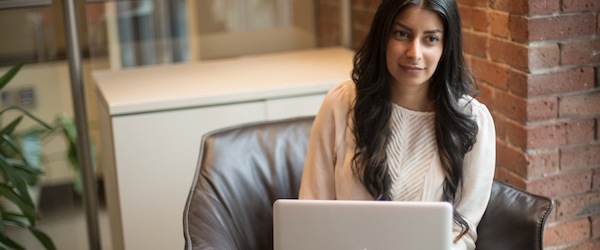 How to Choose the Right Social Media Education Program
As social media continues to spread throughout the modern enterprise, it has become clear that socially empowered workers are better connected with customers, more collaborative, and more productive. More and more organizations are therefore educating employees in how to create full business value from this new class of communications technology. However, the growing need for social media education has given rise to several different types of education program, and choosing among these options can be difficult.
This blog post will provide an overview of three pillars of social media education which can be deployed on their own or in combination: custom education, social media practitioner training, and social leadership development. You will learn the distinctive characteristics of each category and the key considerations you should make when choosing a specific program.
To help you better understand your organization's options for social media education, Hootsuite has created an Evaluation Guide to Social Media Education Programs.
The 3 Pillars of Social Media Education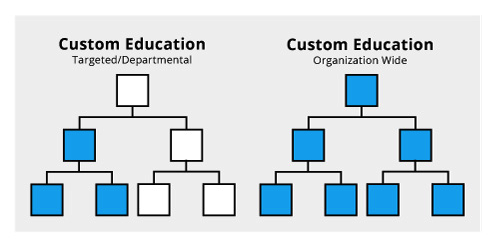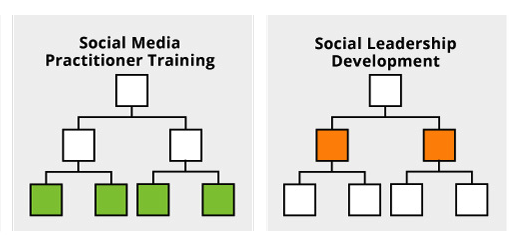 Custom education can be developed for targeted groups of employees or implemented organization-wide.
Social media practitioner training is intended for employees who engage customers on behalf of the organization and execute day-to-day activities, either full-time or part-time.
Social leadership development empowers members of the organization who play a key role in the company's social media strategy, such as social media managers and communications professionals.
Custom Education
What is Custom Education?
Custom education programs are tailored to support the unique mission of an organization, department, or team. Such programs should reflect corporate values and provide highly relevant training to employees. Companies typically select custom education programs because they want training efforts to be fully aligned with their business strategies.
Who is it for?
Custom education can be implemented company-wide or crafted for targeted groups, such as customer service representatives, sales teams, or the marketing department.
What are the key benefits?
Mitigate social media risk with your company's specific policy education
Develop general understanding of social media's impact on your business
Ensure baseline knowledge of social media best practices
Empower your employees to become brand advocates
Provide comprehensive training for specific roles, regions, and business functions
What should be considered when developing a custom education program?
Collaborate with experts in online instructional course design. This ensures that the program is not only attuned to relevant business needs, but educationally sound.
Combine proven, off-the-shelf courseware with bespoke content to create a comprehensive curriculum relevant to your organizational needs and challenges.
Use an e-learning platform with assessment capabilities to track employee progress and ensure a high level of knowledge retention.
Provide an accessible, easy-to-use e-learning experience so that you can confidently scale up adoption throughout your team or organization.
Social Media Practitioner Training
What is social media practitioner training?
Practitioner training helps employees develop knowledge of social media fundamentals, channel-specific best practices, and tool-based skills. It is vital to an organization's ability to engage customers broadly across multiple departments.
Who is it for?
Any employees who engage social audiences on behalf of the organization, including social media coordinators, community coordinators, customer service representatives, sales representatives, recruiters, and subject matter experts.
What are the key benefits?
Drive business results via increased social media usage
Mitigate risk of human error on official company channels
Enhance effectiveness of core social media teams
Activate more employees for engagement with customers
What should be considered when choosing a social media practitioner training program?
Provide on-demand video content for easy access and program scalability.
Meet the needs of today's busy professionals with self-paced, self-assessed education.
Deliver product training and certification to ensure platform consistency and proficiency.
Social Leadership Development
What is social leadership development?
A social leadership development program should prepare strategic members of the organization to recognize social business opportunities as well as systemic risks in the company's social media activities. It provides employees with the skills and knowledge they need to integrate social media into business strategies, coordinate the activities of multiple departments, and deliver a measurable impact to the company's bottom line.
Who is it for?
Social media managers, community managers, social strategists, digital teams, product marketing managers, and communications professionals.
What are the key benefits?
Drive business growth with strategic application of social media
Accelerate digital transformation through focused education of key individuals
Enhance professional development for employees
What should be considered when choosing a social leadership development program?
Look for a program that combines the hands-on perspective of industry experts with the credibility and instructional excellence of an academic partner.
Empower employees with industry-recognized credentials upon completion.
Provide self-paced online education so professionals can integrate the program into their personal career development.