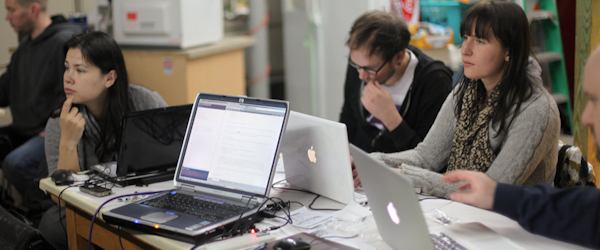 Closing the Gap on Social Media Education
The way we communicate is changing. Last week, I had a three-day conversation in nothing but emojis. If you are under the age of 30 you can say everything with a poop face and prayer hands.
That's not in any textbook, nor should it be. But there has been a disconnect between higher education and the skills and knowledge required for today's digital workforce. What you are reading in a textbook is almost always out of date by the time you read it and even further behind by the time you put it into practice.
To close that gap, higher education institutions are creating partnerships and programs that will teach and empower students in real time.
Kirsten Bailey, Director of Online Education Products at Hootsuite, will be leading a panel at SXSWedu on March 10th on How To Teach Social Media. Hootsuite's #TeachItForward campaign will focus on encouraging SXSWedu attendees to share the wisdom they acquire at SXSWedu with others. The goal is to encourage the spread of knowledge and reward people when they do. They'll be giving away prizes, from #HootSwag to monthly subscriptions to Hootsuite University, and entries to win a charitable donation to an education charity of the winner's choice.
There is no one-size-fits-all solution to social media education. You need to find an option that meets your goals and level of expertise.
For the C-suite, Hootsuite's Custom Education helps organizations accelerate their social transformation by aligning and empowering employees company-wide to effectively and securely engage online through tailored education services.
Hootsuite's education team developed and deployed a scalable, custom education program, launching with 250+ marketing colleagues at Wiley – a global publisher of knowledge and knowledge-enabled services, in order to empower their workforce to leverage today's growing social landscape.
"As we move into a more digital realm, social is going to play a key role in how we engage with and better understand our customers. Arming colleagues with the skills they need is the first step," said Clay Stobaugh, SVP and Chief Marketing Officer at Wiley.
The S.I. Newhouse School of Public Communications at Syracuse University, regarded as the nation's leading communications school, has been partnering with Hootsuite on an Advanced Social Media Strategy (ASMS) Certification.
The ASMS Certification is self-paced, earned online and combines industry + academic excellence to empower professionals with tactical skills, strategic knowledge and recognized credentials to drive and align the social media strategy with the key organizational objectives
Taking it a step further, Newhouse is changing the landscape with its first online masters degree in 2015. Communications@Syracuse will offer students the opportunity to earn a Master of Science in Communications online.
"Syracuse University has long been a leader in communications education—from the first print journalism courses offered in the 1930s to the first college radio station and television courses in the 1940s to the 1964 founding of the Newhouse School, which is now the leading communications school in the country," said Lorraine Branham, Dean of the Newhouse School. "We are continuing that leadership with Communications@Syracuse, a program that embraces the power of digital media and responds to the changing nature of the communications professions."
Branham acknowledges that new technology will allow Newhouse to recreate the classroom online with video discussions, interactive coursework and in-person learning experiences.
Applications for Communications@Syracuse are due by May 8, 2015.