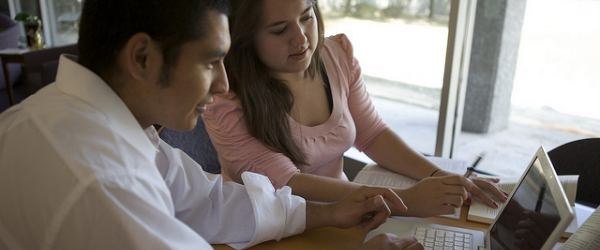 Why Educators Should Take the Digital Skills Gap Seriously
Do university graduates have the skills they need to succeed in an increasingly digital workplace? Given the amount of time young people now spend online, it would seem that the answer is an overwhelming 'yes.' In reality, however, the digital skills gap is estimated to cost companies over $1 trillion in productivity annually, according to one poll.
A recent Capgemini study lists social media as one of three top digital skills essential to a company's success. This may not be news for followers of the Hootsuite blog, since we stress the importance of social media for businesses on a regular basis, but research has shown over half of surveyed companies found crucial digital skills lacking among the employees. As a result, companies are becoming more aware of the need for digital education for their current employees, and are increasingly looking for these skills in new hires.
It's a tough job market out there for soon-to-graduate Millenials. That's why educators need to provide their students with digital insight that employers seek. And while they may seem like they have social media covered, social-savvy employers say they have a lot to learn.
Dr. Emily Kinsky, Assistant Professor of Mass Communication at West Texas A&M University, says that while digital skills training can sometimes fall behind on the list of priorities for companies, it's not something that can be ignored for long. "Companies likely struggle because they have to put most of their attention toward the bottom line. Training employees on the latest digital skills is probably something they want to do, but so many other things are on the list ahead of it and plenty of daily "fires" pop up that have to be extinguished," she says. "They need help." Dr. Kinsky uses Hootsuite's Higher Education Program, as an example of training and education looking to address this digital skills gap before students enter the workforce.
It pays off both for businesses and the students to improve their social media skills before they enter the workforce. In the best-case scenario, employees will receive in-house digital skills training after onboarding, but the majority (77 percent, as this study found out) will be letting that skills gap drag their business behind their competitors.
Consider another statistic: it is estimated that by next year, 90 percent of all jobs will require Information and Communication Technology skills. This goes beyond the ability to write professional emails or build an Excel spreadsheet. Authors of the Capgemini study recommend that employers filter candidates based on their digital skills efficiency and online influence. This means teaching university students to maintain a consistent social media presence will soon not be enough—instead, educators will need to prepare students to perfect their digital prowess and tailor their social media expertise. Digital skills are increasingly in demand, and the gap is on moving terrain.
In fact, one of the challenges presented by teaching social media is the industry's ever-changing landscape. Textbooks written this year may become obsolete in the next two. Dr. Kinsky says one of the things educators must do to avoid using dated strategies is to have students practice using digital tools. "You can't just talk about the digital landscape," says Dr. Kinsky; "students need examples, practice, and feedback."
Salisbury University graduate Jennifer Hernandez confirms this, explaining how digital skills and practice made her a standout candidate for jobs. "During my job search, one of my most impressive qualifications was my Hootsuite Professional Certification," says Jennifer. "Many employers had not heard of the [Hootsuite dashboard] and were fascinated when I explained the value offered to their company through its many time saving features. It definitely made me stand out amongst candidates because it showed that I was up to date with the latest technologies in our industry."
In order to help educators teach the right skills for social media, professors and instructors can sign up for Hootsuite's Higher Education Program. This program is free for educators and provides access to courseware, lecture videos, and tools—everything needed to teach social media effectively.
To hear more about how other professors are teaching social media, sign up  for the #TeachSocial: Lessons from Top Social Media Professors webinar on August 21. Register for the webinar today!
Have you had success teaching social media and want to share your tips and tricks? Tweet how you #TeachSocial for your chance to win a #HootKit or even be featured on the Hootsuite blog!