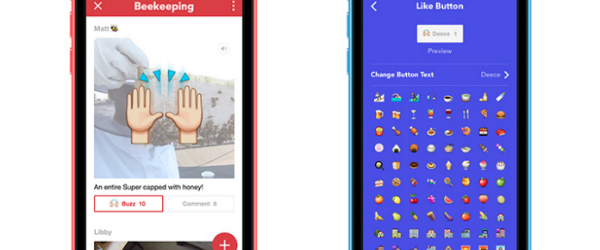 Everything You Need to Know About Facebook's Rooms and The State of Anonymity Apps
There are a few factors that seem to predict the relative success of a social media app. One of them is the app's popularity among college students. Another indicator is whether Facebook makes their own version of the app, or attempts to acquire the original service provider (think WhatsApp and Instagram).
This week, Facebook unveiled a standalone anonymous messaging app called Rooms. The app's concept is based on the chat rooms of the early millennial Internet, where users can skip the lengthy process of identity verification. You don't need a Facebook account to log in: just enter your email address, pick a desired username, and start chatting. What makes the Rooms app different from chat rooms of the Internet past is the ability to change text, colors, customize images and member permissions.
The app's chat rooms are based on different interest topics. To join a conversation in Rooms, a user must be scan in a unique 2D QR code associated with each chat room. The QR code can be shared by other chat room guests via text message, Instagram, or even by printing out a physical copy. The app is currently available to download for free to iOS users in "US, UK, and several other English speaking countries," according to Facebook's News blog. The Guardian reports that an Android Rooms app is expected to arrive in early 2015.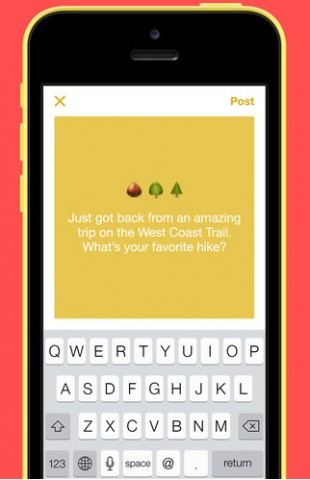 TL;DR

What: A standalone anonymous messaging iOS app from Facebook's Creative Labs
Why: To let users discuss their topics of interest incognito
How much: Free
Where you can get it: the App Store in select countries
The Rise of Anonymous Messaging
Facebook's Rooms is the latest addition to a constantly growing family of anonymity apps, a new way of messaging that has exploded in popularity among users since the Whisper app first took stage in 2012. Earlier this year, Kevin Roose of New York Magazine counted and reviewed 25 major releases in his Complete Guide to Anonymous Apps. While the apps' monthly active user numbers are a lot more difficult to track due to the anonymity factor, and therefore don't match those of messaging giants like WhatsApp and Snapchat, new apps are released and funded on a regular basis.
Anonymity and the Social Web
The growing popularity of anonymity apps raises a question: is anonymity good for the social web? We discussed the question in March, when two major anonymous messaging apps, Whisper and Secret, each raised several million dollars in funding rounds.  In a way, anonymity brings back the early days of Internet, yearned after by many—pre-Facebook, pre-Foursquare days where it wasn't so easy to find everyone, pre-Google days before plugging your name into a search engine became a common practice.
After Whisper's debut into the app store, anonymity apps available now have a variety of media and anonymity levels to choose from. There is an anonymous video messaging app, and an app that only lets you see secret messages left in that particular location. There are anonymous and "anonymish" apps: some apps are location-based, some only go to your friends on Facebook and Google+, some let you pick your own friend circles, some only send anonymous messages to people in your phone's contact list. In short, whatever level of secrecy you prefer, there is probably an anonymity app for that.
The Sensitive Issue with Secret-Sharing Apps
The dark side of anonymous messaging lies in the users' ability to assume no responsibility for things they post. The ability to communicate back and forth makes these apps different from sites such as PostSecret, where users can post comments without a guarantee they will reach the person who shared the secret. As a result, anonymous messaging apps often make the news for cases of cyberbullying and harassment, making technology reporters and bloggers—and users!—wonder if the benefits of anonymity outweigh the potential for emotional distress.
As Rachel Metz discovers in her article on anonymous apps in MIT Technology Review, app developers are well aware of the potential for abuse of anonymity, and take preventative measures to address the issue. Secret, for example, anticipates the risks by reminding users to "say something kind" and "keep the community safe" throughout the posting and commenting process. The veteran of the anonymous app world, Whisper, has multiple options for flagging an inappropriate message or comment; it also uses software to detect the use of real names and delete messages that contain them.
Newer anonymous apps also take drastic measures to avoid being an inadvertent harassment platform. After a location-based anonymous messaging app Yik Yak, which earned popularity among high school students, was used to send fake bomb threats to high schools, the app's developers made the decision to cut off access on school grounds.
"We want to grow and we want to be huge, but we also want to make sure that we're creating sustainable, good communities, too. That's number one [on] our list. We didn't create Yik Yak so that people could target other individuals," one of Yik Yak's creators Brooks Buffington told TechCrunch after the incident. Even though high school students made up a large portion of Yik Yak's user base, the app is far from struggling after their radical decision—as a matter of fact, it has expanded into an even bigger market with post-secondary students.
What's next for anonymity apps?
Online marketers are always looking for the next big social platform to incorporate into their strategy, and this year's growth spurt for popularity apps have placed them on the radars of social media specialists everywhere.
There are questions being raised about ways brands can reach out to audiences on anonymity apps, which are primarily designed as peer-to-peer platforms. And developers are listening: Yik Yak creators have talked about using the app for real-time updates on breaking news and other location-centric messaging. Forbes published an article outlining how brands can gain consumer insights from Whisper. Stay tuned, because once we find a way, you can be sure we won't hold it a secret.
Do you think the future of social messaging is anonymous? Share your thoughts with us on Twitter or in the comments below!